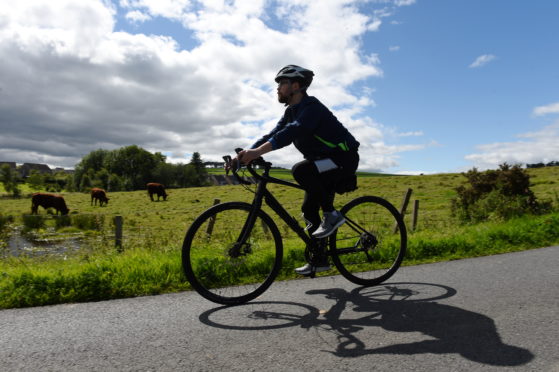 I have to admit Covid-19 has had little effect on my lifestyle so far, which probably says more about me than it does about the virus.
Most of my non-working time is spent outdoors on my own, bird watching, walking the dog and cycling.
The biggest impact for me personally has been the shift to home working.
While it has allowed me to save travel time and enjoy better coffee, the fact I'm spending 22 hours a day in my bedroom either at work or sleeping is beginning to hit home.
However, the impact on the economy and communities of the Highlands and Islands is more serious and significant.
I read an analysis by Skills Development Scotland the other day which shows several geographic areas in the Highlands and Islands are extremely vulnerable to the economic impacts of Covid-19.
In terms of sectors, tourism and hospitality have taken the greatest initial impact, but it's likely others will follow as a more general economic downturn begins to bite.
One of the problems for the Highlands and Islands is that many of our key industries are related to or dependent upon visitors and, quite simply, these have been missing for most of this year.
The concern for the medium term is that, unlike more heavily populated areas, the options for replacement jobs are more limited as the distance between opportunities is much greater than in more urban areas.
As someone who works for a university, I'm heartened with the efforts being made to continue life as near to normal as possible, to work for recovery and to plan for a better life beyond Covid-19.
One of the positive impacts of Covid-19 has been an acceleration of some of the exciting initiatives which were already underway before the pandemic.
Responses to rural depopulation, climate change and opportunities presented by advances in technology have all come to the fore as possible answers.
I'm seeing increased co-operation and energy in a range of local and regional organisations which is helping to accelerate projects and generate ideas for more.
Our university partnership, which provides further and higher education courses and research opportunities, has a vital role to play in supporting the recovery.
We're engaged in a range of projects to kick start the economy.
This includes developing innovative ways to help people upskill and retrain if they need to change jobs because of the pandemic.
It also includes working with local authorities, businesses and government to create new jobs and opportunities in emerging areas such as aerospace, low carbon flight and digital manufacturing.
The nature of employment will change and we are continuing to work with employers, communities and learners to respond to their needs.
One area I find particularly exciting is the concept of the distributed factory. The idea is that if someone in Lochgilphead has a good idea, for example, they could take it to a technology hub in Fort William to create a digital prototype for 3D printing in Thurso.
These prototypes would then be tested in Elgin, for example, before being sent to Inverness for manufacture.
This will mean that, instead of having to find huge amounts of capital to develop a factory, the entrepreneurs of the future, who are in school now, will be able to take their ideas to a virtual factory distributed across the Highlands, bringing skilled work to where it's most needed.
This may sound fanciful, but the technology is here already and the planning to make it a reality has begun. Another exciting development is the Scottish Government's ambition for the Highlands and Islands to be the first zero-carbon airspace in the world by 2040.
It's not too fanciful too imagine electric aircraft flying between Papa Westray and Mainland Orkney or hybrid aircraft flying between Inverness and Benbecula.
If we can overcome the technical, legislative and logistical issues, the cost of air travel could be reduced significantly and once-dormant airfields might become profitable again.
This is all possible but will require a strong partnership of players within the Highlands and Islands, co-operation with businesses from within and outside the region and significant investment from government.
The biggest threats are not technical, they are the very human challenges of aligning ambition.
As an institution which is distributed across the Highlands and Islands, Moray and Perthshire, our university partnership helps to draw initiatives and organisations together.
My role as vice-principal for strategic development is largely about seeking opportunities, developing teams and keeping the faith when projects come up against difficulties.
I get a buzz out of supporting an idea as it goes from being an initial concept to becoming a reality delivered by talented groups of individuals working together to a common goal.
If we continue to work collectively to maximise the advantages of our region, the Highlands and Islands will have a bright future, becoming the place to live and do business for many more people.
Dr Gary Campbell is vice-Principal for strategic development, University of the Highlands and Islands.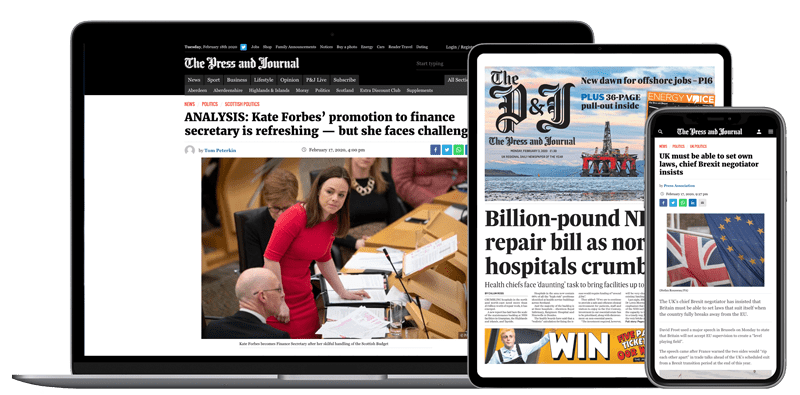 Help support quality local journalism … become a digital subscriber to The Press and Journal
For as little as £5.99 a month you can access all of our content, including Premium articles.
Subscribe