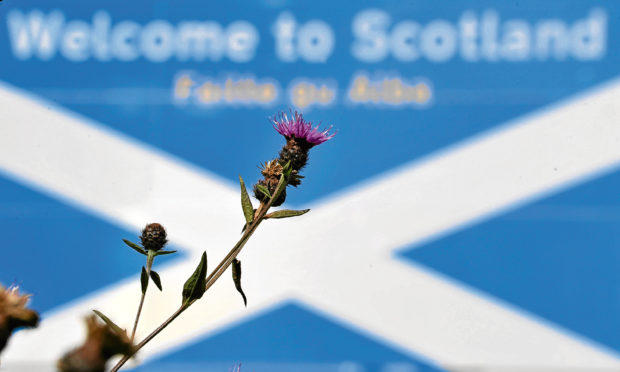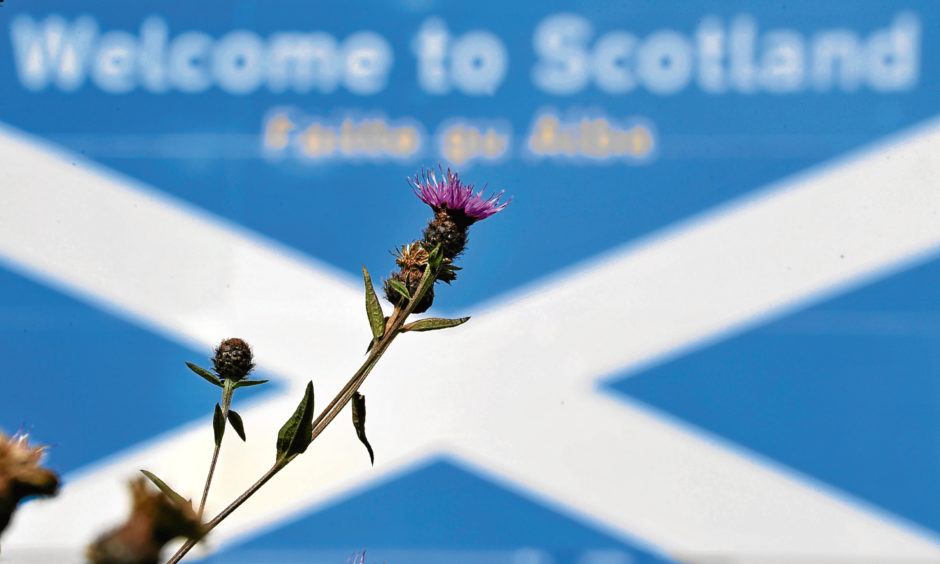 A shop called Born in Scotland caught my eye on a recent visit to Scotland.
Despite the fact I wasn't actually born in Scotland.
Or perhaps precisely because I wasn't born in Scotland.
I grew up, the product of an English mother and a Scottish father, in Scotland in the 1980s.
At a time when the two countries contested both the Calcutta Cup and the Sir Stanley Rous Cup every year.
Two occasions when you could not hope to navigate playground politics without choosing firmly which side you supported.
It wasn't so much a question of nationality as one of probability for me. England was most likely to emerge victorious, so I'd support them.
During the 80s Thatcher's Tory administrations in London suppressed the stirrings of Scottish self determination that had built through the previous decade and culminated in the botched home rule referendum of 1979.
We can now see clearly that the impression that the desire for devolution had dimmed was entirely artificial.
It burst forth under New Labour and has since evolved further. See the consistent polling showing majority support for independence.
But there was an ever present hum of anti-English sentiment throughout my younger years.
It rarely grew stronger than sports-based banter or the occasional bit of sweary graffiti but it was undeniably there.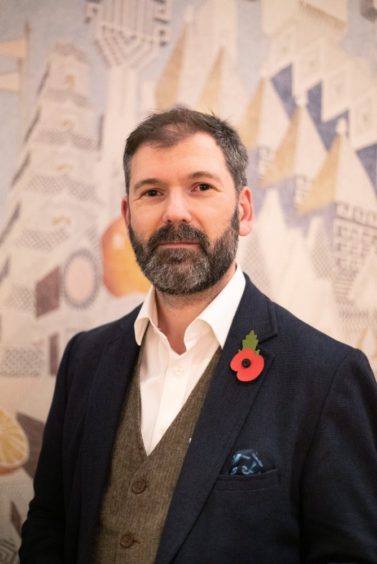 That's the background to discovering the Born in Scotland store. It was full of Scottish knick-knacks like an Irn-Bru branded suitcase, tablet in a range of flavours and greetings cards making the most of the Scottish vernacular.
And it spoke to a different sort of Scottish identity. A confident, modern, irreverent sense of self.
Not so long ago the cards and keyrings would have featured the face of Mel Gibson in his Braveheart garb.
Now they've swapped that for modern Scots heroes like Ewan McGregor and Andy Murray.
It feels like the taint of anti-Englishness is in the past. As any bitter elements of the cause fade it becomes more attractive, so support for it swells.
Sure, Brexit and the pandemic have prompted folk to look at politics differently, but the independence cause has evolved to be more inclusive.
And yet there was one item on sale in Born in Scotland that caused some discomfort.
A pack of badges contained one illustration each of Sean Connery, Andy Murray, Billy Connolly and Nicola Sturgeon.
One of these doesn't fit. A politician has no place among such luminaries. Particularly a politician whose driving purpose may now attract majority support but which is by any measure opposed by at least two fifths of those she represents.
The Scots' attitude to the first minister remains problematic. England's regions have become a battleground.
Prime Minister Boris Johnson announces lockdown plans, and the leaders of Manchester, Birmingham, Newcastle push back.
In Scotland, Sturgeon closed the central belt and it fell to hospitality workers and business owners to complain and dump unused ice on the steps of the Scottish parliament and Glasgow City Chambers.
Both, of course, currently occupied politically by the SNP.
Andy Burnham, once an underwhelming pretender to the Labour throne is now King of the North.
Quite rightly he demands the government backs up restrictions with financial support.
When the UK was locked down in the spring the furlough scheme paid out 80% of earnings.
Now that the toughest restrictions exclude London the proportion is reduced. There is no viable explanation for the change beyond a bias against certain parts of the country.
And it's not just because places like Manchester and Liverpool don't elect Tories.
The Conservative mayor of Birmingham is equally unhappy and subject to the same unfair handouts.
Why were the leaders of Glasgow, Edinburgh and Stirling councils not kicking back against the latest Scottish lockdown?
Perhaps if Fife had been included Gordon Brown would have emerged from his lair to claim the crown of that particular kingdom. Actually, maybe that's why Fife wasn't included.
If independence is around the corner for Scotland it'll be in part in reaction to the carelessness, incompetence and occasional callousness that has bedevilled Westminster's response to the pandemic.
The same factors that have emboldened England's local leaders to stand up and speak up. City leaders like Burnham have a mechanism to resist and to be heard and the confidence to use it.
The idea of the SNP creating mayors of Glasgow, Aberdeen or the Highlands is unthinkable.
In Scotland, 2020 tops out a process of sidelining and ultimately striking out anti-Englishness but it must also leave room to learn from the experience of England.
The SNP prizes internal party discipline. But regional leaders must stand up to Sturgeon, challenge the administration at Holyrood and provide feisty representation for their cities and constituents.
That would mark a political culture as mature and confident as that of the nation it serves.
James Millar is a political commentator and author, and a former Westminster correspondent for The Sunday Post