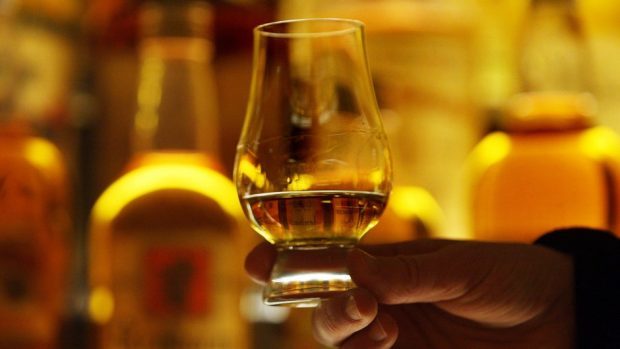 Drinkers of beer, cider and spirits raised a glass to the chancellor after taxes were frozen in yesterday's Budget.
But while the distilling industry welcomed the move, it argued that the 76% tax on a bottle of the national drink remained "too high" after it had lobbied for further reductions in duty.
Trade body the Scotch Whisky Association (SWA) said last year's 2% cut in excise had helped boost revenue from spirits for the Treasury by £102million.
David Frost, the chief executive of the SWA, said: "We welcome the freeze in excise duty on spirits.
"We hope that this will sustain continued growth in the UK market for Scotch whisky and thus help improve the public finances.
"But tax is still 76% of the price of an average bottle of Scotch and the majority of the British public think that is unfairly high.
"We will continue to call for fairer taxation of Scotch, a vital UK industry, and we urge duty reductions in future years."
Global drinks giant Diageo, which makes the world's best-selling blended whisky, Johnnie Walker, was happy to toast Mr Osborne.
Andrew Cowan, managing director of Diageo Great Britain, said: "Scotch, as a homegrown industry, flies the flag for the UK abroad and the alcohol industry as a whole generates billions for the UK economy.
"This year's freeze on beer and spirits will help to continue this.
"We have already seen the positive impact that last year's duty cut had on industries such as Scotch whisky and so tonight, people across the nation will once again raise a toast to the chancellor."
Mr Osborne told MPs that the duty freeze on beer, cider and spirits would support pubs and Scotland's "vital" whisky industry.
He said: "The action we took in the last parliament on beer duty saved hundreds of pubs and thousands of jobs.
"Today I back our pubs again. I am freezing beer duty and cider duty too.
"Scotch whisky accounts for a fifth of all of the UK's food and drink exports.
"So we back Scotland and back that vital industry too, with a freeze on whisky and other spirits duty this year.
"All other alcohol duties will rise by inflation as planned."
Andy Fyffe, food and beverage expert at EY, said the duty freeze would deliver a welcome boost to UK sales, particularly for Scotch, which has faced export declines in recent years.
"For the manufacturers specifically, it should help to preserve domestic market sales and potentially alleviate some of the margin pressures experienced in recent years, ultimately boosting profits and protecting jobs across the industry," said Mr Fyffe.