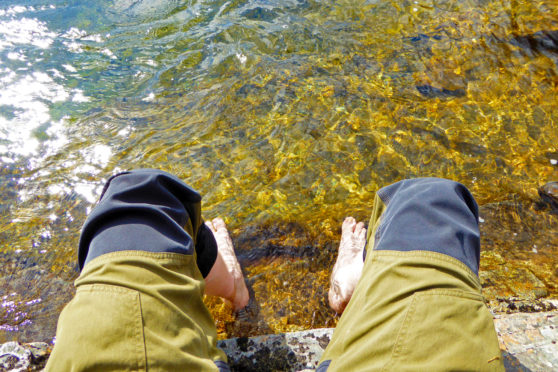 Last week, during a long walk back from a particularly heathery Cairngorms lump, I stopped at a well-known pool on the Dee.
Sheltered from the biting east wind and with a natural stone step on which to recline under the warm sun, it was a lovely place to chill – in more ways than one. I removed my boots and socks, rolled up my trousers and lowered my feet into the water.
I wish I could say it was a gentle and soothing experience, the water's soft touch slowing my heart rate and making me feel relaxed and happy on a hot day. But no. This time of year, with snowmelt tumbling off the hills, and frosty nights aplenty the opposite is true. Dipping your feet in a mountain burn feels more like putting them in a burning vice, more self-punishment than pleasure.
But in this case it was a prescription of sorts as I'm prone to getting sore feet from long walks, although not necessarily when I'm actually walking. The pain comes long after I've got home, when I stand up after I've been sitting down for a while. Or worse still, when I first stand up in the morning after getting out of bed. The discomfort dissipates after ten minutes or so on my feet, but during that time I can be seen shuffling about the kitchen as though I'm badly constipated.
My podiatrist says I have plantar fasciitis, which is a tightness and inflammation of the tissue that runs from your heel to your toes. Insoles, stretching and massage have helped somewhat, but she suggested that icing the feet might help too, hence immersing them in freezing water at the pool. It did help on the day, my feet feeling brand new on the subsequent hour's walk back to the car. The dull aches came back later that evening of course, and again the following morning, but not as severe as they might otherwise have been. Clearly it's not a silver bullet though, as full recovery will take time.
"It doesn't help that you keep going walking", said my partner, wisely. "You need to rest your feet completely".
You can well imagine my gut reaction to that. Picture a rabbit in the headlights, frozen to the spot with fear and incomprehension. Being told that the only way to safeguard the thing you love doing is to stop doing the thing you love doing is never easy to hear, but I've certainly been there before.
Over the years I've had two sprains that have kept me off the hills for long periods, the longest of which was a serious knee injury where my Edinburgh physiotherapist told me I had to abstain from anything steeper than the Royal Mile for almost six months. It was horrid, and the temptation to self-diagnose myself as fit and able whenever the knee felt good, and to perhaps sneak in a naughty wee jaunt up Arthur's Seat was almost too much to bear. But back then I had a youthful optimism that I was invincible and a belief that my body would fully heal itself with no lingering symptoms. Abstinence would therefore, I decided, be worth it and so I obeyed my physio to the letter. Now though, more than a decade on, middle aged and balding, I wonder if I'd be more likely to have lapses in commitment on account of having finally come to the realisation (not before time) that my body is ageing.
These days the niggling ailments seem to come thick and fast. A frozen shoulder here, an arthritic big toe there. 'Weak hips' and knee pain last year, whereas 2019 is the year of the 'unusually flexible ankles'. Gawd! And all enjoyed with the background ringing of tinnitus, which was a new entry in 2018. Aaarrgghh.
Don't take any of this hypochondria too seriously, though. With no bone breakages, no serious accidents and no debilitating illnesses I do realise I have been very fortunate. Yes, there's probably a price to pay for the many thousands of miles and countless hills I've walked, but walking has kept me otherwise fit and healthy, kept me moving, and I have very little to complain about really. Others aren't nearly so lucky. Spare a thought for my former boss for instance who, somewhat amusingly given she was considering cleaning her house at the time, put her back out simply by looking across the room at her vacuum cleaner!
None of this is to suggest you should glumly accept what's happening to your body of course because, so far as walking pains are concerned, symptoms can almost always be alleviated to some degree. Stretching, for instance, is something too few of us do before or after walks and yet can work wonders. Personally, I'll continue to do everything my physio and podiatrist recommend where my feet are concerned, but I'm nonetheless managing my expectations this time. Because let's face it, immersing your feet in a freezing pool is one thing, but abstaining from walking entirely is something else.
---
Ben Dolphin is an outdoors enthusiast and president of Ramblers Scotland