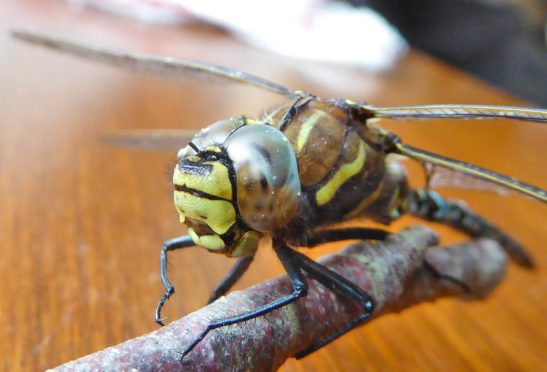 I'd never been THIS close to one before and, inches from my face, everything about it was fascinating – the yellow stripes along its side, the electric blue around its abdomen, the fur-like hair on its head.
Sparkling with moisture, the wing patterns were impossibly intricate, and its massive, multicoloured eyes gave a hazy impression of depth that made them look like holograms.
A dragonfly. My colleague had found it lifeless at the roadside. With autumn descending it was clearly at the end of its life, but we'd brought it indoors into the warmth and placed it on a sunny windowsill, because you never know.
It died of course, but when we returned next morning we were stunned to find the vibrant colours, the electric blue, the vivid holograms, had all disappeared. The dragonfly was now a dull, uniform brown, its eyes flat and lifeless. Even the wings seemed to have lost their sparkle. I had no idea this rapid deterioration happened to dragonflies. I'd wrongly assumed they'd retain their colours in the same way that dead butterflies and iridescent beetles do. But no, a dragonfly's cells are clearly compromised in some unique way after death. Very interesting.
I think most of us would probably agree that seeing wildlife live in the field is more uplifting than seeing it dead, but encountering wildlife after its demise nonetheless presents these unique learning opportunities.
At this point I can sense the reticence and discomfort, so let me make the subject less emotionally charged by saying that death and decomposition are vital processes in all ecosystems. Without them, the natural world would run out of ingredients. Organic matter is broken down into its constituent parts, and life-giving nutrients are recycled back into the ground – nitrogen, carbon, potassium, magnesium etc.
"That's fine," I hear you say. "But I still don't want to see it, thank you very much!"
I understand. But consider how many thousands of animal species there are in Scotland, and then ponder how many of them you could ever hope to see under normal circumstances, even if you went looking for them? Many are susceptible to disturbance and you therefore wouldn't want to get close even if you could, while a great many more go about their lives unseen by us for all kinds of reasons – they're fantastically well camouflaged, or they're rare, or they live in places that we are unable to access, while others emerge only at night.
And of course many, such as dragonflies, are rightfully wary of us and flee before we can get close enough to have a look. So when an otherwise elusive or skittish creature turns up on my path, inanimate, I can't resist taking a closer look.
Over the years I've lingered a wee while to learn more about badgers, pine martens, adders and even a capercaillie (duly reported to RSPB and SNH) to name just a few, but my most memorable encounter of this kind was with a dead mole on a roadside. I'd never seen a mole in my life, so spent a good 10 minutes studying every minute detail. It's amazing how you can be so familiar with something via childhood stories, such as the Wind In The Willows, and yet know absolutely nothing about it when confronted with the reality.
Sure, you can read about moles if you like, you can find photos online and satisfy your curiosity, but there's no substitute for seeing the real thing. It's only then that the absurd proportions of the creature can truly be appreciated, and only then that you realise how perfectly designed it is for life tunnelling underground. I first saw massively exaggerated front paws, padded to the max to tolerate the extremes they're put through.
Then the finer details, the claws with dirt underneath them just like we get under our fingernails. The whiskers, the near absence of eyes. It might have been dead, but it was still nice to actually "meet" a mole for real and to learn from it.
It's sad of course, especially if a creature has met a premature death due to human contact, but that doesn't mean you can't learn when you encounter them, or that you can't appreciate or marvel at their beauty and design.
I hasten to point out that I'm not talking about shoving my nose right up against unpleasant things or putting my health or safety at risk. Plus, there are still animals falling foul of wildlife crime where poison has been used, so in some situations getting close is the last thing I'd want to do. As a general rule of thumb you don't want to be touching or poking at dead animals, and in that sense our noses expertly forewarn us whether or not approaching them is a good idea.
Of course, when it's insects we're talking about then there's less of a potential "ick" factor than when encountering birds or mammals, as those hard exoskeletons break down extremely slowly and mean the insect looks as fresh as a daisy long after its demise.
Erm… unless it's a dragonfly, apparently.
---
Ben Dolphin is an outdoors enthusiast and president of Ramblers Scotland