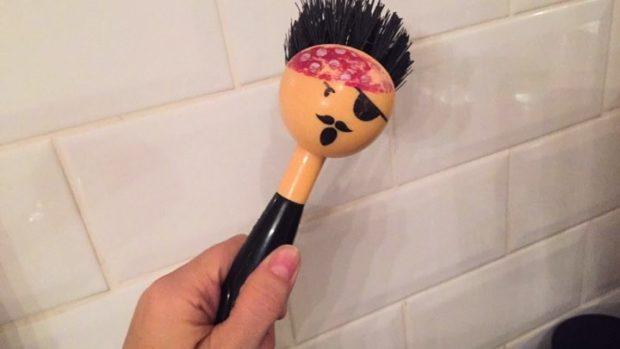 The magic of Christmas dissipated a long time ago for me, or at least the side of it that venerates the acquisition of throwaway tat that we've neither asked for nor need.
I felt increasingly jaded about it as I got older, but the final nail in the coffin was some years ago when my lovely sister handed me an oddly-shaped gift, which upon being hesitantly unwrapped revealed a plastic 'pirate' dishwashing brush, where the bristles were the pirate's hair. I stared at its eye-patched face and said:
"You bought this because you wanted one yourself, didn't you?"
My sister laughed nervously, said yes, and admitted that her other half didn't want it in the house. 350 miles away and a few weeks later, she unexpectedly discovered said bristle-haired pirate in the glove compartment of her car. While she saw the funny side, she was understandably a bit hurt too.
After a few such incidents though, I finally managed to drive the message home to my nearest and dearest that the grotesque nightmarish excess of the modern consumer Christmas genuinely appals me, there's nothing I want, so please stop buying me presents. And of course the other half of that equation was that I stopped buying presents for other people too.
Some folk are doubtless aghast, but successfully detaching myself from our most wasteful expression of materialism has been wonderfully liberating. That said, I'd be lying if I said I hadn't had my doubts at the time. I'm not remotely religious and I don't have kids, so I wasn't sure whether Christmas would mean anything whatsoever to me any more.
Now, nothing will EVER make the ruthless two-month build up easier to bear, but to my considerable surprise I find I actually enjoy the pared-down Christmas Day more than I did before. Not as much as when I was a kid of course, but that's a given. Hallmark themselves would wince at the sentiment, but going back to basics really brought home to me the positive side that celebrates the company of others, and remembers those who have left us, like my mum. Against the odds, Christmas Day just about manages to repel my lingering cynicism, because as much I like to tell myself it's just another day, deep down I know that it isn't. All of which makes it almost taboo to admit that I actually prefer what comes afterwards. Leftovers Day, or as it's otherwise known, Boxing Day.
Christmas dinner tastes ten times better on the 26th than the 25th, simply because of effort vs reward. I can remember my mum on Christmas Day barely touching the dinner she'd cooked, and it was years before I truly understood why. Yep, she was knackered! Not till I left home and had to cook Christmas lunch myself did I realise what a gruelling, thankless task poor mum had lovingly undertaken for all those decades. I'll sit down to eat after a day in the kitchen and think….."Ugh, I'm not hungry'.
But on Boxing Day, reheating takes a tenth of the time and it tastes amazing for it. So amazing in fact, that last year my other half had the genius idea of actually cooking Christmas dinner on Christmas Eve but not eating it till Christmas day. Logic dictates it would be the tastiest Christmas dinner ever. We've never actually done that but I'm sorely tempted to try.
But it's not just the leftovers that make Boxing Day the best. While the 25th is about sticking to the same script you've followed for the previous 30 years for fear that doing anything differently might cause a Christmas fairy to fall from her tree and die, the 26th is altogether slower, freer, and more relaxing. A day devoid of pressure, expectation or stress, assuming you're not one of those strange creatures queuing outside shops at 6am of course.
And best of all, because of the significantly reduced time in the kitchen it means there is time actually to go outside for a walk. And that's important, because as an outdoorsy type person, one full day indoors is all I can stand. Any longer and I will surely explode. And I'm definitely not alone when I head out, because Boxing Day has (along with 1st January) special status as one of our 'national get outdoors' days. It's not surprising really. Having been willingly imprisoned indoors for the best part of 24 hours, we surely long to see beyond those same four walls? Maybe fresh air is the only cure for festive over-indulgence? Or perhaps a walk is the only joint activity a family can get a consensus on?
Whatever the reason, released from our cages we're visibly more relaxed. Scots are a cheery bunch anyway in the outdoors, but on Boxing Day I've noticed how more 'hellos' get replies, eye contact is more readily acknowledged, and more greetings are openly initiated. For a brief moment the world feels a bit more considerate and a bit more generous, and although you can't actually buy any of those things, they're pretty decent presents in themselves.
---
Ben Dolphin is an outdoors enthusiast and president of Ramblers Scotland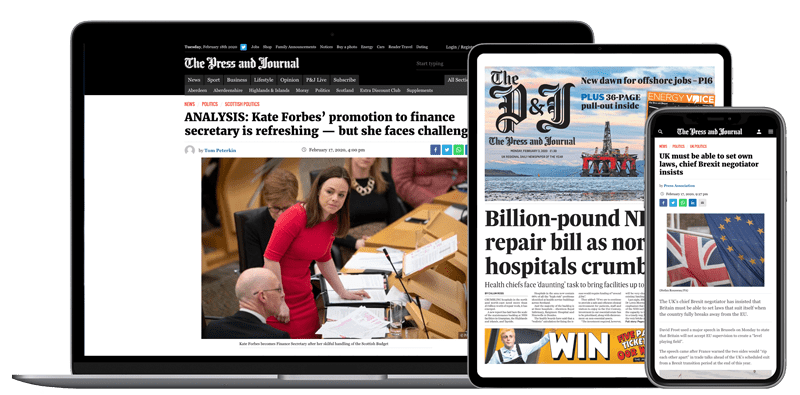 Help support quality local journalism … become a digital subscriber to The Press and Journal
For as little as £5.99 a month you can access all of our content, including Premium articles.
Subscribe