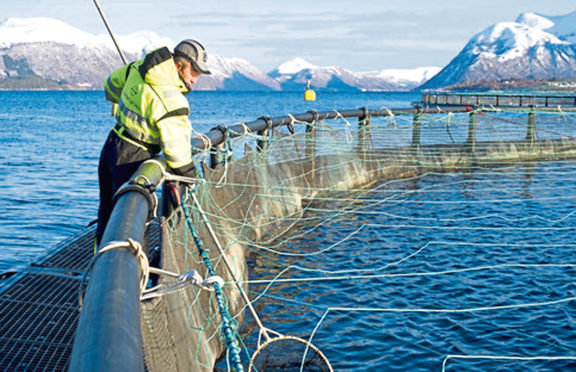 There's an old, probably apocryphal, story, which tells that in medieval Glasgow, workers downed tools if they were fed salmon more than three times a week, so plentiful were the fish in the River Clyde.
The Industrial Revolution marked the end of that era, and though today wild salmon are once again to be found swimming through the heart of Scotland's largest city, their numbers, as in rivers all over the country, are a fraction of what they once were.
Yet fresh salmon today is cheaper than it has ever been and is one of the cheapest and healthiest sources of protein available. Smoked salmon, once found only on the tables of the wealthiest, are in sandwiches on the shelves of every takeaway.
The reason? Fish farming.
There's little doubt the industry is controversial, with opponents pointing to problems with sea lice, the use of chemical controls, waste feed gathering on the sea bed, the shooting of seals, and other environmental concerns. Yet while the industry claims it operates in what is already the most regulated fish farming sector in the world, the rules which control it are about to be tightened even further.
The Scottish Environment Protection Agency (Sepa) has drawn up proposals for a revised regulatory regime with enhanced standards for organic waste and a strengthened approach to licensing medicines. There will also be tighter monitoring and assessment to ensure that farm operators are complying with the new rules.
Sepa have already launched a series of community consultations into their proposals. Meetings have been held on Arran and Skye, on Harris yesterday and another will be held in Ullapool today. Officials will be in Kirkwall and in Lerwick next week, with further public meetings to be held in Lochgilphead, Mull, and Fort William next month.
These follow a research study which Sepa carried out into the environmental impact of the more than 200 fish farms around Scotland's coast. One of the study's findings suggested that siting farms in deeper water with stronger tidal flows could help disperse the chemicals used to treat sea lice, which may also have an impact on other sea creatures.
However, siting cages in deep water with strong water flows will no doubt be far more costly to operate, as well as being more difficult in practical terms than having them close inshore with easy access.
But here's the problem facing campaigners opposed to any expansion of the industry.
The Scottish Government has already announced plans to double the economic contribution of the sector from £1.8 billion in 2016 to £3.6 billion by 2030.
They also plan to double the number of jobs in the industry to 18,000 by that date. These are jobs in remote parts of Scotland where well-paid employment is at a premium.
Last year, Scotland produced 160,000 of farmed salmon, and was the biggest food export from the UK. Indeed, after Norway and Chile, Scotland is the third largest salmon producer in the world, with around eight per cent of global salmon production, exporting £600 million worth of fish each year – 94,000 tonnes in 2017 – to 55 countries around the world. In fact, by volume, Scottish salmon accounts for Heathrow Airport's biggest export.
The USA is the industry's biggest market, closely followed by France, with China in third place, and growing fast. Currently, around 2500 jobs are provided directly by the industry, with another 8,000 indirectly through the supply chain, hauliers, and so on.
The majority of these jobs, of course, are in the Highlands and Islands.
There are other benefits from the industry. On one or two of the smaller Hebridean islands, fish farming is what keeps the community alive, providing accommodation for workers and even ensuring the existence of a local school. The fish farms also have good boats, available if someone needs to be rushed to hospital on the mainland.
For those concerned about the environmental impact of salmon farming, it should also be pointed out that the carbon footprint of producing the fish is far lower than other farmed produce. For salmon it is 2.9 per kilogramme, while chicken is 3.4, pork is 5.9, and beef a staggering 30.
According to the Scottish Government, aquaculture is an increasingly important industry for Scotland, an industry led by Atlantic salmon farming. And if their plans to double the size of the sector by 2030 are to be achieved, salmon farms are going to be seen in many more parts of our coastline.
Yes, the industry has problems which it will have to tackle, and the likelihood of even more regulation with which it will have to comply. But unless we want to return to the days – just a few decades ago – when fresh and smoked salmon were luxuries reserved to the wealthy, then salmon farming has to be supported and encouraged.
---
Campbell Gunn is a retired political editor who served as special adviser to two First Ministers of Scotland and a Munro compleatist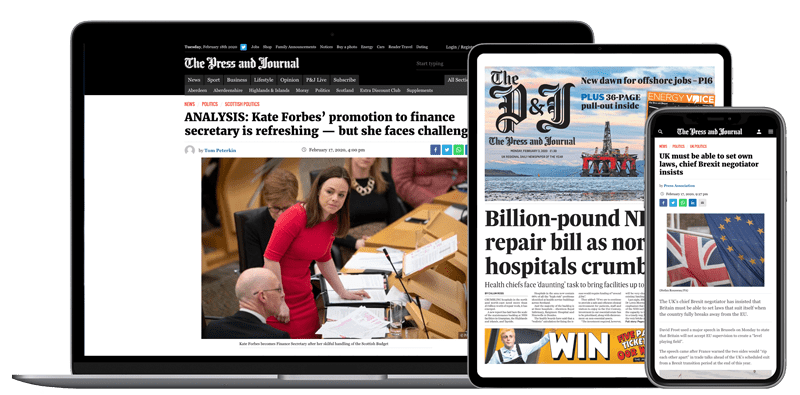 Help support quality local journalism … become a digital subscriber to The Press and Journal
For as little as £5.99 a month you can access all of our content, including Premium articles.
Subscribe