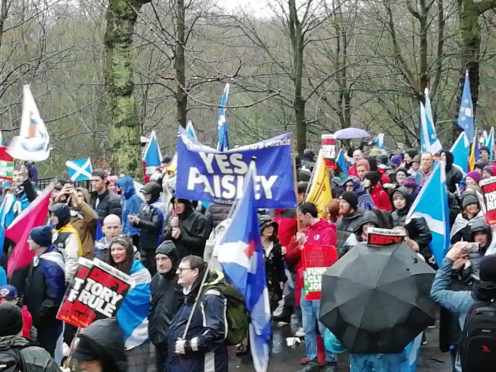 We all expected it and now it is official. Boris Johnson has rejected Nicola Sturgeon's request for a Section 30 Order giving her the power to hold another referendum on Scottish independence.
This is required because under the Scotland Act 1998 the power over these matters is reserved to Westminster and such a vote cannot simply be organised by the Scottish Government or Parliament.
That's why the previous referendum agreement between Alex Salmond and David Cameron, signed at St Andrew's House in Edinburgh in 2012, was so important. Mr Cameron took a calculated risk that he would win, and hopefully put the question of Scottish independence to bed for years. His gamble paid off, and perhaps that's why he was so reckless in agreeing to a similar UK-wide referendum on Brexit just a couple of years later – a risk he must now bitterly regret.
Nicola Sturgeon has always argued, quite wisely, that a legally binding referendum is the only game in town. To go ahead with an "indicative" vote, organised by the Scottish Parliament, would cause all sorts of problems – boycotts by opposition parties and voters, along with the refusal of the international community to recognise it.
In June last year, when the First Minister was promising a vote in 2020, I wrote in this column that it would not happen. I've been proven correct, and just about everyone now agrees with that assessment. For the logistical arrangements to hold a referendum this year to be completed, Westminster would have to U-turn and agree a Section 30 Order by April. And that is just not going to happen.
She has now changed tack, and all talk now is of running the 2021 Scottish parliamentary elections as a de facto referendum, not on whether Scotland should be independent, but on whether we should at least have the right to hold a vote on the matter. The SNP, and perhaps also the Greens, would run their election campaign as "a vote for us is a vote for Indyref2".
There's every chance that that sort of campaign would be successful, and that a majority of independence supporting MSPs would be voted into Holyrood. But what happens then? The First Minister would write once more to Boris Johnson, pointing to the result of the Scottish election, and once again demanding the transfer of a Section 30 Order. And what would the PM do? He would most likely refuse it again.
Remember that he has a Conservative majority of 80. This means that the SNP, unlike during the last finely balanced Westminster parliament, now has little or no leverage on House of Commons votes even with 48 seats. While paying lip-service to how important Scotland is to the Union and the United Kingdom, Mr Johnson can, in reality, shrug his shoulders and totally ignore complaints from north of the Border. All he has to lose is a handful of totally expendable Scottish MPs.
So what are Nicola Sturgeon's alternatives? At the SNP's annual conference in Aberdeen in October, a proposal that, in preparation for the expected rejection by Westminster, the Scottish Government should come up with a "Plan B", was overwhelmingly defeated by delegates. Indeed, the councillor suggesting the idea was booed by SNP members as he walked to the podium – something which I've never seen before in all my years covering and attending SNP conferences. To be fair to the SNP leadership, their calculation would have been that you don't go into negotiations with a fall-back position already in place and known to your opponent.
But with Johnson's refusal things have changed and now, surely, the idea at least of considering a Plan B must be in the minds of senior SNP figures. Otherwise, they're doomed to repeat the same old mantra all the way to the 2021 election and beyond, only to see it rebuffed time and again by Westminster, which holds the trump card of a blank refusal to play ball.
Figures such as former Justice Secretary and new Westminster MP Kenny MacAskill, along with former MP George Kerevan, have proposed widening the independence movement to include civic Scotland, the STUC, and the churches, as well as sympathetic figures on the Opposition benches. This is similar to the Scottish Constitutional Convention established in 1989 to campaign for Scottish devolution in the face of a similarly intransigent Westminster Conservative Government.
However, while Boris Johnson may like to base his style of leadership on that of his heroine Margaret Thatcher, he may wish to reflect that shortly after refusing point-blank to accede to calls for a Scottish Parliament, along with civil disobedience over her introduction of the poll tax, she was forced to resign. As Canon Kenyon Wright, the leader of the Constitutional Convention, pointed out at the time, "What if that other voice we all know so well responds by saying 'no, and we are the state'? Well, 'we say yes, and we are the people'." It may well be that we should look to the 80,000 or so who marched through Glasgow in pouring rain 10 days ago in support of Scottish independence. When it eventually comes, it may be delivered by people power rather than by politicians.
---
Campbell Gunn is a retired political editor who served as special adviser to two First Ministers of Scotland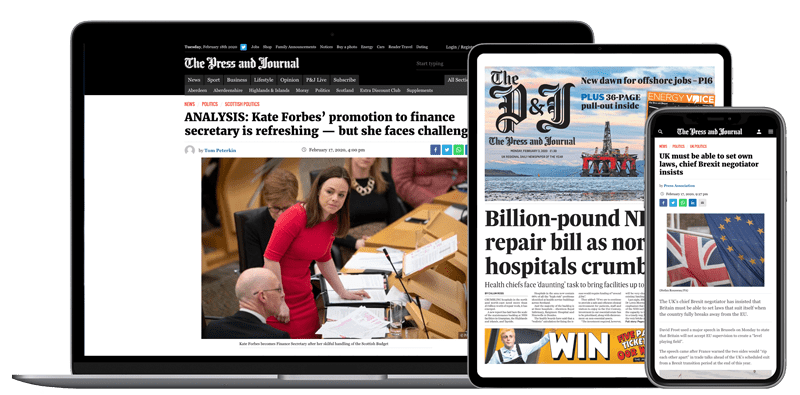 Help support quality local journalism … become a digital subscriber to The Press and Journal
For as little as £5.99 a month you can access all of our content, including Premium articles.
Subscribe