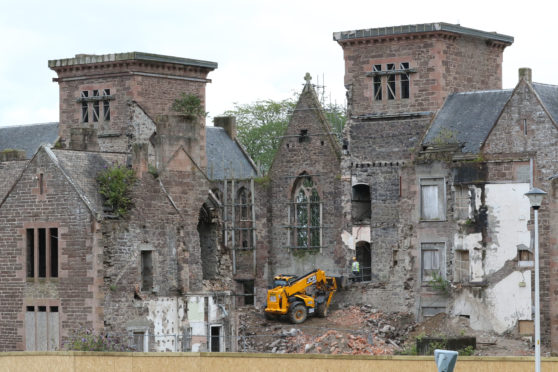 Isaac was almost 80 when he died, a tiny figure, wizened like an over-ripe apple.
He was, in the end, like a child: small and vulnerable, eager to please with a ready smile but few words. He spoke only when spoken to, perhaps because life had taught him talking was pointless. Nobody listened.
When he answered, his voice was high and feeble, shaky with the ravaging effects of old age and Parkinson's disease. Decay and decline are always sad but how much worse when they have not been preceded by a rich harvest of normal life experiences.
Isaac had spent his entire adult life, from his teenage years, in a locked institution. His crime? Peeing up a close in the Gallowgate in Glasgow.
I thought of Isaac when I heard the Scottish Government's recent announcement that our mental health legislation is to be reviewed this year to ensure it reflects a human rights approach. Isaac epitomises why legislation is so important. According to the mental health charity, Mind, around one in four of us will be affected by mental health conditions each year, while Scottish Government statistics show a 30% rise in children and young people accessing services. Despite this prevalence, there is still a tendency to think in terms of protection of the public rather than protection of the individuals. Yet violence is a rare feature of mental ill-health. The most common conditions are depression and anxiety.
Years ago, as the implementation of "Care in the Community" approached (dubbed 'couldn't care less in the community' by some), I wrote about the closure of Scotland's big Victorian asylums and heard about many Isaacs. At Craig Dunain in Inverness, I discovered women who had been incarcerated their entire lives because of teenage pregnancies. In an empty ward, an old, discarded handbag lay in the dust, the smiling face of a child's doll peeping out of the top. In the silent corridor outside, an atrophied bird, wings outstretched as if in attempted flight, sent a chill through my spine.
We might think those days are gone.  But this week, a story emerged about young people being kept in Assessment and Treatment units in England for an average of five years instead of the recommended nine to 18 months. Our vocabulary may have changed about mental health. We no longer talk about lunatics and asylums.  But sometimes, the biggest danger is when we think we have come further than we have.
There is still a feeling of fear, of discomfort and embarrassment, surrounding the issue, a sense of keeping things behind locked doors – both physical and metaphorical – that suggests we are little better at facing other people's distress, or what society considers their "strange" behaviour, then we ever were. Sometimes, it seems like we would prefer a diagnostic label to be slapped on behind a closed door than be forced to work out what to say or do.
Perhaps most troubling is that mental illness has so often been confused with non-conformity – and that changes depending on the cultural norms of the age.  So, a teenage pregnancy was once seen as moral delinquency and urinating up a close as depravity.
Isaac came to Britain in the 1930s, a refugee from Europe with a concentration camp number stamped on his wrist.  Like many young Jews shipped abroad, he was the only surviving member of his family. Was anti-Semitism an issue in what turned out to be Isaac's life sentence?  He had nobody who belonged to him to speak for him and as we have seen so often, far from triggering society's protective instincts "outsiders" often prompt disdain and abuse.
There was no legislation that protected Isaac. No questions were asked about his captivity, or the drugs regime that gave him "the largactil shuffle", a tell-tale sliding of the feet along the floor that meant you heard the patient before you saw him. When he died, there was nobody to even claim his body.  He had been in there so long, it seemed nobody knew of his existence any longer. Isaac was treated in the era of locked wards and straightjackets, of communal clothes for patients – including underclothes – his individual identity gradually erased in a tide of regimented efficiency.
Only a kind psychiatric nurse, who stopped Isaac's colleagues washing his body in preparation for burial, recognised Isaac for who he actually was, in death if not in life.   "He is Jewish," the nurse reminded his colleagues.  Touching his body after death was considered desecration in Isaac's religion. The rabbi should be called. Afterwards, a quiet ceremony was held, and he was buried in a pauper's grave.
Isaac's story sounds like something out of a Dickens novel.  Yet he died here in Scotland in the late 1980s.  The review of our legislation will quite rightly pose pertinent questions about decisions that remove a person's liberty.  It is important not just in the pursuit of human rights and dignity, but also in the memory of the many Isaacs whose lives were so unjustly stolen.
---
Catherine Deveney is an award-winning investigative journalist, novelist and television presenter