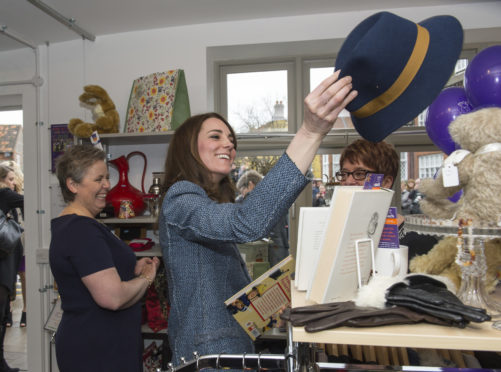 It is the lure of the serendipitous find that takes me to the charity shop at the end of the lane, an Aladdin's cave of "stuff" that I don't need when I walk in but can't walk out without.
In a world where the High Street has become  a strip of bland homogeneity, there is something lovely about not knowing what you will find through that door. A 145-pound antique clock nestles in the corner of a glass cabinet, a cascade of cheap and cheerful trinkets falling over its lovely old polished wooden face. Below, a pair of trim white roller boots; above, a silver-framed, limited edition, line drawing of a dancer, charming in its stark simplicity.
My late brother was a charity shop aficionado, roaming the length of Glasgow's Byres Rd each Saturday morning, regaling us all with tales of fascinating finds. I was, I confess, unimpressed. Old things. Dirty things. I wanted new and shiny.
I had never ventured into a charity shop in my life. But as a boy, Pete was a midden raider, constantly in trouble for going where he had been expressly forbidden to venture. No, no, he used to say when hauled in front of my mother, he hadn't been NEAR the bins. His dirt-ingrained face and streaked khaki shorts, bulging with loot, said otherwise.
It was my daughter who made me see things differently: the Extinction Rebellion generation. When I said I didn't fancy second-hand, she said she loved the idea of something previously owned because it had a story behind it. How true that is. The connection between the owner and the possession is part of its charm; the story of its journey from prized item to unwanted giveaway, rich and fascinating. How did the line drawing come to be here? Tragedy, capriciousness, estrangement or indifference? Or the generosity of the artist?
It was revealed this month that donations to charities have dropped 4% in three years because of scandals surrounding their governance. What has increased though is an awareness of the environmental impact of the clothing industry. Vintage is the new Primark. Kim Kardashian wore second hand Thierry Mugler to an award ceremony. Meghan Markle wore vintage Christian Dior to a christening. An American study by Thredup has shown that 64% of women are now prepared to buy pre-owned clothes compared to 45% just two years ago. By 2028, it is estimated that 13% of the clothes in women's wardrobes will be second-hand.
I am not yet fully converted, but as I pass the clothes rack, I do wonder who the purple velvet jacket belonged to, and what they originally bought it for. And the bride who wore the lace wedding gown: is her groom still a Prince or did he turn into a frog?  Will the next bride who wears it have better or worse luck than she did?  Does karma get recycled?
In the background, a tinny version of Tom Jones singing The Green, Green Grass of Home plays. The conversation of the two assistants behind the counter begins to penetrate. "Did you hear what she said?" one says. "No," replies the other. The first woman catches my eye. "Did YOU hear what she said?" she demands.
"No, who?"
"That woman who went out. Tom started singing and she said, 'I hate him.  If I saw him in the street I would kick him!'" Her tone is a perfect study of outrage and indignation.  "Tom Jones!" she repeats incredulously. "I saw him in concert," she adds, "and he was just delicious. I could have eaten him. Eaten him!"
Yes, there is a healthy reverence for all kinds of vintage in charity shops.
But it is not Tom, or the clothes rack, that pulls me emotionally. It is the line drawing, my eyes drawn back time and again. I feel a visceral thrill looking at it, the lines so perfectly capturing movement, and suddenly a memory bubbles up from somewhere deep. Years of ballet training: sunlight streaming through the windows onto the studio floor one memorable spring evening just after the clocks have changed, euphoria surging through exhaustion as the music swells inside me. Spring breaking through winter. And afterwards, lying flat on the changing room floor, limbs trembling, dried blood on my toes from pointe work, sticking my tights to my skin like a red seal of wax on an envelope. The passion and the pain.
Looking at that drawing, in some mysterious way my story connects with the artist's narrative and becomes personal. Pete is in there too, the midden-raider's spirit. Best of all is the idea that an item that is unwanted and superfluous to one person is coveted and treasured by another. And in that, lies true 'recycling', not just of a 'thing' but of an emotion: the pleasure of purchase; the pride of possession; the association of then and now. My past and my present, perhaps my future too in the sense that every possession can be the beginning of a new chapter, all captured in a few lines, a few pounds.  I take it to the cash desk. It is, I think, cheap at the price.
---
Catherine Deveney is an award-winning investigative journalist, novelist and television presenter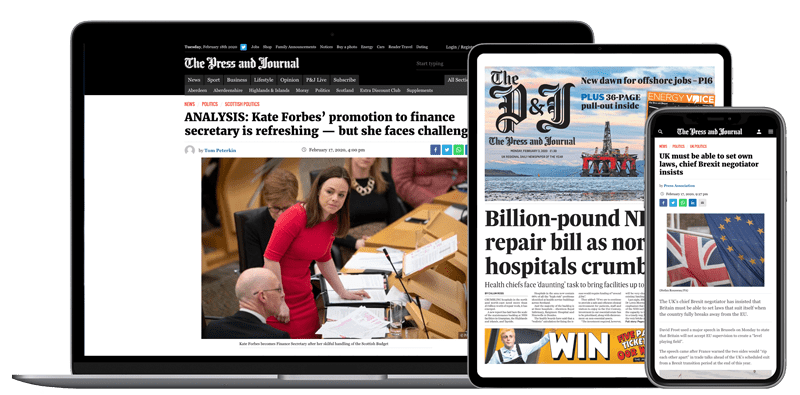 Help support quality local journalism … become a digital subscriber to The Press and Journal
For as little as £5.99 a month you can access all of our content, including Premium articles.
Subscribe