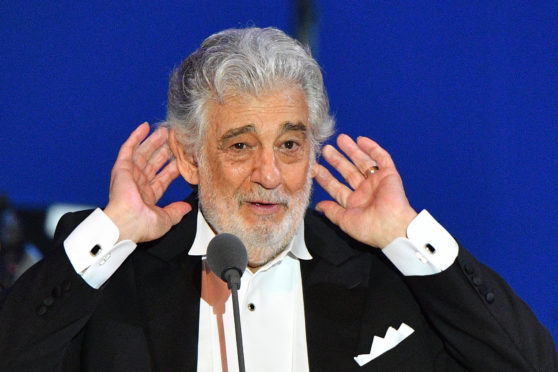 Opera, I always thought, was the music of the elite, as relevant to me as foie gras to a fish and chip tea.
Only when I interviewed a struggling young opera singer from North Lanarkshire did I see, and more importantly feel, something else. Sarah Jane's late father had encouraged her singing and now, she and her mother were trying to fund her classical training in London.
Listening to her sing at a fundraising event, I was glad of the auditorium's darkness. She sang O Mio Babino Caro, Oh My Beloved Father, and for the first time, opera connected to me because my father was terminally ill. She sang thinking of her father, and I listened thinking of mine.
We photographed Sarah Jane in a red satin ballgown singing to a butcher in a striped apron outside his shop, against the background of graffiti-strewn metal shutters. Covent Garden had come to Craigneuk, and the whole scene felt like a democratisation of the music she loved.
There are, for whatever reason, certain things in life – Eton, Oxbridge, opera, politics even – that seem to have a class ticket attached. A couple of years ago, a newspaper reported that an opera study showed the majority of people in Britain gave it a body swerve because they considered it too posh, too long and too expensive. Most said they wouldn't even contemplate watching it if it were on television. The idea that it was for 'someone else' prevailed.
Disturbing, then, to read accounts of accusations against the world-famous tenor, Placido Domingo, and realise that the elitism exists for the singers as well as the listeners. Twenty women have come forward to accuse the 78-year-old maestro of groping them. Backstage staff at LA opera say his behaviour was common knowledge and that management have known about it for decades. But Domingo is one of the biggest opera stars in the world, commanding huge audiences and huge respect and therefore seemed untouchable – until someone shouted that the Emperor had no clothes on and others agreed.
For his part, Domingo used that old chestnut about the standards by which we are judged today are not the standards of the past, blah, blah. I really don't remember a time when groping a woman's breast was considered just a boy thing, but perhaps opera is even more other-worldly than I thought. Domingo went on, via a spokesperson, to say the accusations were "deeply troubling and, as presented, inaccurate".
Nice and vague that denial, and more than a little lacking in outrage. It is an important principle of justice that a person is innocent until proved guilty but there is certainly something disturbing about the reaction to the Domingo accusations.
The Metropolitan Opera in New York waited until last week to announce that he would not be appearing this autumn as scheduled, despite the whole story unfolding over months. In Vienna, Domingo was given two standing ovations when he appeared after the accusations. A few bleating women weren't going to interfere with high art. It is as if people think his beautiful voice, his outstanding talent, outweigh everything else about him. They don't.
What is it about men with power that make them feel they are untouchable – and the rest of us agree while lying supine at their feet? This week's accusations that Boris Johnson groped a female journalist under a table, who then discovered he had allegedly done the same to the woman on the other side of him, have been interesting.
The reaction from Home Secretary Sajid Javid, is that he doesn't doubt Johnson's account, "for a second."
Excuse me? Not for a second? Perhaps that instant dismissal is why we consistently have this problem, where power is simply upheld in the face of those less powerful. The groping allegations, and discussion of his offensive language to women in the Commons, stand in the shade of political headlines about Brexit and inner turmoil in the Tory party. But should they? Doesn't power – of any description – come with responsibilities as well as rights?
Right now, two of the world's powerful men – Donald Trump and Mr Johnson – have accusations against them concerning their attitudes and behaviour towards women. In the grand scheme of things, who cares? There will be more outrage if allegations about the Prime Minister mis-using public money supporting his female friend while he was London mayor are proved than there will be over any groping allegations. That's just boys, innit?
The truth is that despite our legislation on gender equality, we still don't have it. The words on the law makers' parchments are empty as long as men in power – in whatever sphere that is – continue to behave in this way and get away with it.
The fact that nobody spoke out about Domingo for so long, the fact that Johnson's denial is instantly sufficient for his colleagues, is an illustration of how corrupting power can be. Until there is due process finding them innocent, neither will get any standing ovation from me.
---
Catherine Deveney is an award-winning investigative journalist, novelist and television presenter.