 The dichotomy of being a writer is that you need enough sensitivity to feel so deeply about the world around you that you want to write about it, and enough steel to tell the truth about it.
As a journalist, if either of those two elements becomes compromised, you end up on one hand with distortion, or on the other with sycophantic PR speak. Telling the truth while remaining empathetic to those you write about can be a tough ask – especially when there's an economic imperative to sell papers.
The ethics of journalism have – quite rightly – never been more closely scrutinised than in the last decade.
The recent impassioned public statement by Prince Harry, the Duke of Sussex, and Meghan Markle regarding a royal lawsuit against the Mail on Sunday has focused the spotlight back on media behaviour once more.
This week, we were told the duke may also be part of a group lawsuit that will investigate historic media transgressions, including hacking his late mother's phone messages, but the current case is the claim that the Mail's publication of a private letter from Meghan to her father, Thomas, broke privacy laws.
The case is important for several reasons. The legal basis of the challenge is that as the author of the letter, Meghan retains the copyright, a principle that journalists and professional writers sometimes have to fight hard for. If this principle is upheld for Markle, not even the recipient – in this case her father – should be able to publicise private correspondence, and the newspaper therefore had no right to publish.
The danger of this in other circumstances is obvious. The most important part of the press's job is not the part that feeds the public what they are interested in, but the part that feeds them what it is in their interests to know. It is holding power to account. It is revealing truth. It is exposing abuse, corruption, wrong-doing and cruelty.
Sometimes, that involves leaking official documents or information gained from private correspondence. George Orwell summed it up by saying that journalism is printing what someone else does not want printed. If the Markle principle on copyright is upheld, the danger is that important information won't get revealed at all. It is not in the public interest for those who would use 'privacy' to hide wrongdoing, to hold the trump card.
But the importance of this case is not just the legal implications. It's the human ones. Harry's public statement was striking for the overflow of very unroyal emotion. Indeed, it was suggested that it was issued without official discussion, with royal aides left surprised and embarrassed by its publication.
Personally, I have a sneaking admiration for Harry's chutzpah. His loyalty to his wife – no matter what anyone else thinks. His love for his late mother. His expression of pain, and his vulnerable admission that he needs support. Even his obvious anger.
Where does that anger come from? No doubt from hurt, as most anger does.
For Diana drives this lawsuit as much as Meghan. At her funeral, Harry cut a heart-breaking figure, a small hunched boy stuffed in a formal suit, tied up with rigid protocol that demanded he not only march like an adult behind her coffin, but shed not a tear as he did.
Harry, William and their wives are currently fronting a mental health campaign. Perhaps Harry's early experiences taught him that bottling emotion is unhealthy.
He is not simply a prince. For all his wealth and privilege, he is the child of a broken marriage, a member of a family that may be royal but is as dysfunctional as anyone else's with its sibling squabbles and petty jealousies, its rivalries and scandals, its outcasts and black sheep. And so, for that matter, is Meghan Markle, dogged by her half-sister's venom and her father's strange habit of speaking to her through tabloid newspapers.
I have no time for royalty but I do have time for people. Harry and Meghan do not deserve more protection than anyone else – but nor do they deserve less. They are public figures, given public money, and therefore must accept that they are rightly subject to scrutiny – about their private jet trips or anything else – and may legitimately be criticised. But perhaps more balance is needed between the important challenge that the press presents to power and privilege, and its ability to manipulate reputations and destroy private lives.
Wherever power lies, it must be subject to checks and challenges – and that includes the press. I'll await the judgment with interest.
There is something disturbing about the fact that so many commentators immediately pronounced it foolhardy to take legal action.
They think it will only provoke the press beast further, as if the fourth estate will rise up, as one, in fury and swallow whole any challengers to their might.
Should that be true, I'd want to shoot the beast myself.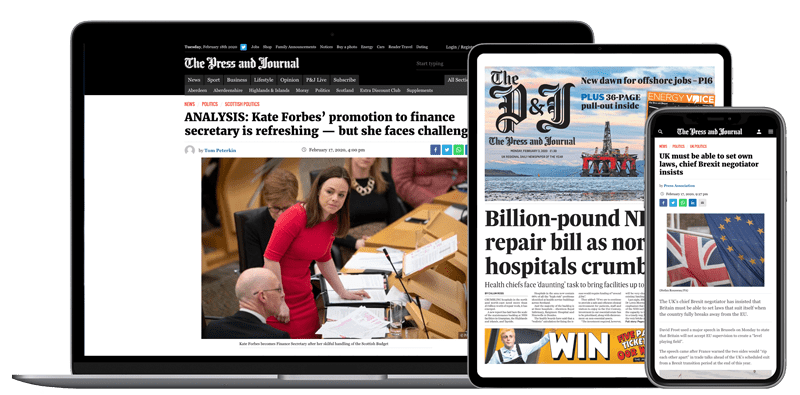 Help support quality local journalism … become a digital subscriber to The Press and Journal
For as little as £5.99 a month you can access all of our content, including Premium articles.
Subscribe