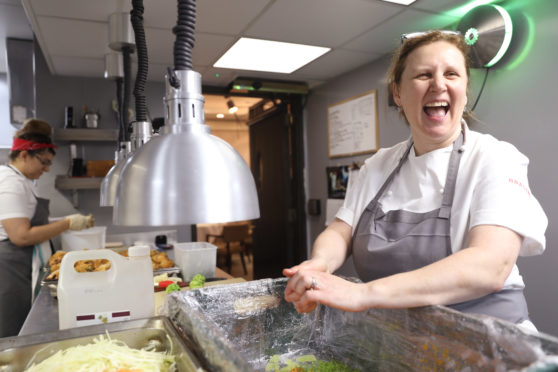 Oh, you've got to laugh. Celebrity chef Heston Blumenthal is causing a stir – see what I did there? – with his wacky views about why women aren't making it as chefs.
Naively, I thought it was because of the excessively macho culture in professional kitchens that sees, I was once told by a food critic, chefs punish their underlings by sticking their hands in hot oil. (Assault to the rest of us but discipline in a pro kitchen.)
Plus, the male-dominated business networks and the male bankers' preference for investing in other men. Apparently not. Heston says it's because once they become mothers, women find it difficult to lift heavy pots and pans.  Who knew?
Certainly not the army of women who drain spaghetti with one child hanging off their back and another swinging from their waist band. As the gender doing most of the domestic cooking, you might expect women to excel in the culinary world but female chefs like Clare Smyth and Angela Hartnett are the minority. In fact, according to the Office of National Statistics, less than 20% of chefs are women.
Even in the business world, women account for 24% of company CEOs which means they are actually doing better in the boardroom than the industrial kitchen. Of the 621 recipients of Michelin stars in the 2018 guide, only two were women. And both of them were working with male partners.
They may be trusted with the daily grind of family fare but women apparently don't cut it when it comes to the haute cuisine favoured by Blumenthal who counts amongst his dishes konbu cured halibut, or sea jelly beans and monks beard (what even IS that?) served on "sand" made from tapioca starch, toasted Japanese breadcrumbs, miso paste and dried seaweed. Important food, in other words, is created by men. Women are cooks; men are chefs. Women are caterers; men are artistes.
Interestingly, Blumenthal is recognised for his "scientific" approach (just not when it comes to gender issues) and is the nutty professor of celebrity kitchen innovation. Stick a white coat on a woman who, like Blumenthal, failed his science O level and she'll get entered for a naughty doctors and nurses competition. Put one on Blumenthal and he gets three honorary university degrees and a Fellowship from the Royal Society of Chemistry.
Not bad just because you know how to use a blow torch and make scented dry ice, and how to serve your bacon ice cream accompanied by the sound of sizzling bacon because appealing to more than one sense apparently makes the flavour more intense. Savoury ice cream is Blumenthal's speciality: crab ice cream, smoked salmon ice-cream, bacon and egg ice cream…. Aye, very good Heston. Any vanilla?
And the serious point behind all this? That the same task, conducted by two different genders, is viewed completely differently. Who sees the nation's domestic chefs as innovators and creators? Women have always been involved with food and on the whole, they have traditionally used it to nurture, a way of socialising and "looking after" those they care about. It's ironic that the kitchen became a symbol of women's domestic imprisonment, but restaurant kitchens, where there is prestige and money, are male dominated.
When a profession is regarded as "feminine", pay levels drop, so there's good reason for male chefs to resist the transference of women from the domestic kitchen to the industrial one. One way they do so is promoting the macho atmosphere that makes most women run a mile, and prompts male food writers to suggest women don't have the "emotional strength" to be chefs. Gordon Ramsay can be funny, charming – and vicious. I once watched in horror as his staff were lined up in front of me and humiliated, personal insults flowing. The culinary approach to staff development.
And the other serious point? We simply do not question enough the way the world is, accepting that it is "just the way things are" rather than recognising the social manipulation that goes on to make them that way and more importantly, keep them that way. So, Chef Blumenthal spouts pseudo-science about "body clocks" and "evolution" because he's drunk it in from somewhere (though evidently not his 'O' level science class) and a giant dung- heap of societal stereotyping develops.
This evening, I'll do the catering (again) and being a boring woman, I need to up my game and create something exotic. It had better not involve big pans in case I drop them. Small will do. Just big enough to concoct a little portion of what those famously discerning gourmands, the French – or indeed contestants in the celebrity jungle – would call râgout de testicules. Testicle stew to you and me.
---
Catherine Deveney is an award-winning investigative journalist, novelist and television presenter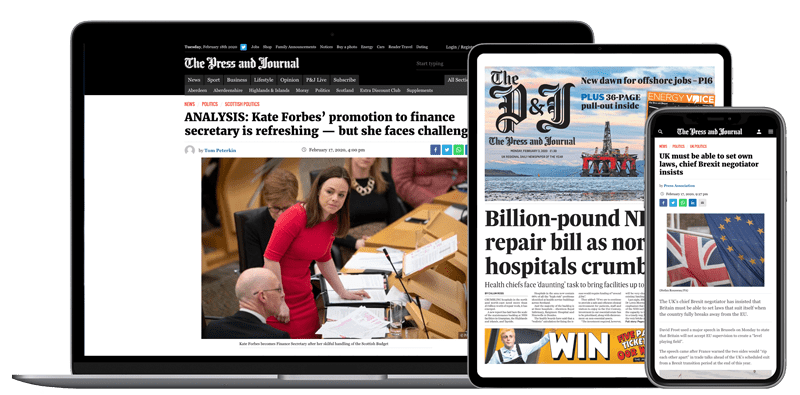 Help support quality local journalism … become a digital subscriber to The Press and Journal
For as little as £5.99 a month you can access all of our content, including Premium articles.
Subscribe