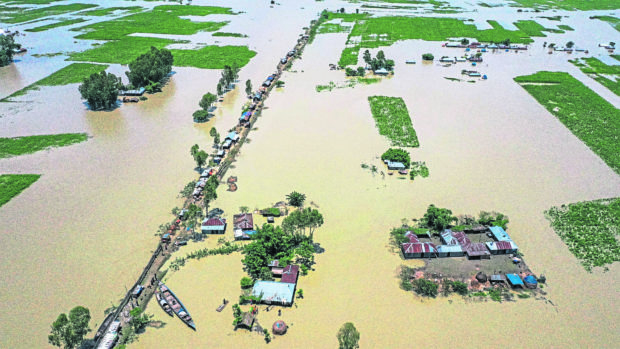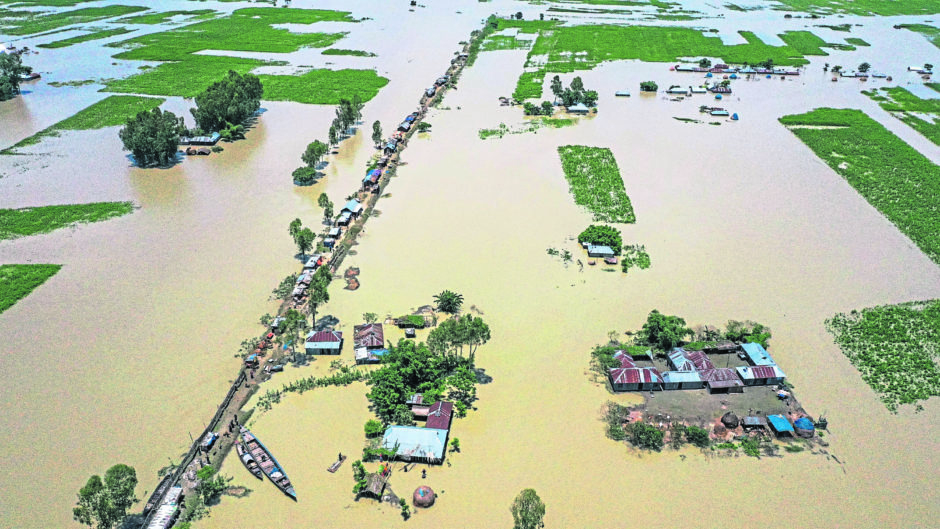 The floods began in June.
As torrential rains hit, the mighty Brahmaputra River swelled and burst, churning up land as it snaked the 2,400 miles from India through Bangladesh before emptying into the Bay of Bengal.
The river is important for irrigating farmlands, but a quarter of Bangladesh is now submerged after flooding.
An abstract tragedy until you see pictures: A young, bare-chested father, thigh-deep in water, gazing into the camera in silent sorrow, holding a naked toddler in his arms.
It is not merely land that got washed away in the Brahmaputra waters but entire lives – the detritus of mud houses, chickens, sacks of rice, floating downstream and into oblivion.
This week, record temperatures and flash flooding hit Britain. Tragic pictures of people's houses being devastated by overflowing rivers are now familiar.
But heartbreaking as their pain is, insurance companies usually step in. The young father standing so bleakly in the river with his baby has none of the support systems of the West.
What irony that the poorest nations in the world, those least responsible for climate change, pay the biggest price for its effects. The world's richest 10% of countries are responsible for 40% of the damage; the poorest 10% account for just 5%.
Why, then, does this sometimes feel such a notional tragedy? It's not just the deniers – though a third of Americans have declared climate change claims to be exaggerated.
It's that so many of us now feel hopelessly overwhelmed. "We don't really worry about it… because we are in too deep," joked an American comedian on the nation's Saturday Night Live.
"It's like if you owe your bookie $1,000, you're like, 'OK, I've got to pay this dude back'. But if you owe your bookie $1 million, you're like, 'I guess I'm just going to die'."
The joke sums up our debilitated indifference beautifully. But some of us will die quicker than others.
Global climate change is just another global inequality. According to the UN, the countries most affected by extreme weather have had to pay out $40 billion. Yet, the $100bn aid promise agreed by world leaders in Paris in 2015 has not been kept.
Foreign aid is a red herring anyway, according to a 2016 American analysis – the most extensive ever undertaken.
The popular narrative? Rich countries help poor ones. Or do they? The study found that in reality, the West milks more out of developing countries' economies than it gives back in aid payments.
Trillions more. Foreign investments, debt payments, oil company profits – a money river almost as long as the Brahmaputra flows out of developing countries instead of into them.
Historically, Bangladesh grew out of Bengal, a proud trading area known for exporting muslin and rich silks to the Middle East.
Its philosophy and art were influential over the whole of Southeast Asia. But right now, it is one of the poorest, most densely populated countries on Earth with a population of 162 million.
Despite its size, we are being warned that it could disappear completely under water. Even if global temperatures rise by 2C, the Brahmaputra will be subject to 24% more flooding.
The UN is now urging a cap of 1.5C. Sometimes we ignore abstract danger, just as we did a decade before Covid-19 when scientists advised emergency planning for global pandemics.
The National Bureau of Economic Research now estimates that deaths caused by rising global temperatures will come close to eclipsing deaths from all the world's infectious diseases combined.
As with Covid, the most vulnerable are those with pre-existing illnesses. Extreme heat and cold exacerbate conditions, such as heart disease, in those who already live in challenging climates.
Teenage climate change activist Greta Thunberg, who was recently awarded the Gulbenkian Prize for Humanity, pledged her one million euro prize to preventing climate change.
She shames the world's nations. But if governments can't adopt her passion and commitment, and recognise their responsibilities for themselves, they might soon be made to.
For interesting legal developments are taking place in European courts.
The Irish Supreme Court has just ruled against its own government, saying their plans to reduce greenhouse gasses are too vague, and that they must now publish details of how their goal of hitting zero carbon emissions by 2050 will be achieved.
According to Dr David Boyd, UN Rapporteur on the Environment, the case is likely to have wide-ranging repercussions for climate justice everywhere.
It is days since I first saw the picture of that young father and toddler in the river but I can see his face still.
A stone in my shoe. His name is Taijul Islam. Taijul shakes me out of sloth, reminds me that this is no faceless, faraway tragedy.
Baghdad was 52C this July. Nigeria was 33C but temperatures increased by 12C because of gas flares from the Italian oil multinational Agip.
Britain, too, is recording record-breaking temperatures and flash flooding.
It's time to turn that tide, not least because the waters that have flooded Taijul and the poor are now swirling ever closer to our own front doors.