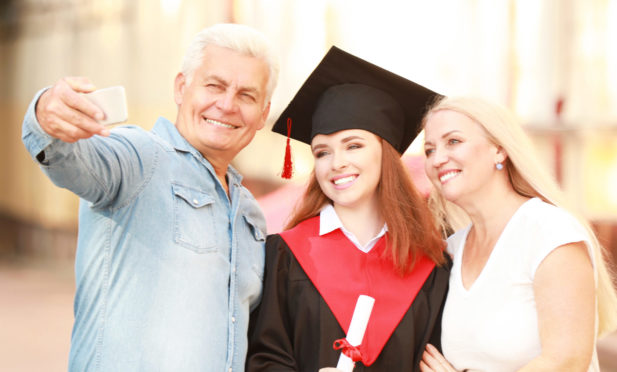 The poet William Wordsworth's old house in Cumbria is so picture perfect it could be from a Disney film set. White, limewashed walls and grey slate, pink roses clambering the exterior and reaching for the sky; Dove Cottage nestles in among greenery in a back lane of Grasmere.
A modest home for the 19th Century poet laureate's greatness you might think, a thought repeated outside Robert Burn's whitewashed, thatched cottage in Ayrshire, where Burns grew up in penury. But then, who other than policy wonks applying algorithms to exam results ever thought postcode indicated anything other than where you lived?
Little about young people's attainment has been revealed recently, but much about our increasingly dispiriting attitude to education. What are we playing at?
In the overwhelming, post-Brexit vote depression I felt in 2016, there was one area that particularly bothered me: What would happen to our universities, to research, to artistic and scientific exploration without the European funding and collaboration that we were part of? The answer to that is now loud and clear: 10,000 academics have left Britain since the referendum, 2,500 of them from Scotland.
I read about one this week, Professor Ulf Schmidt, who has lived and worked in Britain for the last 25 years. His story would make you weep. Schmidt felt part of this country to the extent that Germany no longer felt like home. His son was born here.
Crucially, he brought investment to British research, most recently with a 10 million euro grant from the European Research Council to work with partners in Berlin, Sofia and Budapest. Unfortunately, Schmidt is now moving to a post as professor of modern history at Hamburg University. And his 10 million euro grant transfers with him.
The Brexit vote made him feel like an alien. But even more important was the way this country's attitude to education has changed. Our reverence for knowledge has disappeared. Our once world-admired education system has become the sick man of Europe, reduced to a twitching corpse with few visible indications of life or potential signs of recovery.
In his poetry, Robert Burns famously lamented the fact that we can't see ourselves as others see us. But Professor Schmidt holds up a mirror that forces us to see an unappealing reflection. His words felt like a stinging slap and they still ring in my ears.
He and his family were leaving, he said, not just because of Brexit but because this country now feels characterised "by an impassioned anti-intellectualism that seeks simple answers and negates context and complexity".
How painfully, horribly true that is. And in so many ways. Our political arena has been reduced to simplistic slogans (and self-confessed, international law-breaking); our social policies to crude demonising and our education to a brutal market place of consumers and services that talks of "delivery", "results", "value for money" (not, usually) and is underpinned by a system of privilege where being advantaged leads to yet more advantage. Live in a nice house? Have an A grade.
We live in a digital age. Yet we have cut ourselves off from the context of Europe, as if the world is still some primitive territory, ripe for exploration and exploitation, that we can rip through or rip off, with educational attainments that are fast becoming not worth the paper they are written on.
Wordsworth and Burns were, in their different parts of Britain, both part of what was then a revolutionary new literary movement: Romanticism. Poets like Wordsworth, Shelley, Keats and Byron travelled extensively in Europe, understanding the connection between education, broad horizons and the development of ideas. They went to France. To Italy. They observed and they wrote.
Scotland didn't vote for Brexit, yet we have been forced backwards and are no longer European. We inhabit the shrunken universe of Little Britain.
The brain drain is well under way. Schmidt's story is just the latest in a long line published about academics who are leaving, or who say the phone offering them research grants has stopped ringing. Those whose phones are still ringing are using the offers to get out.
Berlin, Copenhagen, Paris, Amsterdam, Vienna, all the major cities of Europe, says Schmidt, have pounced on the cadaver of British education and are currently extracting the vital organs.
Who cares? Our university system used to be the envy of the world. Now it is on the brink of collapse, the artery running from Britain to world academia, almost severed. Increasingly, our education system has become focused not on merit but on those who can afford to pay.
There are some things you don't buy in life, don't earn, don't barter for, shouldn't have to qualify for – you are simply entitled to them by virtue of the fact that you are alive. Health. Education. Knowledge is not a commercial commodity but a human inheritance. That's why poor children can become great poets.
"Bildung macht frei" – education makes you free – was the slogan of 19th Century German egalitarians. Once upon a time we knew that too – but that was before we were forced into the role of the dimwits of Europe.