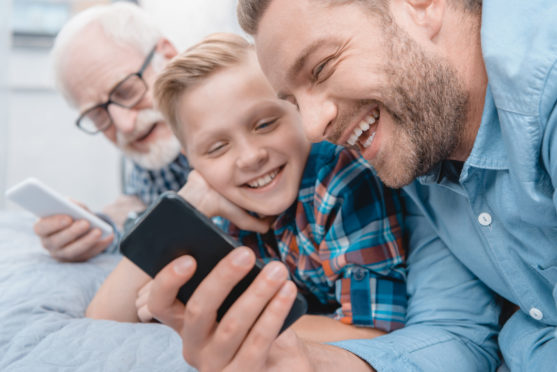 It is 2019, and a dark moment looms for the Deerin household. This is the year in which daughter number one will fly the coop – to university in the autumn.
It is, of course – of course! – a wonderful occasion. Our biggest baby takes her first, stuttering steps into the adult world, moves to a new city, finds a flat, new friends, and moves on to the next stage of life. I'm excited for her, most of the time (even if she struggles to microwave soup).
But my wife and I can't help also seeing it as our own mini-Brexit: an unwanted, painful breach; the loss of something precious that can never be regained.
And it is the loss of something precious. That period of our lives in which we and the children have had full ownership of one another, have inhabited practically every inch of each other's existence, have loved and laughed, shouted and screamed together, is drawing to a close. Daughter number two will be gone within a few years, too. And then the third. That private universe, us and us alone, always felt like it would last forever, until it didn't.
So we're preparing as best we can, hoping she doesn't move too far away, wondering how many parental visits will be too many, feeling slightly helpless in the face of the grown-up heartbreaks and setbacks that inevitably lie ahead of her.
One out, one in. As a child departs, a grandparent arrives. We've begun discussions with my mother about buying a place together, a house with a granny flat attached. If we pool our resources we can probably afford something with enough space for us all. The cycle of life turns, and as the young no longer need us quite so much, the elderly need us a bit more.
Now, my mum will probably give me a slap when she reads this, being a vibrant, energetic and indeed dominant individual (once a teacher, always a teacher…). She is the opposite of the fragile old lady that the traditional image of the granny suggests.
But it won't always be that way. And it makes sense that as she grows older, and because we live in the same city, to plan ahead. For now, we get a babysitter on tap (memo to self: check this with her). In time, we're on hand to ensure life continues to run smoothly for her.
I suspect this course of action will become more common in the years ahead. Our population is ageing – the proportion of pension-age Scots is predicted to increase by 25 per cent over the next 25 years; the number aged 75 and over will rise by an astonishing 79 per cent over the same period. In contrast, the native working-age population will only grow by around one per cent.
We are living longer, which is a terrific thing, but is also not without consequence. One is that ever-greater pressure is being placed on the NHS and its already-creaking budget. An 85-year-old man costs the health service around seven times more on average than a man in his late 30s. Health spending per person soars beyond the age of 50.
There is the thorny issue of social care. An older, more infirm population will require more nursing homes, more rooms and beds. The commitment to taxpayer-funded personal care threatens to become particularly onerous. And with those of working age occupying a declining proportion of the population, it's not clear where the extra money will come from without penurious tax rates or savage cuts to other public services, or both.
Then there's loneliness – an ageing society almost inevitably means more elderly people left on their own. Spouses and peers die, children move away, those left behind can find themselves abandoned almost by accident.
All of these challenges suggest we need to rethink how we treat and care for our elderly in coming decades. Here, it's no secret that other countries have a healthier culture than we do in the UK. In most, family and informal care is the primary means of support, and multi-generational living is more common (and in many places on the increase). It's a reciprocal process, with many older people providing child care – in France, Denmark, Sweden and the Netherlands up to 60% of grandparents provide some child care.
So it looks like there is a deal to be struck between the generations: you help us out with the kids and we'll look after you in your dotage. Put like that it sounds rather transactional, but really this would just be a by-product of a happier society that more strongly valued family bonds and that encouraged us to take greater responsibility for one another. Better get building those granny flats.