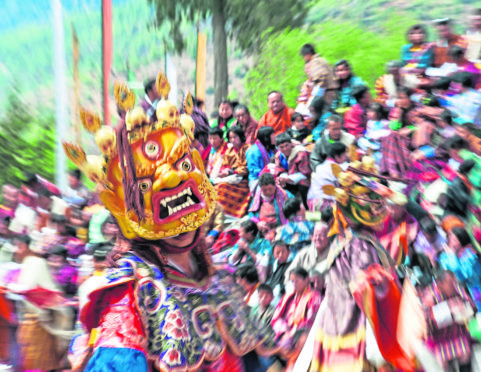 Talk of "national happiness" and one's thoughts quickly swoop south and east to the exotic kingdom of Bhutan, a land of prayer flags, brightly-robed monks, monasteries, and a people who are, as stereotype has it, poor but content. It is Bhutan that famously ignores Gross Domestic Product as the main measure of the national good in favour of Gross National Happiness.
Transferring such a culture from a mountainous, mystical Buddhist environment to the hardscrabble, secular, cynical and money-oriented West is a big ask. Too big, of course, for a direct transplant. But since the economic crash of 2008 the question has refused to go away: has our obsession with finance, GDP stats and low taxes come at a human, even spiritual, cost? Capitalism has largely been a positive force in the world, drawing many millions out of poverty in recent decades, but in and of itself it is not a route to the Good Life. Have we lost even as we have gained? And what can we do about it?
It's a conundrum that a small band of governments are beginning to investigate – specifically those of New Zealand, Iceland and… Scotland. Without much fanfare the SNP administration has made the measurement of wellbeing a core part of its economic strategy. It's early days, and not yet clear if the idea will work and what level of impact it might have, but there's certainly no harm in trying. The times arguably demand it.
At the OECD's World Forum in November last year a group involving the three countries was set up, and the Nobel-winning economist Joseph Stiglitz, who has thought hard about alternatives to GDP as measures of progress, also took part. Over time the Wellbeing Economy Governments (WEGo), as the group has titled itself, will share examples of best practice when it comes to embedding the desired outcomes in economic policy. Its first annual conference will be held in Scotland in May.
New Zealand has been boldest, quickest – it has committed its 2019 Budget to a focus on wellbeing. The country's Treasury has developed a Living Standards Framework and Dashboard to analyse and measure progress in the years ahead. It will look at the impact of economic policy using characteristics such as sex, age, ethnicity, hours worked and neighbourhood deprivation. Comparisons will be made with the performance of other OECD countries, using 38 different indicators. All this will feed into policy decisions. In short, the challenge is: as you raise living standards, how do you do so in a way that benefits as broad a part of society as possible and not just those at the top?
Or, as Nicola Sturgeon puts it, there is "evidence from around the world that high inequality – as well being a bad thing in itself – also makes economic growth weaker and less sustainable. [This] highlights the importance of wellbeing."
The Scottish government last year rewrote its National Performance Framework, which is effectively its high-level business plan, to accommodate this emerging worldview. The Framework uses the kind of motherhood-and-apple-pie language you'd expect: Scots should "grow up loved, safe and respected so that they realise their full potential, live in communities that are inclusive, empowered, resilient and safe", be "well educated, skilled and able to contribute to society", and "have thriving and innovative businesses, with quality jobs and fair work for everyone".
But if this language is broad and vague enough to verge on meaningless – it's the kind of tear-stained corporate-speak you'll find in the mission statements of most big companies and institutions – it is at least a declaration of intent. Its practical application might be detected in Derek Mackay's refusal to follow Westminster's lead in cutting taxes for higher earners, or in the baby box that's given to new parents. Tackling child poverty has been given a new prominence.
The danger, of course, is that you end up with government by right-on gesture, with ministers refusing to take the sometimes difficult decisions that are for the best in the long-term. The SNP has in the past too often opted for this course of action, which hasn't served the nation – or the party's own historical legacy – particularly well. And a focus on inclusive growth doesn't negate the fact that Scotland still has too few business start-ups, is too reliant on state employment, and needs to grow its revenues to fund generous public services.
Still, 21st Century capitalism needs a better look. Public trust in business and government is at an appallingly low level – the elites are seen (not without reason) as being in it for themselves, and the sense that economic success has worked for the few rather than the many is in part responsible for Brexit, the election of Donald Trump, and the snake-oil charms of populists everywhere. How do we construct an economic system that builds on the best of capitalism, but that has a compassionate, human face? How do we extend the benefits and opportunities that come easily to those at the top across society?
We may not end up with prayer flags and a habit of meditation, but we may rediscover a bit of that lost soul.
---
Chris Deerin is a leading journalist and commentator who heads independent, nonparty thinktank ReformScotland