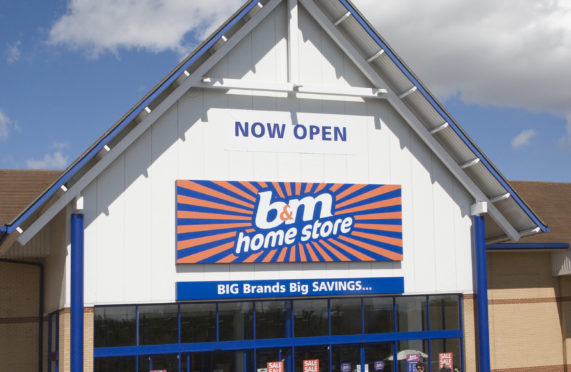 It was two months ago that my life changed for the better. I'd dropped a daughter off at her new Saturday club and decided, with no real optimism, to explore the industrial estate where I was bound to spend the next hour.
Rounding yet another featureless corner, I was suddenly greeted with a sight to quicken the pulse and gladden the wallet – there, hunkered together in the drizzle like a gang of malevolent teenagers, was a collection of squat, grey buildings. Their bright signs named them: Lidl, Aldi, Farmfoods and – best of all, I was about to learn – B&M.
Now this isn't one of those articles detailing some naïve, middle-class discovery that there are outlets other than Waitrose from which to buy one's food. If Sofia Loren owed her figure to spaghetti, I owe my own curves to Lidl's mysterious German sausages, "Italian" ice-cream and unique mayonnaise. But there was something about seeing all these stores stacked boldly together that instantly made me forget the rain.
It was the one I didn't know that was to make an indelible impression. What a cave of wonders B&M is! Immediately upon entry there were Rainbow Drops and Flying Saucers and Drumstick lollies and countless other sweets unseen since my 80s childhood; there was beer and quiche and five different makes of those little tins of tuna. On the next shelf were Superman lounge pants and unicorn slippers and eye-catching pants. Next came trampolines, a giant archery set, and three types of paddling pool; then bins, lava lamps, speakers shaped like rocks and radios like pigs; paint and drills and glue; dash cams and hen party sets and giant clocks that would cover an entire wall of your house. It was B&Q and M&S and C&A and H&M and BHS all rolled into one. It was heaven.
Reader, I returned home that day laden with a bit of everything. And each week since, I've waved my daughter goodbye and set off, like the David Livingstone of central Scotland, to explore the deepest, darkest reaches of B&M.
I won't pretend there haven't been consequences. My marriage is so far surviving the growing pile of random objects – we're still at the bemused tolerance stage; next up, the coded warning stage. I have occasionally been late to collect my child, having become distracted by some fascinating glow-in-the-dark towel rail or an unbelievable 3-for-2 deal on space hoppers. Cheap though everything is, I have managed to commit a substantial part of the Deerin family income to the fortunes of Messrs B&M, whoever they may be.
I have not been wasting my time, or at least I have not simply been wasting my time. I have used these thrilling hours of raking and gawping to formulate a No-Deal Brexit survival diet. As a plan, it may not be for everyone, but if it helps your family through the Armageddon that is almost upon us, I would feel I had at least done my bit. To reassure you, I have been eating along these lines almost exclusively for some time now, and I remain happy and healthy, after a fashion.
At the stores mentioned above you will find the most magnificent range of dried noodles, of the kind that will remain edible well into the 23rd century. You might buy a cupboard's worth of Pot Noodles (look for the King size), but if this seems a tad extravagant there are now a number of cheaper options, usually with indecipherable names in Chinese script. Get some Super Noodles too, for the sake of variety. Oh, and Knorr's Super Chicken Noodle Soup, which means you are only ever a boiled kettle away from a Michelin-quality dining experience.
As with noodles, so with pasta. I have rediscovered my student-era love of Cheesey Pasta, with its alarmingly orange powder flavouring, and to my delight have learned an entire marketplace of competing products has sprung up over the years, all of which will easily survive a species-threatening event.
For the big nights, you might want to tart up your noodles a bit. This, I have discovered, is easily done. A flourish of soy or Worcestershire sauce will impress the guests. For something with a bit more bite, try adding tabasco or one of the many other hot sauces now available, most of which are visible from the moon.
More good news. If you make your way to, say, Iceland (the shop, not the country), you will find packets of frozen baked goods from Greggs – sausage rolls, bridies, steak bakes, you name it. So even if the sainted Greggs were to go under due to a sudden post-Brexit scarcity of Luxembourg pastry or whatever, you will have a smug freezer-full of the kind of grub that has sustained us Scots for decades.
To finish, Viennetta, which until recently I thought had gone the way of flares and double denim. Or if you're lucky, and committed enough to the search, you might track down butterscotch-flavour Angel Delight. It is out there.
We will get through this new dark age that is heading our way, you and I – and we can do so while eating like kings of the industrial estate.
---
Chris Deerin is a leading journalist and commentator who heads independent, non-party think tank Reform Scotland