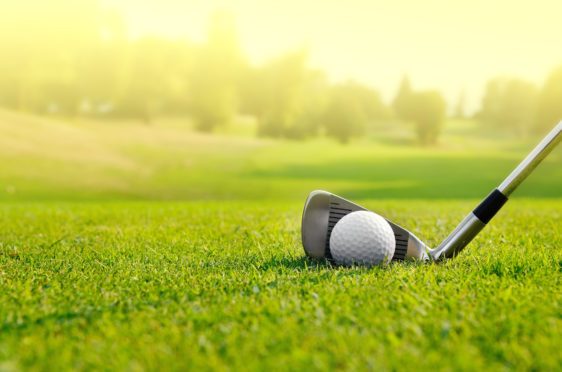 This week, the dog and I have spent a considerable amount of time watching golf.
We have found ourselves, largely by accident, staying in a 'golf hotel', which is, perhaps predictably, full of golfers and golfers' wives/husbands.
The hotel grounds are a massive links course, and both the first tee and the 18th green are directly below our balcony. Our room walls are papered with portraits of moustachioed, pleased-with-themselves champs of yore. The towel hook in the bathroom is the amputated head of a nine-iron.
If you like golf, I imagine this would be something of a paradise. Unfortunately, I have never had much interest in the game – I tried it once, and hurt my back – and so I feel the view and the knick-knacks have been a bit wasted on me. The dog sits by my side on the balcony, equally ignorant, growling quietly, occasionally emitting an inelegantly timed wuff as some knitwear-clad, becapped Trevino takes his first eager swing.
As the week has worn on, however, I have found myself becoming captivated by the scene unfolding before me. My insight: all life is here – Shakespearean drama and farce and tragedy all in one pretty green vista.
I have, for example, become accustomed to chat about swing and Ping and coursewear bling: for example, whether the Ultimate Climacool Hyper Athletic Polo is a slicker look than the Oakley Men's Balata Perform Golf Polo.
I have no opinion on this matter but style, of a kind, clearly matters to the golfer. There are even fashion guides published ahead of major golf tournaments, like Vogue for the thicker-middled-man. Here's an example from earlier this year ahead of a competition in the US: 'In the Under Armour Vanish collection, Jordan Spieth will wear a collection of stripe patterns at Augusta. He'll start the week in a simple white shirt with subtle accents, move toward the weekend in a bold pink multi-coloured shirt, wear a bright green top on Saturday and finish the week in a monochromatic navy look.' I guess Jordan Spieth is being paid a huge amount of dosh to wear monochromatic navy on Sundays, on the basis that his obsessive followers will immediately purchase the same gear, much like fans of Ariana Grande.
So they take it seriously, this golf. These people come swinging sharply into the car park each morning, putting whining children and intimations of gout temporarily from their mind, and they live it. This is the thug life, Waitrose-style – and who among us middle-aged chaps could deny them this brief spell of pleasure and freedom?
I thought I might share some observations from my week of observation, if you will – a helpful kind of 'as others see us' compendium for my golfer friends. First, there is undoubtedly a golfer walk – impressive belly forced boldly out in front, shoulders and bum swinging in time, chin up, eyes squinting at the horizon, as if marching towards a gunfight at high noon. This is a man holding nature at bay.
Next, there is pack hierarchy. If it's a company outing, everyone fusses around the boss, who has slightly better kit and who always gets to go first. His every shot is greeted by applause and murmurs of 'good one, Bill' and 'ooft, belter' and 'that's why he's the boss!', regardless of whether it ends up somewhere on the fairway or in a dank pond.
This pack hierarchy changes if the game is doubling as a business meeting. Then, the visiting Japanese or American CEO is given biggest-cheese status, their British host doing a lot of back-slapping and subtle salesmanship. I genuinely heard one tell his Oriental visitor as they walked off the final hole this week, 'now, let's get a drink and see if we can put this to bed.' I felt like I was in an episode of Dallas.
Third, caddying is hard work. From my balcony redoubt I could see how the friendly smiles didn't last much beyond the 18th, how weary limbs were stretched as the heavy bags were finally dropped, how relieved they were finally to be relieved.
Last, hardly anyone's any good at golf. Everyone looks the part and talks the talk, but when it comes to swinging the stick their bluff is called (doggie Deerin's invasive 'wuff' notwithstanding). I've watched guys spend ages at the tee, tossing grass in the air to check the wind, practising their shot, before stiffening, narrowing their eyes, and smacking the ball 10 feet to their right. I saw one dedicated duffer take most of an afternoon to get out of a bunker, his caddy maintaining a resolute yet unconvincing look of concern throughout. I saw grown men stamp their feet.
A final thought – all of this tells me that golf is basically life. None of us are much cop at it, but we do try to look the part, and to take it seriously. We're always trying to get better at it, but there's an awful lot of bunker shots, lost balls and foot-stamping along the way. And, perhaps, occasional cheating. In short, life, like golf, is delightfully ridiculous.
---
Chris Deerin is a leading journalist and commentator who heads independent, non-party think tank Reform Scotland