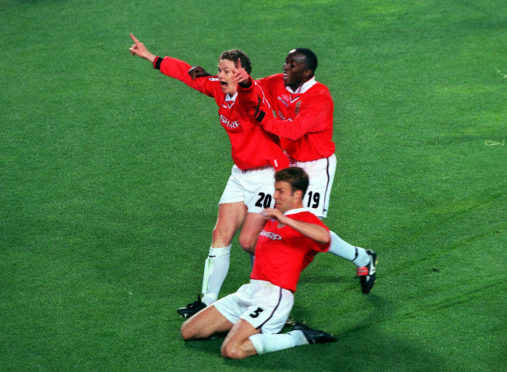 Amid the darkness, one light shines: Manchester United, my team, are on fire.
Thirty-two games played, maximum points. We've already won the Carabao Cup and have reached the final of the FA Cup and the Champions League. Invincibles.
And no wonder, when you consider our line-up: David De Gea in goal; Andy Robertson (capt) and Trent Alexander-Arnold as flying full-backs; World Cup winner Raphael Varane partnered with wunderkind Matthijs De Ligt at centre-back; Paul Pogba (fit, fully committed, enjoying his football) scoring goals for fun from the midfield alongside Dutch starlet Frenkie de Jong; a frontline that includes the preposterously talented Kylian Mbappe, Lautaro Martinez and English prodigy Jadon Sancho. Leo Messi gets a game off the bench now and again.
Obviously, this Man Utd bears about as much resemblance to the actual club as Real Madrid does to Dukla Pumpherston. The imperial swagger of my line-up belongs to FIFA 20, the video game I have been playing rather too obsessively (according to Mrs D and, in fact, my children) during the lockdown. My defence: in football, as in life, digital bliss is highly preferable to the current, grim reality.
This online fiction is helping to fill the hole left by the shuttering of the real sport. I hadn't realised quite how significant a proportion of my time is taken up by football – how central it is to my daily habits.
I say this as someone who doesn't actually watch all that much of it. As I've grown older I've become pickier about matches. I've almost zero time for Scottish football, and even the much-hyped English Premier League only draws me in when Man Utd or one of the other top sides are playing. Here, I feel obliged to note that I've supported United since I was about 10, pre-Fergie, when we were absolutely rubbish.
I'm also a Champions League junkie and will make time for the bronzed poets of Barcelona, the slick flicks of Juventus, or Borussia Dortmund's ruthless killer bees. I'm aware the clock is ticking on Messi's career, and try to watch as much of him as I can, while I can. But beyond this, I'm unwilling to spend whatever span remains to me wincing for 90 minutes at corner-flag-threatening shots, Viking-raid tackles, and passing where the ball seems determined to observe the two-metre exclusion zone.
It was still something of a shock to realise it wasn't the watching I was missing, or at least that I missed most. Perhaps the closest comparison is the impact the current shutdown of EastEnders will be having on its fans. The soap opera element to football has become increasingly important as the game has become richer, more global, and more stage-managed. And while the 90 minutes is one thing – the main thing – there are also the magazines, the websites, the social media alerts, the books and the TV analysis shows.
I spend a lot of time immersed in this world, reading about who's in, who's out, who's about to burst on to the scene, who's (allegedly) buying whom for which eye-popping sum of money, who's getting sacked in the morning, which player has been caught hiring two hookers, a ball pool and an alligator for an evening's fun. The drama is endless.
There are the interviews in which these gilded young men, rich as Croesus by the age of 23, reveal more about themselves than we need to know: their extraordinarily mundane and limited lives (external and internal), their narrow and predictable cultural touchstones, their juvenile pranks and playground humour. And yet, we – I – venerate them: for what they can do with a leather, air-filled sphere; for their ability to shimmy, sprint, curl and leap in such a way as to invite comparisons with ballet, with athletics, with great art, with gravity defiance. In the moment, they are beautiful.
There has been a surge in football "science", provided by pointy-heads who analyse strategy, formations, movement, and player performance, using molecular metrics that would have earned them a boot up the backside from Bill Shankly. You can't really understand the modern game, Jose Mourinho's crabbed defence strategies or Jurgen Klopp's Gegenpressing, the art of Diego Simeone's counter-attacking or Pep Guardiola's "take the ball, pass the ball" approach, unless you commit to the hard yards.
Social media has brought access to a deep new world of soccer trivia. There are feeds that solely comprise clips of terrible defending or attacking and moments of madness.
But I've come to see that without the game itself, without the topsy-turvy 4-3s and the easy 5-0s and even the grinding 0-0s, the rest is mere chaff, an ant colony lacking a queen, a solar system without a sun. The back pages are limp, the TV schedule drained of excitement.
It's taught me a lesson: amid the sleazy agents and the billions and the corruption it's still, in the end, the moving ball and what you can do with it that matters most.
Chris Deerin is a leading journalist and commentator who heads independent, non-party thinktank Reform Scotland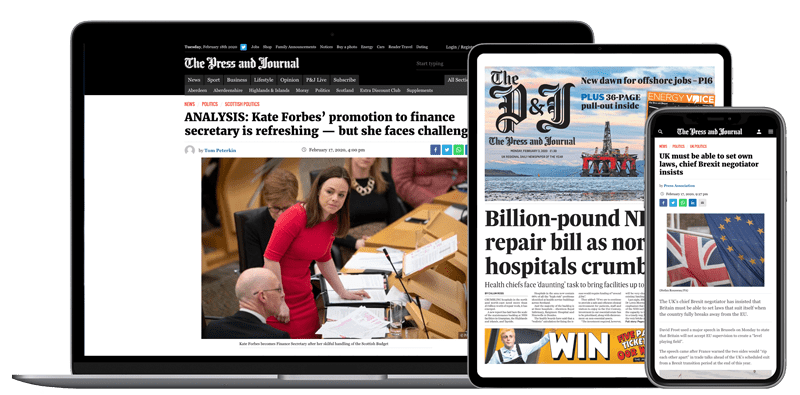 Help support quality local journalism … become a digital subscriber to The Press and Journal
For as little as £5.99 a month you can access all of our content, including Premium articles.
Subscribe