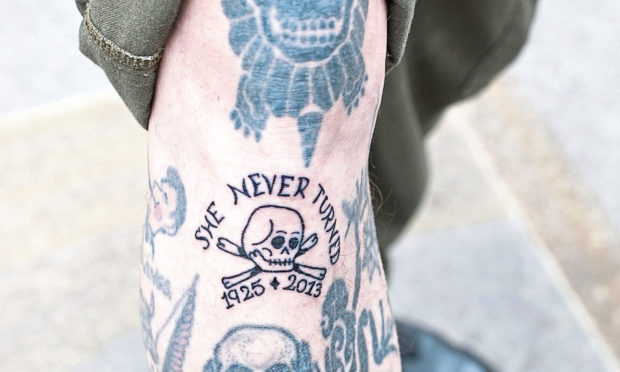 I have held many different jobs in this life, but – so far, at least – I have not been a Yakuza, a Comanche warrior or a Jolly Jack Tar.
Some may say this shows poverty of ambition, but I would put it down to lack of opportunity growing up in 1980s Stirling. I blame Thatcher.
One consequence of these dreary limitations is that I have no tattoos. I don't have three teardrops under my eye because I have not slain three rival gangsters by firing an Uzi from the window of a speeding Chevy Impala.
I don't have a barely-recognisable image of my dear old mum on my bicep, or a tableau of a snake emerging from the eye of a skull across my back. I don't even have my children's names and birth dates inscribed on my inner thigh in a Third Reich-y gothic font.
Yet my wholly uninked carcase seems to be something of a rarity these days. We are becoming a society of painted peacocks, publicly expressing our passing allegiances and aesthetic preferences and life landmarks in permanent, technicolour body art. Struggling high streets are dominated by charity shops, coffee houses, nail bars and, suddenly, tattoo parlours. Tattooing and piercing shops are estimated to have increased their presence by 44% between 2014 and 2019.
I have nothing against body art as such, but I was still slightly alarmed last week when my 15-year-old daughter waggled her fingers in the air and announced she wanted a butterfly on one of her slender digits. Her sisters' ears perked up and there followed an unnerving discussion about who intended to get what.
Up to them, in due course. And I admit my unease may be one of those telltale signs of looming decrepitude, as one struggles to understand the mindset of younger generations. To "call that music, where are the tunes?"and "you're going out in that?", can be added: "I promise you, by 50 you'll regret having Harry Styles's face above your heart".
But kids are surrounded by a culture in which cool people get inked. In celebrityland, it's practically expected. Wee Harry has somewhere in the range of 50. Lady Gaga has a (relatively classy, I guess) quote from Rilke on her arm. A burst of stars trails down Rihanna's spine. Kendall Jenner has a tattoo on the inside of her lower lip that simply reads "meow", while Miley Cyrus has a weeping cat in the same spot. Even mousey little Emma Watson has "Times Up" on her inner forearm – grammatical failings being an entertaining upside of the genre.
Stories of misjudgment and regret are legion. The Celtic-daft son of a friend returned from a holiday in Magaluf with the name of an up-and-coming club starlet on his leg. The starlet never up and came, and was last seen disappearing out the bottom of the lower leagues. The tattoo remains. After splitting up with Winona Ryder, Johnny Depp famously had "Winona Forever" turned into "Wino Forever". Broken relationships can leave a grim visual legacy: research by Portsmouth University found nearly 25% of women regretted getting someone's name tattooed on their bodies, another 15% disliked their lower back tattoos, and a fifth of men regretted their forearm ink. It can't be much fun wearing a polo neck to a job interview at Oxfam to hide the ill-advised swastika on your Adam's apple.
Tattoos are neither new nor revolutionary, of course. Their origins date back thousands of years, to Neolithic times, and they were found in ancient Egypt, China and Greece. Early Christians wore them as a sign of devotion. The word itself comes from the Tahitian "tatau", which means "to mark" or "to strike", and was picked up by Captain Cook on his 18th-Century travels.
They have gone in and out of fashion across the aeons – in late Victorian times, tattoos were an expensive if usually carefully concealed craze among men and women in elite circles. Edward, Prince of Wales, had one, as did his son Albert. Other inked royals included King Oscar of Sweden, Queen Olga of Greece, Kaiser Wilhelm II, and Grand Duke Alexis of Russia. Winston Churchill's American socialite mother Jennie had a snake around her left wrist.
Rumours that Queen Victoria herself had a tattoo of a Bengal tiger fighting a python remain teasingly unsubstantiated.
Today, tattooing is at a popular height. The limbs of revered footballers are lost beneath tangled gardens of ink. Hipsters need ironic imagery on their torsos to match their ironic beards and ironic shoes. The new generation of rappers seem to view ever-encroaching facial tattoos as an essential part of their look. Samantha Cameron has a cute little dolphin on her ankle. Mattel has released an "inked" Barbie doll.
All well and good, but there's an iron rule we mustn't forget: stuff that is fashionable inevitably becomes unfashionable. That's how fashion works, otherwise it wouldn't be, well, fashion.
Forgive a jittery father if he hopes the tattoo becomes hopelessly uncool before too much longer.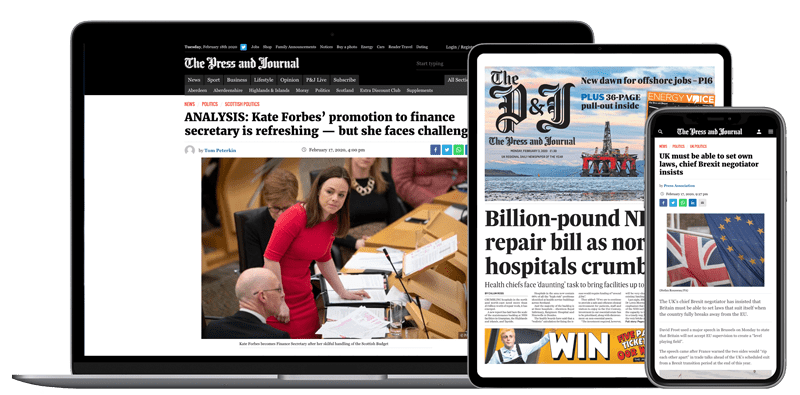 Help support quality local journalism … become a digital subscriber to The Press and Journal
For as little as £5.99 a month you can access all of our content, including Premium articles.
Subscribe