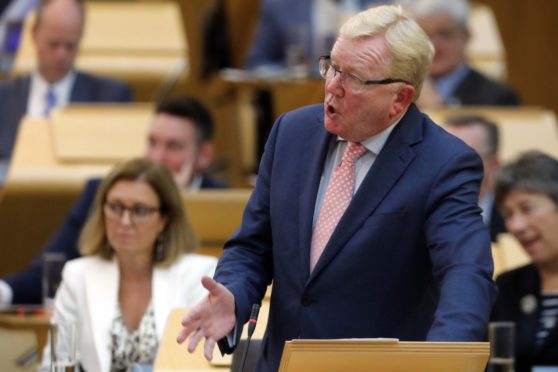 In the election and possible second independence referendum to come, how many Scottish Tories will look back on last week's Manchester conference with anger.
Ruth Davidson's masterplan was first to go. Her opposition to no-deal and Boris Johnson was dumped unceremoniously in a sweaty, overcrowded room off the main conference hall by comrade Jackson Carlaw.
The interim Scottish Tory leader thundered that he stood four square behind Johnson and that the party now supported his pledge to leave the EU "come what may" on October 31.
It was a significant statement and one which it would seem was made rather on the hoof, as within hours of the speech furious Tory MSPs were messaging their complaints to the Scottish press pack in rainy Manchester.
Trawling the Midland Hotel bar, where the majority of MPs and aides were staying, I asked several Scottish Tories why Carlaw had so stridently swung in behind Johnson, one responded "it's what the members want to hear, they agree with that". Asked about the concerns of their colleagues in Holyrood, another said that they should "just shut up" and get on board. Charming.
Last conference saw the launch of "operation arse", the apparent Scottish Tory plot to keep Johnson out of Number 10. It is fair to say that 12 months on, with David Mundell sacked, Davidson gone and Johnson prime minister, that it was one of the most unsuccessful political strategies in modern times.
The re-positioning of the party last week could hold within it a downfall. The strength of the Scottish Tory party in recent years has been, much like the Union itself, that it has a bold individual identity within a wider whole. There is a real danger now that if the plan is simply to parrot Westminster lines that the Scottish Tories will become an easy target for the SNP.
I sat down with party chairman James Cleverly and put this very point to him – he of course rejected it, but his response confirmed the analysis. He said he "loved Ruth" and admired her energy, risk taking and individual attitude, and that more Tories should take a leaf out of her playbook. Where is the risk taking in falling in behind Johnson? Would it not be stronger to reject no-deal and campaign from within as Davidson had been doing? For all the stick given to the Labour Party over Edinburgh being treated as a "branch office", the Scottish Tories risk the same.
Another cause for concern should be the performance of new Scottish Secretary Alister Jack, who has been described by one source as "Boris Johnson's man in Scotland, not Scotland's man at the Cabinet table". Like Carlaw, Jack has been quick to abandon his predecessor's stance on Brexit. Jack praised the interim Scottish Tory leader for the policy change last week, saying he had done "the right thing" by bringing the party into line with the UK Government. He also divulged in a question and answer session at the party conference that he thought fears around a no-deal, many of which emanated from his government's own analysis, were "absolute nonsense".
This Borisification of the Scottish Tories may have gone down well in front of the party faithful in Manchester, but how will it play on doorsteps in Aberdeen and Moray? Some might say the Bridge of Don by-election is proof the Tories can win with this new strategy, but in my experience council by-elections are never a good indicator of a national election. They are fought on local issues, usually by people well known in a particular community, and so who is in Number 10 or the rhetoric from party HQ will play less of a role. Surveys on voter intentions for a general poll make for grim reading for the party. Last month YouGov predicted that the Tories would lose ten of their 13 seats while the SNP would be expected to secure 51 seats, 16 more than in 2017.
Privately many Scottish Tories agree with the analysis and believe a wipe-out is on the way, making the decision to row in behind Johnson all the more surprising. Whether it was a misstep or not looks set to be decided this week, as Carlaw and senior MSPs are due for an away day where Lord McInnes of Kilwinning, the party director, is expected to give an update on the process for selecting a new leader.
The battle will be between those who want to honour Davidson's legacy and those who believe in the Johnson project. Which side wins will have not just ramifications for the future of the party, but will also play a huge role in the inevitable second independence referendum to come. With Labour and the Lib Dems still weaker forces in Scotland, it will fall to the Tories to make the case for the Union. If the SNP can harness the anti-Boris sentiment in that debate, it could prove lethal.
---
Dan O'Donoghue is the Press and Journal's political correspondent at Westminster