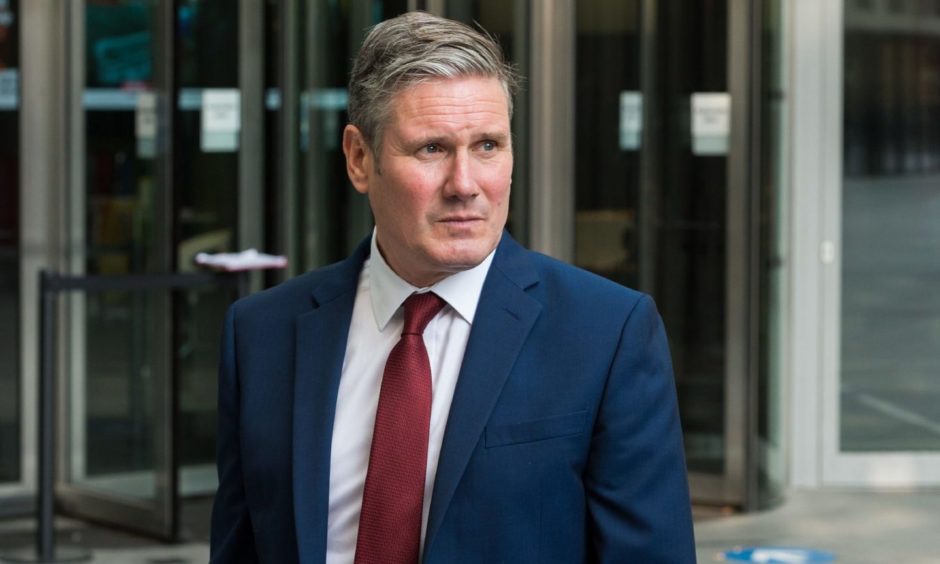 There is no route back for Labour that doesn't run through Scotland. It was an obvious, but important admission from Keir Starmer ahead of his conference speech last week.
Not since 1950 has a Labour leader been able to form a government with less that 40 seats north of the border. In the last three general elections the party hasn't managed to break double figures and currently sits on one.
So it was with some surprise that when it came to the speech, Starmer made little mention of Scotland or how he planned to win back the nation of Dewar, Cook and Brown.
Sure, there was a half hearted promise to "stop the nationalists" midway through and a pledge to "be the party of the whole United Kingdom", but much of his speech was aimed at an English and more specifically, a northern English audience.
This morning, I was delighted to introduce @Keir_Starmer's first conference speech as @UKLabour Leader.

The past few years have been tough, but under New Leadership, Labour is preparing to deliver the better future our country deserves.

Full speech >> https://t.co/XKoxQo5oxW pic.twitter.com/hOZlBFCcrT

— Ruth Smeeth (@RuthSmeeth) September 22, 2020
It wasn't Ged Killen, Paul Sweeney, Danielle Rowley or one of the three other Labour MPs to lose their seats to the SNP in 2019 introducing Starmer. It was former Stoke-on-Trent MP Ruth Smeeth.
Smeeth was one of the 24 "red wall" MPs routed by Boris Johnson's Brexiteer Tories last year. Her presence and introductory remarks spoke to Starmer's top priority, winning back England's post-industrial north and midlands.
"We failed the country because we didn't listen to the people", Smeeth said. What country and what people? Smeeth was of course talking about England and Brexit.
The thrust of Starmer's speech was the same. The party did not "deserve" to win in 2019 as they had not listened, the EU debate "was over" and it was time to "get this deal done" he said. Where was the nuance? The Brexit vote in Scotland was 62% remain and voters have consistently returned a pro-EU majority.
The Labour leader, in a bid to put put clear red water between himself and Jeremy Corbyn, also ran a patriotic thread through his speech.
"We love this country as you do", he said, before asking the people of Doncaster, Deeside (the Welsh one), Glasgow, Grimsby, Stoke and Stevenage to "take another look" at the party.
Glasgow sticks out like a sore thumb. It looked as though Party HQ had panicked and lumped a Scottish city on that list at random.
Why do I say that? The problem with namechecking Glasgow, not least because the city is an SNP stronghold and voted for independence in 2014, is that voters in the city believe Labour already love the UK too much, not that it doesn't love it enough.
"The party is seen by many across the central belt as Union Jack-loving Tories; arguing you will love the UK even more is not going to help", a former adviser to Corbyn told me recently.
"At least make it seem like you've got half an idea and name somewhere like Aberdeen."
Leaving the speech aside, we come to Starmer's referendum gaffe. Now he isn't the first English Labour politician and won't be the last to disregard Scottish Labour and freelance on the constitutional question, but given he's the new leader it might have been an idea to compare notes with Richard Leonard before answering questions on indyref2.
As it was, Starmer told Sky News he "stands by" comments from January in which he argued an SNP majority at next year's Holyrood elections would be a mandate for a second referendum. A perfectly legitimate position, but one which runs in direct contravention to what Scottish Labour have agreed – no, no matter what – and embarrassingly contradicted shadow Scottish secretary Ian Murray, who spoke on the matter only a day earlier.
"The constitutional argument has been settled as far as the Scottish Labour Party is concerned, we are against independence, we are against a second independence referendum", Murray told a party conference fringe event.
This to and fro between London and Glasgow does nothing for the party's credibility. As Maggie Thatcher, that great nemesis of Labour, once said: Standing in the middle of the road is very dangerous, you get knocked down by the traffic from both sides. Labour urgently need to pick a position and stick to it: was 2014 a once in a generation event or have circumstances changed? Decide and stick to the line once and for all.
"Next year's Holyrood manifesto will be key, if we have a long winded, airy-fairy paragraph on independence it will lead to more questions and we'll get battered", a former Corbyn adviser told me.
There is much fear in the Scottish party that if they change their stance and bring it in line with what Starmer has said, it is in effect conceding defeat and admitting the SNP will win a majority. But a change in tack could also be liberating. Saying yes we back a second referendum – if voters choose a majority of indy backing MSPs – but not independence itself would free MSPs to focus on making the case for the party's wider agenda and would also, hopefully, end the embarrassing mixed messages. Many will think that fanciful, but the current position will not hold – something has to give.
Dan O'Donoghue is the Press and Journal's political correspondent at Westminster