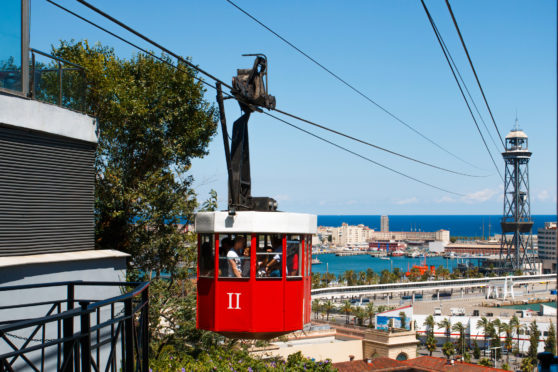 As we ponder life's big questions, the answers are right in front of our faces most of the time.
Or, if you are in Aberdeen and the Highlands, it might be just above your head.
Both have caught up with the global craze for shoving people into cable cars or mountain coasters.
Within days of each other, business and civic leaders in both places were considering embryonic plans for aerial high-jinks.
An £80,000 appraisal of how to revitalise Cairngorm mountain ski attractions came up with a range of options, such as a mountain coaster – a kind of toboggan on rails which goes pretty fast and has been described as the biggest thrill you can get on a ski slope. I reserve comment on that.
Meanwhile, Aberdeen is contemplating the prospect of a cable car network running from a proposed new cruise terminal next to its current harbour, along the beach and into the city centre at one end of Union Street.
It's all part of the never-ending search for the elusive "wow" factor to reinvigorate a mountain resort in need of a tonic and a city which has seen rival Dundee stretch its legs and go into a strong lead.
If the "wow" factor was some kind of elixir of life then Dundee drank the whole bottle with its stunning acquisition of a V&A museum, which is forecast to attract 350,000 visitors every year.
That is the bottom line: a class act which guarantees a massive turnover of visitors and  transforms the local economy.
So, cable cars and mountain coasters are the way forward. Possibly.
Within a very short time, a few doubters appeared as fast as zip wires down a mountain. The cable plan for Aberdeen, in particular, received some caustic remarks from a few ordinary folk who don't think it will get off the ground.
What is wrong with some people?
I am sure there are some in Aberdeen who would still like to see the airport close at 11pm every night as it used to years ago – to the bewilderment of some delayed travellers who found themselves being bussed back from Edinburgh and Glasgow.
And I strolled past Union Terrace Gardens a few days ago – scene of some infamous "wow" factor planning battles and even, dare I say it in these troubled Brexit times, a public referendum which was ignored.
It still looked as forlorn, neglected and living on past glories as it did during oil industry leader Sir Ian Wood's controversial failed attempt to transform it several years ago.
I think we are now all agreed that Aberdeen needs a big idea on a Dundee scale to stand head and shoulders above its current city master plan, which is very worthy but hardly sets the spine tingling with anticipation.
US consultants more or less said Cairngorm's current ski-related offerings were not fit for purpose and unable to compete in the modern ski market without a major overhaul – hence the mountain coaster idea, which is a hit all over the world.
As for the Granite City cable-car plan, we imagine glorious and breathtaking mountain rides through the Alps and elsewhere, and wonder how that would fit into Aberdeen.
But there are many practical cable routes which simply move tourists between places of interest and in doing so relieve congestion and pollution.
One thinks of Barcelona's 1.3mile cable car which links its port with the mountain slopes of Montjuic or Singapore Gondola, which connects the resort island of Sentosa across Keppel Harbour to the main island of Singapore.
More and more urban cable cars are taking flight or being planned in the US – such as New York's East River Skyway between Brooklyn and Lower Manhattan, and the Chicago Skyline along the river front.
So, why not Aberdeen?
Let's get one thing straight: the city council has taken a hammering from one or two people over the cable car, but it is not even their idea. A group of free-thinking entrepreneurs and architects came up with it as a concept – and it took off literally as a serious project which now needs fleshing out, but has broad support from business and the council.
So, don't let the moaners kill it off before the idea has had a chance to fly. They have done enough damage in the past already. Some people just don't like change. The same applies to the Cairngorm ski plan – give it a chance to develop.
Something in my head reminds me of a comment that one of the people behind V&A Dundee made about a key element of its success. The was about ordinary people, and local politicians in particular, uniting with a common goal and allowing nothing to deflect or divide them.
It worked for Dundee, but Aberdeen's penchant for petty political squabbling has held the city back for too long.
Maybe I don't get out enough, but I find both schemes exhiliarating and it would be wonderful to see them worked up and financed sufficiently to become potential realities.
As one influential supporter of the Aberdeen cable idea said this week, citizens of competing Scottish cities embrace change with open arms, while some in Aberdeen only "sit at their laptops criticising from the sidelines".
I could not believe what I was reading recently, but experts think pessimism can actually extend some people's lives because they spot and avoid stresses that can shorten it. It can also squeeze the life out of bright ideas, though.
The world needs daydreamers who can make things happen. Even in the most dire situations someone's imagination can find a solution to a serious problem.
Philosophers call it putting "practical imagination" to effective use from real day-to-day situations as opposed to fantasy daydreaming about something that could never happen.
I subscribe to The Monkees' philosophy in their last US number one hit – I prefer to be a  "Daydream Believer".