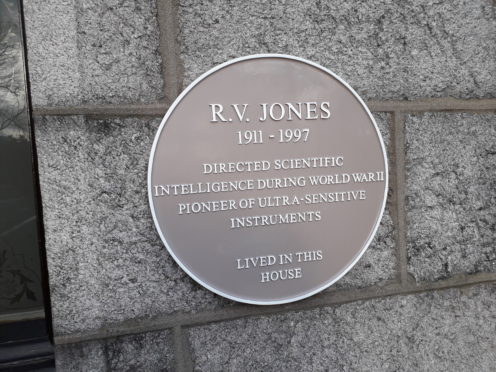 I wish I had worked harder at physics, but even I knew the difference between velocity and speed and that combined they were propelling me to a cliff edge known as abject failure.
Mr Probert, my physics teacher, warned me that I was not working hard enough to pass the exams – and he was proved right.
I have always had a deep admiration for those who are brilliant at it: those Nasa scientists and the Bletchley Park code-breakers, for example.
And R V Jones. Who?
Yes, Reginald Victor Jones, who has a civic plaque in his honour on his former house in Queen's Terrace, Aberdeen.
The story behind this cryptic little grey sign has intrigued me for some time.
If you asked people in the street who he was, they might scratch their heads and hazard a guess that he was maybe a fly-half for Wales and the British Lions.
In fact, he was a scientific genius credited with changing the course of the Battle of Britain and with hoodwinking not only Hitler's Luftwaffe, but also the dreaded U-boats which threatened our very survival as a free nation.
I only mention it now because it is the anniversary this week of a spectacular British raid during WWII, which he inspired and helped mastermind.
It is also only a week or two since a Scottish Green MSP accused Britain's war leader Sir Winston Churchill of being a "mass murderer", and a university professor in England described RAF crews as "terrorists" for carpet-bombing German cities and wiping out swathes of the population.
What would these two have made of R V Jones? He was a huge influence on Churchill and the operations of RAF bomber command. Would they describe him as a mass murderer and terrorist too?
He was a scientific genius and ace puzzle solver, but also a master of deception as a lifelong practical joker – perfect credentials for his war job as Churchill's most important scientific spy and chief adviser to MI6.
It was a James Bond type of world where he had access to every secret report. Put simply, his task was to guess what Nazi military scientists were up to, and to stop them in their tracks with counter measures and deception.
He masterminded the "Battle of the Beams" – based on his suspicion that German bombers blitzing British cities were following precise navigational radio beams to pinpoint their targets with frightening accuracy.
With a typical dash of humour, the problem was codenamed "headache" and his solution "aspirin".
To disrupt Luftwaffe bombers he began bending their radio waves with his own jamming signals so that German crews strayed off course and dropped bomb loads unwittingly in harmless places like lakes and fields.
He also guessed correctly that the Germans were using new radar techniques to devastate British bombers on missions to occupied Europe (it is estimated that 55,000 British air crew were killed).
His answer to that? The daring Bruneval raid by British paratroopers on a secret Nazi radar station in northern France, on February 27 1942, to capture the equipment and bring it back by sea for him to examine.
He also tricked Nazi U-boat command into thinking he was tracking their submarines with infra-red sensors as cover for the fact that in reality the Allies had broken their Enigma code.
R V Jones invented a system to drop tons of tin foil over Germany to disrupt enemy radar and protect RAF bombers.
He also kept on eye of German efforts to be the first to deploy an atomic bomb. Can you imagine the map of Europe today had that happened?
If you study war historians such as Margaret MacMillan you will see that it is a sad fact that civilian populations have been targeted and destroyed throughout history, but they were also key to sustaining a war effort.
Magdeburg in Germany had a population of 25,000 when a siege began during the Thirty Years' War in the 1600s, but ended up with 400 by the time the carnage ended.
It is also an inescapable fact that nations strive to stay one step ahead in spying on each other's relentless efforts in peacetime to develop more devastating weapons.
Cyber wars with Russia, the deployment of chemical weapons and the potential to fight future wars with robot armies are all being pursued.
With human nature being what it is, with an endless capacity to wage war through greed, ambition and envy, there will always be a need for extraordinary men like R V Jones to counter these threats.
It is impossible for us today to comprehend what it must have been like to be fighting a war of national  survival – a fight to the death amid awful atrocities.
Churchill later reportedly said of him, "he did more to save us from disaster that many glittering with trinkets."
He is practically unheard of now, but his legacy to modern science and everyday technology in the home and at work remain as relevant today.
In later life he was revered and respected by students and staff at Aberdeen University, where he became emeritus professor of natural philosophy for 35 years.
And he was honoured by the US scientific intelligence community with a special award in his name given for "scientific acumen applied with art in the cause of freedom".
Freedom being the operative word.
---
David Knight is the long-serving former deputy editor of the Press and Journal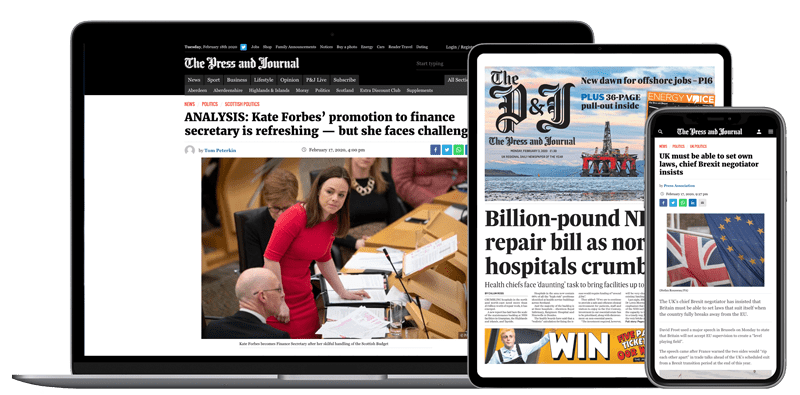 Help support quality local journalism … become a digital subscriber to The Press and Journal
For as little as £5.99 a month you can access all of our content, including Premium articles.
Subscribe