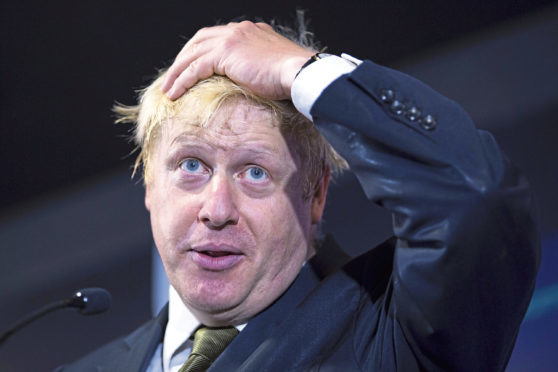 It was the moment I had been dreading.
A bunch of graduate trainee journalists from a most-esteemed title in Fleet Street had landed on my doorstep and I was ordered by my editors to mentor them for a few months at a time.
They swapped Mayfair for a grimy metropolis in the West Midlands after being sent north to toughen them up in the mean streets of local newspaper reporting.
As I awaited my first guest, it was like one of those scenes from an old war movie.
I was the hard-bitten squadron leader pacing about impatiently.
You know the sort of thing.
"How many hours on Spitfires?"
"None."
"OK, you'll do. Get your helmet and goggles, we're going on a sortie against the Nazis in two minutes."
My first trainee stared back with big worried eyes from beneath a startling mass of blond hair. His name was Johnson. Boris Johnson.
At 22 or 23, Boris was more or less the same as what you see now, though at such a young age his eccentric demeanor was all the more striking. His trademark aura of permanent surprise, befuddlement and bemusement clung to him like an impenetrable cloud.
But he was very funny and charming and I have to admit, I warmed to him.
I also noted a certain glint in his eye, a sharpness and wit that belied the masquerade of buffoonery. Significantly, he also had the "bounce-back-ability" of a rubber ball.
It was a sheer joy to watch the classics scholar from Balliol College deciphering an over-excited local man with a broad Black Country accent who thought spaceships had been circling his house.
Eventually, he returned to London and that was the last contact for 30 years.
in 2016 Boris popped up suddenly at the same newspaper where we worked – long after I moved on – just before the Brexit vote. As I watched online video footage, my jaw did what jaws do on such occasions when he was picked up on a microphone at a photo-call talking about me by name.
Amazingly, he was extolling my mentoring skills – the memory of which still seemed vivid after three decades. We made contact briefly after that and he thanked me again with a nice hand-written note. It was quite touching.
In an interview with the New York Times, he said his time in Wolverhampton and shocking deprivation he witnessed in Labour strongholds transformed him into a Conservative. (Before you ask, I swear to you that I did not knowingly say anything to him during our months together which lit a Brexit light bulb in his head or planted a seed – or even a crouton of curiosity).
Boris has always had buckets of charisma. Now opponents horrified he will take up lodgings in Number 10 are trying to throw buckets of something else over him.
The odds-on bookies' favourite, after collecting more votes so far than his three main rivals put together, is the man to beat. In the hysteria of these times, he has been compared to Trump and Hitler.
Talking of microphones, there is also a frenzy over his gaffe-related aversion to television debates.
I have a thing about these debates in general. Who cares? The frenzy is driven by TV which wants to turn them into a Britain's Got Talent knockabout to drive ratings with a bunch largely made up of no-hopers, who are going along for the ride. We have heard all about their failures already.
Johnson is Marmite to the country at large (which potential PM or first minister isn't?), but he has a magnetic connection with ordinary Tory party members and MPs who think he is their saviour.
They cling to a cliff edge on Mount Annihilation with a gun held to their heads by a grinning political assassin called Farage. In the mountain's shadow is the Last Chance Saloon, where the Tories were residing in a spittoon at the corner of the bar for some time, awaiting disposal.
The Churchill parallels for Johnson are fascinating.
It is the anniversary tomorrow of war leader Churchill's famous "this was their finest hour" speech on 18 June 1940. This won't be lost on Johnson – a Churchill scholar, biographer and admirer – as the ballot resumes tomorrow.
Are the stars aligning for Johnson in a similar fashion?
Supporters cheered his own attempt at a Churchillian put-down to a convoluted question at his campaign launch. Along the lines of, "…this is a minestrone of observations, but I detect a crouton of a question".
Allow me to continue the culinary metaphor.
A weird image entered my head the other day: I was at a surreal buffet. The chefs were Jeremy Hunt and other "safe and sensible" candidates who were lining up tiny Scotch eggs in careful straight lines, but Johnson walked in and threw them in the air.
Was this a premonition that the red-hot favourite is going to throw his lead away, proving to be his own worst enemy? Or confirmation that, just like Churchill and his own well-documented flaws, this big beast also finds himself in the right place at the right time?
---
David Knight is the long-serving former deputy editor of the Press and Journal