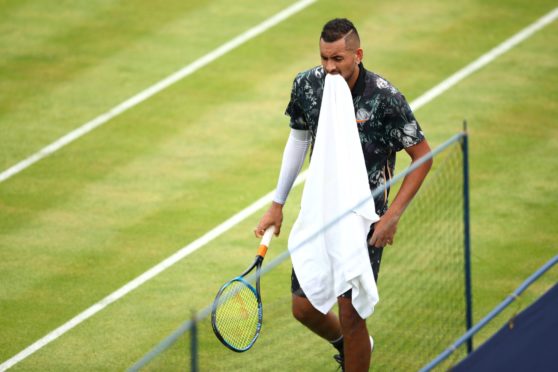 I recall pointing my mobile-phone camera at a traffic warden in a popular north-east park who then threatened to have me arrested on the spot.
But all it did was light the blue-touch paper, so I clicked away regardless in defiance.
I thought about this again as I watched Wimbledon and hailed something which had been missing in recent years – an exhilarating return of  the tennis bad boy.
Yes, a pantomime villain we all love – or love to hate.
Australian Nick Kyrgios served us a treat during week one when he roughed up tennis royalty Rafael Nadal and a hapless umpire to boot. He was a man possessed as he snarled his way around the baseline, laughing in the face of Nadal's passing shots.
Just for the record, I had to check if there was a full moon when they faced off on July 4 to explain his demonic performance, but I can report that it was only a harmless "waxing moon" in the usual monthly cycle of phases.
So what was his motivation? A sense of injustice, apparently, followed by a rant against the tennis establishment. Nadal was sporting a half-a-million-pound watch during the encounter while Kyrgios wore his heart on his sleeve. Given their history, it was a classic grudge match.
The Kyrgios bullet returns aimed deliberately at the great Spaniard's body along with his equally outrageous underarm serves were electrifying. He's got "form": a few weeks earlier, he was fined for accusing a line judge of "rigging the game" and mocked an umpire's choice of hat. It's pure theatre and I loved it.
Psychologists say that secretly we would all like to be pantomime villains, but don't have the nerve or feel constrained by social norms. That's just as well really, otherwise there would be mayhem. Most just bite their lips to avoid a fuss. But it's a basic human need to flush this type of thing out of our systems, so we get satisfaction from watching others do it instead.
Causing a fuss in public is not for everyone. We don't like complaining, do we? I don't seem to have any trouble slipping into these situations, which I often regret when I calm down later.
Back to the parking wardens. A few other eagle-eyed observers and I had spotted a blitz by wardens on vehicles parked along grass verges close to the historic attraction's overflowing car park. It looked as though they would have to put out an SOS for more parking tickets as they plastered everything in sight. Families were blissfully unaware of this stealth operation as they played happily together elsewhere in the park.
I aimed my camera at the nearest warden to record this unusual heavy-handed activity, but purely for legitimate news-gathering purposes as it was in the public interest and worthy of comment.
She tried to frighten me off with, "You are not allowed by law to take a picture of a public official carrying out their duties in public." Really? Pull the other one, it's got bells on.
Some idiot above them might have given wardens this defensive line, even though it was utter nonsense. I ignored her and nothing happened. What gets me is that ordinary people are being filmed by CCTV and uniformed body-worn cameras all day long.
No doubt airport security cameras had me on film when I donned the cloak of pantomime villain again after arriving back in Scotland on a midweek flight from Spain recently.
My hackles went into lift-off mode after we had been waiting an hour for our luggage. Stressed-out passengers were driven to distraction at our designated carousel as it completed its thousandth pointless lap with no luggage for company. I suggested a battle plan: we would intercept the next person walking past in a uniform and holding a clipboard.
We didn't have to wait long. I set off, leading our troops into action with my torch of injustice burning bright. As I waved my arms about and pointed at the lack of information on monitors, I was careful not too speak too loud. If you go even a decibel over the lowest level for discernible human hearing you can be accused of raising your voice in an aggressive manner.
Suddenly it dawned on me that I was all alone – my troops had stayed at base camp, biting their lips and not wanting to make a fuss in public.
Sometimes you just have to play the panto villain to challenge authority in everyday life.
The politically-correct brigade will throw their arms up in horror and say icons such as Kyrgios set a bad example to young people. Rubbish. He is actually doing them a favour by offering a dose of reality.
Actors love playing a villain. I remember Vicki Michelle (of 'Allo 'Allo fame) talking about playing Maleficent in Sleeping Beauty, who said the best villains always revealed a soft spot which made the public love them anyway.
Mr Kyrgios, as it happens, proudly finances his own sports foundation in Australia to give disadvantaged children a chance to excel at their chosen sport. A chance they would never get otherwise. He even offers sheltered accommodation as a refuge to those in need.
So, hail bad Baron Kyrgios – he's not so bad after all. More power to his elbow – and his underarm for that matter.
---
David Knight is the long-serving former deputy editor of the Press and Journal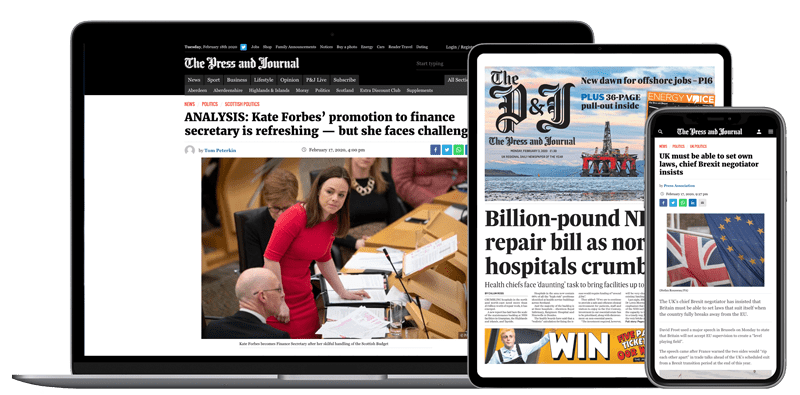 Help support quality local journalism … become a digital subscriber to The Press and Journal
For as little as £5.99 a month you can access all of our content, including Premium articles.
Subscribe