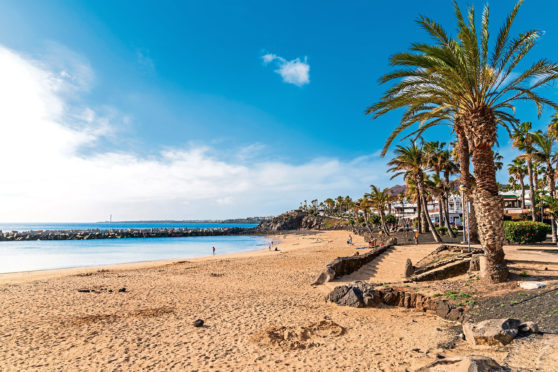 I was gazing skywards from my customary sunbed position outside our lovely rented holiday villa, with its quaint country-style wall, garden and little gate.
My line of vision led me through a pergola, passing masses of pretty pink and red bougainvilleas to a pinnacle of palm trees above.
It was a time of day I could set my watch by, due to the clock-like reliability of winds gathering pace dramatically across this narrow island off Morocco, forcing palm trees to bend and sway energetically for a couple of hours.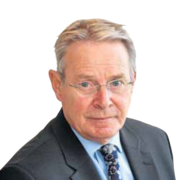 No wonder Spanish galleons came in search of trade winds here to blow them to and from South America laden with gold and other treasures.
We Brits have been coming back to Lanzarote ever since English pirates burned down their cathedral in the early 16th Century.
If I had to conjure a perfect holiday village from my imagination, it would be pretty close to this. All it needed was a few friendly fairies or hobbits, and wine flowing from the trees.
But something was nagging away at me.
Why is there such a thin line between holiday relaxation and stress?
Our family group with small children was uneasy about a skirmish around the pool, or the kiddies' pool to be more precise. Selfish adults had taken it over as a good sunbathing spot – yes, you've guessed it, towel wars had broken out.
We noticed on our first morning that most of the holiday village's distinctive embossed green towels were laid out carefully on many of the pool sunbeds. A thoughtful VIP touch for the guests from staff, perhaps?
No, adult guests were laying claim to their territory by grabbing the best sunspots early, but not turning up for hours. It was against resort rules, but a blind eye was turned. It was infuriating for families with small kids.
As medieval political strategist Niccolo Machiavelli observed: "There is no avoiding war – it can only be postponed to the advantage of others."
It was time for decisive action of our own. Our Waterloo, if you like.
A couple of days before the Battle of Waterloo, the Duke of Wellington and his top officers were guests at a legendary society ball, hosted by the Duchess of Richmond at her temporary home near Brussels.
Meanwhile, Napoleon was already making his first fateful move in the historic showdown.
British officers literally tumbled out of this exclusive ball and straight into the opening action at Quatre Bras.
Gordon Highlanders had danced reels as part of the entertainment. They also distinguished themselves at Waterloo, of course.
We also took our minds off things on the eve of our own Waterloo at the pool. We went to see an Elvis impersonator in a local bar.
OK, we were not exactly immersing ourselves in island culture, but you get lured into these kind of things on holiday, don't you?
This "King's" hip action was extraordinary – as though he had used half a gallon of WD40 on his joints before coming on stage.
After the show, I craned my neck to catch sight of the man behind the mask, when he had divested himself of his classic spangly Elvis white suit, a couple of inches of stage make-up and a wig which looked like two dead ravens stuck together.
"He's over there," said a member of our party who had seen him before. I followed his gaze and my eyes rested on a diminutive old man in his 60s with balding white hair, who was clad in T-shirt and shorts, casually ordering a pint at the bar.
I could not believe it was the same man! Talk about the art of deception. He just blended in with everyone else after slipping out of his Elvis suit backstage.
So, taking a leaf out of his book, we embraced deception over towel wars – someone from our group appeared like a phantom just after dawn each day to cover our territory in green, and vanish without being seen.
Now I was stressing about something else under my pergola – we loved the place so much we decided to invest cash to buy the same two weeks every year in this €250,000 villa.
"Timeshare does not have the bad name it used to," said our cheery salesman. I hope he's right.
The stress reached breaking point when we stepped off our holiday jet at Edinburgh on Thursday night.
It took hundreds of passengers from various flights two hours to get from aircraft steps to airport exit – and most of the time they were stuck in a cattle shed laughingly called passport control.
There were just two hapless airport staff and three on-duty Border Force officers for company, with plenty of empty checkpoints where others should have been sitting.
Distressed, worn-out families with crying small children were the last to get out of this hellhole, instead of being prioritised at the front.
What a disgrace for the capital's "showpiece" entry point to Scotland.
We'll do it all again next year, but not through Edinburgh Airport at any price. I'd rather watch Elvis in Lanzarote for 14 nights on the trot.