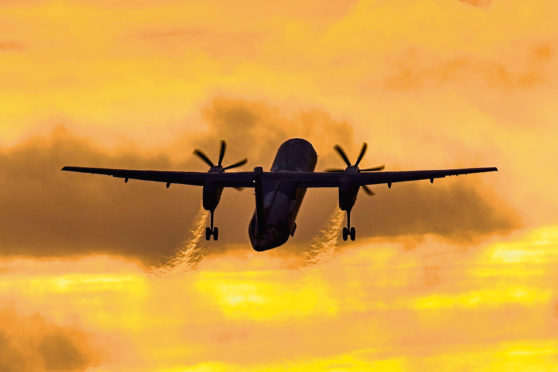 I've been struggling with travel plans for a wedding in a few months – I can't miss it, I'm uncle of the bride after all.
I feared the trickiest bit of the exercise was going to be my wedding outfit. It must be blue tweed to fit in with the bride's theme, but what pattern exactly? This is more tricky than I thought – window-pane or stripes?
My brother (father of the bride) is sporting a pink waistcoat as well. I ask you, pink waistcoats?
I've only bought a pair of flashy brown shoes so far, which are encased in a criss-cross of woven leather strips from toe to heel. They are my pride and joy, but I've put my foot in it because the rest of it has to match now.
Our road to the big event also looks like a criss-cross – a patchwork of routes and navigation calculations scribbled across a scrap of paper on my kitchen table.
It's called "regional connectivity". This is the buzz phrase of the moment after the Flybe airline crisis, which threatened to put it out of business.
People like me in the north and north-east of Scotland, and other far-flung parts of the UK, cannot function without being connected to it – for all Flybe's flaws in the eyes of its regulars.
Yet climate change scientists and hardline economic experts in cosy mollycoddled London, who are awash with connectivity and metropolitan elitism, seem to think we are planet abusers or wasting public cash by clinging to Flybe's tail fins.
Bigger airline competitors are circling like sharks for a piece of the action, too, and accused the government of breaking state aid rules by rescuing Flybe. Presumably, it wouldn't be if they got their mitts on the cash breaks, too.
But I don't see them doing anything similar for regional connectivity at the level Flybe does, albeit in an unpredictable manner at times when they have created and then axed flights.
Air travellers in the north of Scotland benefit from the government rescue, but I don't hear much from the occupant of Bute House in praise of this intervention.
I read one economic expert who seemed happy to see Flybe vanish into oblivion in a black cloud as an inevitable consequence of market forces. The "perceived" need for Flybe at all in far-flung places was also questioned.
There is no flawed perception about it at all. As we weary travellers in Highlands and Grampian know to our cost, our transport links are precious yet fragile and easily perishable commodities.
My wife and I travel from Aberdeen to Fareham in Hampshire for the wedding, but it's not straightforward by any means.
I noticed the date of the journey coincided with the 231st anniversary of the mutiny on the Bounty at the end of April, when Lieutenant William Bligh was cast adrift with some of his crew. He was known as quick-tempered, paranoid and a serial flogger of his men, but luckily he was a brilliant navigator, too.
Bligh pulled off one of the greatest feats of survival of all time in a 4,000-mile journey across the Pacific in a small boat – against heavy seas and violent islanders en route.
With the effects of tiredness and desperation taking their toll on me, I was starting to think that looked like a piece of cake compared with my navigational challenge of almost 1,200 miles there and back for the wedding.
OK, there are no cannibal tribes in the way as there were in Fiji in 1789, unless you count my relatives in Birmingham, that is.
Someone suggested alternative regional airline Loganair from Aberdeen to "London Southend" and drive a hire car from there.
So I checked online and rang Loganair for confirmation – only to be told to hang fire by a helpful call-centre person who suggested mysteriously that "there might be an announcement about this route" before Christmas.
So I waited, heard nothing as the deadline passed and saw they were still taking bookings. It was a case of crossed wires, perhaps.
Guess what I did next? I thought I would play "safe" and booked with Flybe instead.
It was a different route – fly to Birmingham, where I would pick up a hire car to complete the journey. A compromise, but better than a 24-hour round trip by car.
You can imagine my shock at the Flybe news, which has now turned to relief thankfully.
I heard a zealous BBC radio presenter quizzing a regional airport boss as to why the taxpayer should place Flybe above Thomas Cook when all it did was connect holidaymakers with bigger flights out of the UK.
What nonsense. Of course there is holiday work, but not exclusively. Regional airlines keep businesses and families connected across the UK, and preserve local economic wellbeing. Despite the controversy, the deal preserves irreplaceable regional connectivity as a special case.
Somebody wrote that Flybe was "mediocre" (a few months back, on another essential family visit, they texted that my flight was delayed – 10 minutes after I had actually taken off). If that's the case, at least it's our mediocre airline which keeps those of us in out-of-the-way places connected – at a price, of course, with its monopoly on some routes.
When someone dons a wedding suit you know immediately if it looks right. This deal looked right to me straight away – and justifiable. I hope I can say the same about my wedding suit.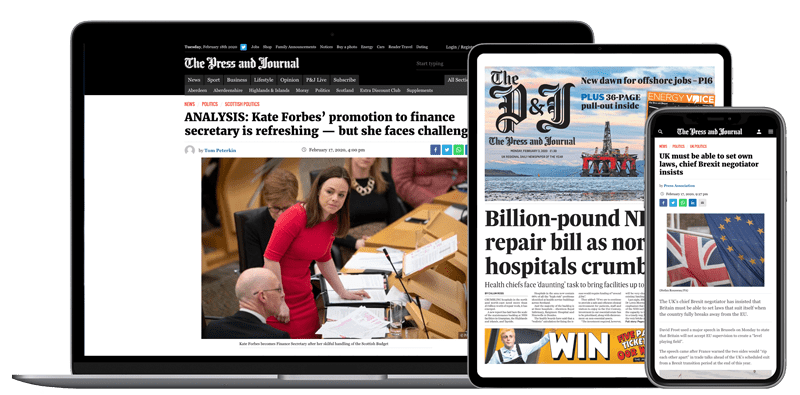 Help support quality local journalism … become a digital subscriber to The Press and Journal
For as little as £5.99 a month you can access all of our content, including Premium articles.
Subscribe