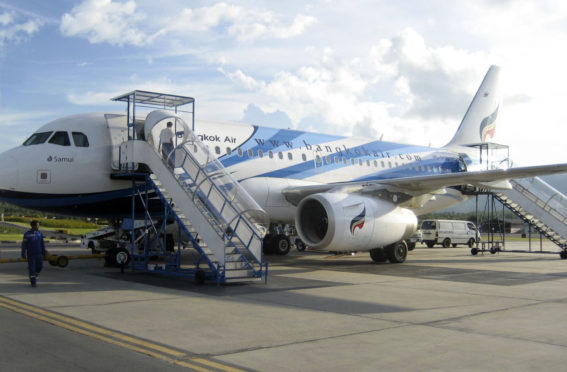 Our Bangkok Airways jet was roaring into action as we powered forward along the runway for take off, but cabin crew were panicking and ordered us to change seats suddenly.
Odd timing, but they bundled us both into an empty row farther back and as we stumbled down the aisle into our new seats we were tearing along the runway at full throttle.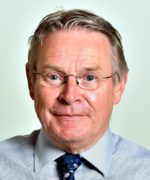 A faulty meal tray flapping between us was to blame: a possible  threat to life and limb, you see, in an emergency. Travel is so unpredictable.
Bobbing in front of me was a company headrest cover emblazoned with "Asia Regional Airline of the Year" and "World's Best Regional Airline – Five Years Running". Very impressive, but it immediately made me think of unpredictable and turbulent times for two regional airlines on the other side of the world in Scotland: Loganair and Flybe.
Loganair's announcement days ago about dropping its Aberdeen-London Southend route in April was particularly exasperating for me. I made an oblique reference to this in a previous column after discovering by accident months ago that it might be under threat, but I also gave Loganair the benefit of the doubt. Such rash magnanimity often comes back to bite you.
So shifting sands of regional-airline reliability have gobbled up another route which north-east business and family travellers cannot afford to lose. No awards for that.
Maybe attention to customer satisfaction is what earns Bangkok Airways those awards. And their wine, of course. They glug the stuff into passengers' raised glasses from full bottles, not those puny miniatures which other airlines dish out. Very thoughtful customer care, indeed.
Our cabin crew apologised profusely about being clad in face masks to protect them from coronavirus while most of us took our chances and breathed in whatever mysterious organisms were trapped inside our cabin with us. The masked crew topped us up as we cruised over Malaysia. It was a bit bizarre, but maybe cabin staff in general ought to protect themselves like this from passengers.
These images reminded me of a fantasy I enjoyed while going under on an operating table in Aberdeen 18 months ago. As masked theatre staff peered down at me, the amount of anaesthetic I was receiving gave me an exhilarating sense of levitating off the table – and I imagined medics serving me red wine as I conked out.
Bangkok Airways seems all-powerful in its own niche market offering exclusive routes, and has even built its own airport on Koh Samui island to cement this. Dominance is what airlines are striving for, but in a crowded European market many over-extend themselves in a ceaseless search for new routes – hopefully lined with gold at the other end of a rainbow.
In the meantime many fly in the face of rising costs, shrinking margins and other unpredictable factors like cut-throat competition among operators and airports.
Military history is filled with doomed commanders who over-extended their lines.
Routes can be trumpeted and cast aside in no time at all: Loganair ditched Aberdeen-London Southend in a few months. Another one – Inverness to East Midlands – has been axed, and the same destination from Aberdeen postponed.
I have mentioned previously a family wedding in Hampshire and my challenge to find a flight which would transport me and my wife most of the way there. Last autumn I tried to book tickets on a Loganair return flight from Aberdeen to London Southend this May, but a consultant at its Scottish sales centre warned me, "I wouldn't book that. I think there will be an announcement before Christmas dropping that route."
It was a refreshing and honest statement, but extraordinary at the same time. I had to pinch myself that I had really heard it. As it transpired, the booker was only out by a couple of months. But I held off until the end of November and checked again. It was the festive season and Loganair was merrily still selling tickets on this route. This time they told me there were no plans to axe it even when I asked a  direct question about the possibility.
But my journalistic nose could smell a rodent lurking somewhere, so I booked an alternative route with Flybe. A few days ago Loganair confirmed what I suspected back then. Loganair has made a decent job of rebranding itself, but one MSP attacked the announcement as "a kick in the teeth".
Could it be described as grossly misleading and unfair to keep selling tickets when a route is already doomed? I am assuming that if a company sales person knew it was in danger months ago, some kind of nod and a wink may have been passed down from above.
Another way of looking at it is that Loganair might have been keeping faith with the ailing route in the hope it would make a miraculous recovery in the new year, and they would avoid upsetting passengers. It didn't work.
The trouble is that while business customers can just shrug it off, ordinary customers see months of planning for family events go up in smoke. For example, a wedding. Or the Southend man I read about who booked to visit his timeshare on Royal Deeside. Big travel companies think a refund will make it better. But re-arranging plans at short notice is stressful and expensive for families.
Bangkok Airways has eye-catching marketing slogans: "Your happiness is our reward. Happiness knows no limit". But elsewhere there is a limit to customer patience and confidence – especially when regional airline routes seem so perishable and  expendable.
David Knight is the long-serving former deputy editor of the Press and Journal