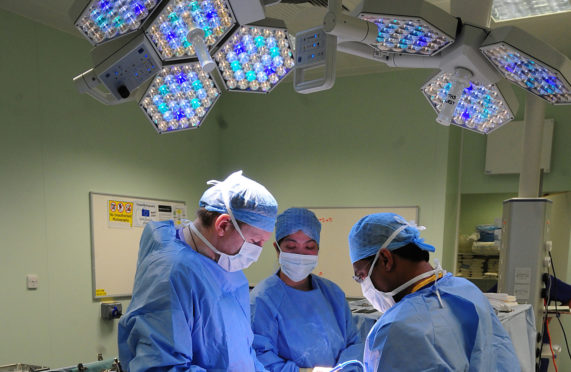 I was told by a medic before my test to imagine a garden hosepipe with a balloon-shaped bulge.
This graphic description of what might be happening inside my body demanded full attention. With a real hosepipe it's a routine affair of not much consequence, but in humans the condition can be fatal.
It's an invisible killer which claims 5,000 lives in the UK every year but hardly gets a mention. Annual deaths from non-coronavirus diseases are staggering and dwarf estimates for Covid-19 fatalities in the UK.
Deaths from lung, breast and prostate cancers, as well as heart problems, booze and obesity, cut a swath through family life and will continue to do so after Covid-19 is back in its box. But there are likely to be many more because a scandal is brewing which could eclipse coronavirus.
Countless patients suffering from non-coronavirus killer diseases fear they are being sacrificed like lambs to the slaughter to make way for Covid-19 cases.
There are estimates that deaths from these illnesses will rocket as a result of being put on the back burner. One respected academic in the medical world predicted there would be more additional deaths than from Covid-19 in the next five years.
Of course coronavirus is the priority but all these other people have a right to live as well. Where is a measure of parity?
As soon as the NHS went on to war footing virtually everything else seemed to be put on hold to "protect the NHS".
Are people with "hosepipe disease" in the same boat: cast away and forgotten about for the time being?
I was called for this unexpected test on reaching a certain age, and was slipped in just before the NHS battened down its hatches.
The test was for what is properly known as "AAA" – abdominal aortic aneurysm – which attacks older men in particular.
There are usually no warning signs, so the trauma for loved ones is devastating. The worst cases collapse and die – often on the spot.
It's a sad fact that eight out of 10 victims of a large-aneurysm rupture die from severe internal bleeding.
The aorta is the king of arteries resembling a tube similar to a hosepipe running down from your heart and chest. When it weakens a bulge grows in the tummy section, which bursts in the most serious cases.
It takes almost a lifetime to happen, with smoking, high blood pressure and genetics among risk factors.
Diagnosis of serious swellings means you can't drive for fear of collapse at the wheel.
We have all heard conversations along the lines of "So-and-so dropped dead the other day. It was shocking – he seemed so fit."
I wonder how many of these were down to AAA, which comes out of the blue.
Luckily, there is a marvellous NHS screening programme in Scotland which offers possible life-saving surgery, or monitoring for minor cases. Is this vital work still going on or has it been pushed aside by all-out war on Covid-19?
I wondered at the dread some AAA patients might suffer knowing they have this time bomb inside them, but treatment is delayed.
I first got wind of the NHS shutters coming down for some patients when my wife's x-ray for an agonising knee condition was cancelled with a day to spare. There must be thousands in the same queue for hip and knee treatment.
And one of my brothers, who was due next month to undergo the same prostate cancer operation I had more than 18 months ago, received a shock.
He was told his surgery was postponed indefinitely due to Covid-19.
Cancer Research confirmed days ago that thousands of people were not being screened for early-stage cancers. It appeared patients and GPs feared being a burden on hospitals.
Community nurses told Nursing Times that newly-diagnosed cancer patients were going to die early as they were not being seen in hospital.
A consultant neurologist asked in an article: "Where have all my patients gone?" He was alarmed that normal referrals of people suffering from serious afflictions such as multiple sclerosis or Parkinson's disease were down by 50%.
Boris Johnson threw millions at the NHS for extra beds and equipment. He must put this to good use now to beat the backlog of urgent non-coronavirus cases if there is spare capacity – and encourage people to come back to the NHS. Otherwise it might become a crisis which eclipses Covid-19.
And don't keep non-coronavirus patients in the dark. I haven't a clue if my next six-monthly post-cancer review in hospital will go ahead, but I suppose it's not that important now – and would I feel reluctant to go anyway?
My abdominal scan in an Aberdeen clinic was over in a few minutes and I was given the result instantly.
My hosepipe – sorry, I mean aorta – was a completely normal size. Nothing to worry about.
I'd forgotten it was a slow-growing condition when I asked the nurse specialist if I needed further tests in future.
"No, but come back when you are 130," she laughed.
I made a note of the date in my diary – maybe the brutal backlog will be cleared by then, too.