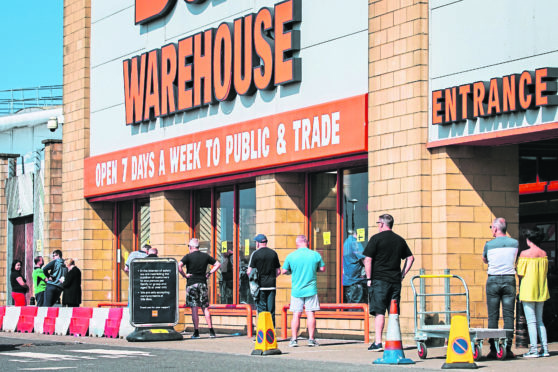 There was a murmur of approval from onlookers as a man stepped outside from a hardware fortress we surrounded.
Something like a crowd's reaction to a favourite gladiator warming up in ancient times, or a star footballer coming off the bench these days.
It was not the man we were interested in, but what was in his trolley.
He was wheeling a selection of mainly flowers and shrubs, but it was his tins of paint which caused a stir.
They were similar to an elixir of life, a liquid gold for which we lockdown inmates longed.
It was a sign. All we needed now were puffs of papal smoke from above the B&Q store where we had gathered to worship (in pure brilliant white with silk finish for me, preferably).
It was affirmation of what many of us consumer pilgrims hoped: that paint was available inside this DIY citadel. Hallelujah.
In the midst of Covid-19 terror and our lives being turned inside out, a humble tin of paint offered a thin veneer of civilisation to keep us sane while locked down.
I gathered with around 300 DIY and other odd-jobbers outside a B&Q in Aberdeen the morning after bosses decided to re-open.
I could never fully understand why hardware stores locked themselves away in their own homemade box in the first place as food-retail comrades battled on.
The picture outside seemed to prove my point: the large queue at B&Q (yes, now we knew what "q" meant) dwarfed a puny line-up outside the nearby supermarket.
People were hungry to feed their souls with the joy of DIY, too.
Large sand bags were lined up outside as if they they were expecting an assault by a tank division from Dunkirk.
All the talk around me was about paint.
I wanted two types – fence and interior paint. I didn't rate my chances very highly as a rumour swept around that paint sales were banned.
Someone else said people had camped out overnight to be first in the queue at 7am when the store opened, and grabbed it all.
I made my way to the front to check these rumours out. Some eyed me suspiciously as if I was going to make a kamikaze attempt to get in.
I could not see any remnants of a camp; a frazzled member of staff said there was paint, but "it's going fast".
I came to an arrangement with a nice woman immediately behind me: she would hold my place while I went off to investigate. I forgot that a queue had a life of its own and does not stand still. She had disappeared on my return.
I eventually located her. I knew where she was because I remembered a man just ahead was wearing one of those large cowboy-style hats I almost buy on holiday in Spain every year, but don't think I'll wear again at home.
He put me in my place earlier by warning me quite sensibly and politely to back off when the queue's momentum pushed me closer than social distancing allowed.
It felt tense and edgy.
Now people were hissing similar comments at me as I stumbled past towards my reserved spot.
I can't say I blamed them. I am not sure if they believed me, either.
The nice woman said she had just finished a night-shift with the NHS. I felt like clapping, but that might have been embarrassing.
My professional curiosity urged me to delve deeper into her story, but I held off. It was probably the last thing she wanted.
A happy couple across the way were telling anyone who would listen about their new drinking habits in lockdown.
"In the afternoon we have a few beers in the garden and then move inside to open the wine, but are doing it every day," the wife laughed.
We all bonded tighter than B&Q super glue in a common desire to be practical and useful.
This process actually makes most of us feel better in the same way as gardening or running can release feelgood chemicals in our brains. The perfect antidote to being confined to barracks and possibly immersed in family tension.
It can be a satisfying process with a sense of achievement. Not always in my case as I survey my own DIY disasters.
But as gardening star Monty Don said, failing gives you a chance of trying again and triumphing.
So I say efforts to splodge some paint is therapeutic and essential, especially with lockdown fraying at the edges.
I read updated regulations from UK police chiefs which claimed a journey to buy paint was "not essential".
People must be allowed to buy what makes them feel good in the crisis, as long as they do it responsibly and do not overdo their trips.
But there should be no subjective judgments from others about what are "essential" products in their trolleys.
Painting a wall can stop the house falling down in emotional terms.
By the way, my garden fence in "urban slate" (dark grey to you and me) is coming along very nicely, thank you.
David Knight is the long-serving former deputy editor of the Press and Journal