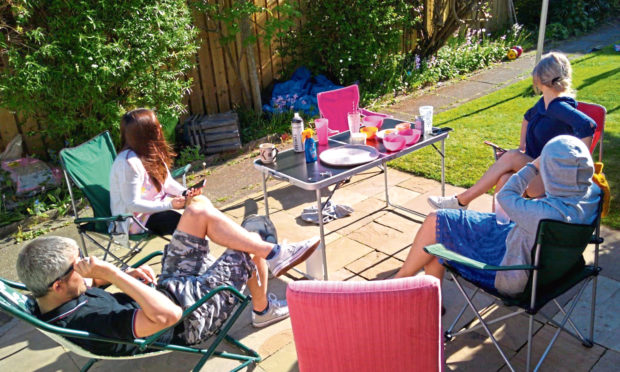 As I watched a beginner on a pogo stick, a thought suddenly sprang to mind that this might not be the best way to socially distance.
All that lurching about unpredictably and falling off might make you pooh-pooh a pogo, but it is more uplifting than you might think.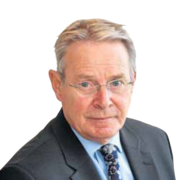 We were celebrating the easing of lockdown which allowed households to meet outside. So we presented our eldest grandson with a pogo stick as a gift to lift his lockdown spirits.
Luckily, he could try it out on a patio within the confines of his own family space.
We gathered for a family birthday barbecue – a feasting luxury many of us have craved these long lonely weeks. But those present were pretty responsible about it all, I have to say.
Under close direction from his other grandad, our aforementioned grandson marked out holding pens on the patio with chalk. It meant each household knew their place exactly – and were reminded good-naturedly, but in no uncertain terms, if they strayed outside.
I feared that under a heady combination of alcohol and meat juices, our sense of discipline might melt as fast as cheese on a hot burger, but it held up moderately well. An arm's length affair maybe, yet wonderful to experience the warmth of a family occasion again.
The hardest part was not being able to embrace our nearest and dearest, especially our three grandchildren. A hug says so much more than mere words.
We were doing our "public duty" – a phrase which has suddenly come back into vogue. Long may it continue in the "new normal", because social respect for others went down the drain years ago and ought to be revived.
Until a cure or vaccine is found for Covid-19, social distancing has to be the norm under the dark cloud of a potential second wave.
This very real threat does not seem to register with some people.
For example, I was in an Asda store in Aberdeen the other day, performing an elaborate ballet of social manners in an aisle with a fellow shopper to enable us to keep our distance politely.
In a flash, an idiot literally brushed between us with indecent haste and no sense of spacing, offering us a cheery yet insincere "Sorry!" – I felt like throwing my scone mix at him.
Studying grandson Jacob getting to grips with pogo practice was even funnier than watching our dog Bindy try to catch magpies all day long as they run rings around her in the garden.
I could see the adults were eager to have a go until I warned them about the stick's 35kg weight limit. This excluded just about all present by a country mile.
It made me think of the wear and tear older people suffer to their knees and hips after a lifetime of pogoing around and such like. There is a scandal in the making over people like this, and countless others with life-threatening diseases, who were put on hold by the coronavirus crisis.
They have been condemned to endless pain and fear without hope.
I applaud brave NHS frontline staff who faced Covid-19 terror head-on.
It reminded me of the RAF's finest hour which came on a day in September 1940 when Fighter Command threw every pilot it had into the sky for one last stand against the Nazi onslaught.
It was the turning point in the Battle of Britain.
The turning point for the NHS was around Easter when they realised they were not going to crack. This was their finest hour, but my applause is not unconditional.
Tens of thousands of cancer and other non-coronavirus patients were cast aside in a growing backlog to save the NHS.
Many experts predict the eventual death toll among these people will put Covid-19 fatalities in the shade.
I have warned of this previously, but two events recently showed the threat is not receding. Days ago Cancer Research UK warned that 2.4 million cancer patients had missed tests or treatment.
And those behind "Protect the NHS" now fear they went too far. Hence a plethora of adverts telling us the NHS is open for non-Covid 19 cases after all.
It didn't feel that way after the shutters came down at GP practices and outpatient clinics.
It's not just about encouraging people who fear they are a burden on the NHS to seek help – a mountain of appointments and hospital referrals were also cancelled abruptly by medical staff themselves, often at the last minute.
It was like the last helicopters taking off from Saigon at the end of the Vietnam War, abandoning those below to their fate.
I fear that if you are a certain age and at the bottom of the pecking order with an agonising knee or hip, there is no hope of treatment any time soon.
The Scottish health secretary warned of a "cautious" return to normal service at the NHS, but I prefer a pogo stick approach with more of a spring to it.
Faster and more convincing – on a par with the speed of Covid-19 preparations – otherwise failing to save the "forgotten" will not be the NHS's finest hour.