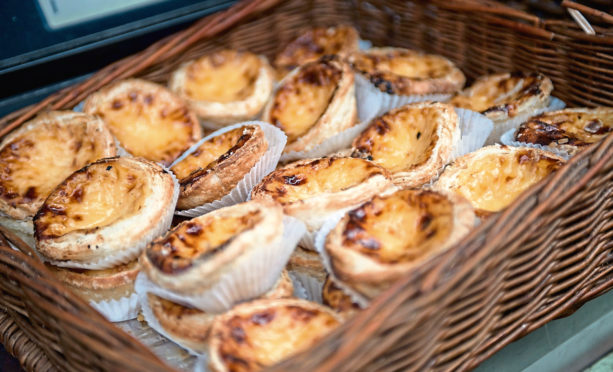 I know there are more important things to worry about right now, but I have become concerned about a shortage of egg custard tarts.
At least at the Tesco superstore in Aberdeen I shop in, judging by my past few visits.
In fact, there have been none.
Our eating habits have assumed much greater proportions in lockdown, as have our waistlines.
But the phrase "comfort food" has never been so relevant, so little things like an apparent shortage of custard tarts can bother us.
On the other hand, there never seems to be a shortage in my Tesco of fancy little upstarts called Portuguese tarts.
Or Tarta de Nata, to give them their proper title, which have pushed their way on to the shelves. I like them, too, but the pastry is too flaky and messy for me.
Give me that good old British version any day – a sublime splodge of creamy heaven in shortcrust and sprinkled with nutmeg.
With my will-to-live flopping like a sickly souffle I decided to investigate by putting the big stores on the spot over custards. I also fired some searching questions at Nicola Sturgeon's people at the same time.
Don't worry, I wasn't bothering her with custards. It was another pressing matter. But comparing the two sets of answers was very illuminating and uplifting – or depressing in equal measure.
I went straight for the throat with the nice woman in Tesco's Dundee customer services centre by demanding to know if there was a custard-tart crisis they were not telling us about.
I had expected a standard electronic response along the lines of "there's a national crisis, we have no staff and you'll have to wait an hour, if you're lucky…"
So I was delighted when I was put straight through to a real person. She was delighted to assist with something as seemingly inconsequential as a custard tart. It was no trouble at all.
"I can confirm the stock situation is zero at the big store in Danestone," she said seconds after clicking away at her keyboard.
"But I have found there are five packs in the Aberdeen Woodend store."
I was impressed. Finger on the pulse, stock figures at her fingertips. Nothing half-baked here. She was warming to her mission.
"We have loads in Dundee. There are eight packs in our Riverside store, if you are interested."
Oddly enough the figure eight had been worrying me all day since Ms Sturgeon led us into phase two of lockdown easing.
So the new rules said we could now meet two other households as long as we did not exceed the existing limit of eight people.
This seemed illogical to me. How can they increase the amount of households, but not the number of people?
For example, I know a family of eight (including a set of grandparents and grandkids) who all live together. In theory, they have never been able to meet a single person in lockdown.
I decided to ask the Scottish Government to clarify if there were exceptions to the rule for larger than average family units because this situation was unfair.
I hope no one suggests the family whittles down the numbers by excluding the children from certain gatherings, with the inevitable emotional eruption that would create.
Children's delayed return to school at the hands of dithering politicians and teachers has caused untold psychological and educational damage already which might never be repaired.
A government switchboard operator gave me an email for its central inquiries unit dealing with Covid-19 questions from the public.
After two days I received an email response, but it was not the quick straightforward guidance I had expected – I was merely issued with a "case handling number". That sounded ominously like a fobbing-off, stalling tactic.
Incredibly, I was informed that they aimed to deal with my query "in under 60 days", or possibly within 20 days depending on how my question had been categorised.
I was stunned. This slothful response was up there with the airlines dragging their feet over refunds.
I hope they don't suggest they are short of staff due to Covid-19. The Scottish Government ought to be teeming with them to deal with an emergency like this.
So, just to recap.
Tesco can pinpoint every custard tart in the land in seconds, but the Scottish Government needs up to two months to answer a question.
Sainsbury's, by the way, was just as enthusiastic as Tesco – its customer-care person identified the location of 24 packs of custard tarts in its Aberdeen stores.
Morrison's was not taking calls due to an "emergency", but I never found out what it was.
A recorded voice at Asda said its staff could not answer stock-control questions, but did the fashionable thing banks try to get us to do: go online and sort it out yourself.
Back to the Scottish Government.
Why is it that when you shine light on some government operations you suspect elements of laziness and incompetence? But you have to bear in mind these are the same people who dreamed up the half-baked "blended" return to school and the ill-fated, much-reviled Named Person proposal for schools.
I am not being clever in retrospect over the Scottish Government's schools U-turn last week. I wrote it was half-baked straight after Ms Sturgeon uttered the words "blended return" for the first time.
A full-time return to school for everyone simultaneously was always the only sensible option. As Alexandre Dumas wrote in The Three Musketeers, "All for one and one for all, united we stand and divided we fall".
By the time I get a proper answer to my query I'll probably be literally rubbing shoulders with fellow imbibers down the pub because lockdown will be over.
Even the initial holding response was a long-winded and confusing catch-all: it spouted the Freedom of Information Act at me. What had that got to do with a question about lockdown?
It's depressing how often common sense is tripped up by nonsense.
Food retail workers were at the forefront of the battle to find innovative ways of working on and adapting to the pandemic. Maybe Tesco should take charge of getting the kids back to school and handling inquiries from the public. The Scottish Government could then start making custard tarts.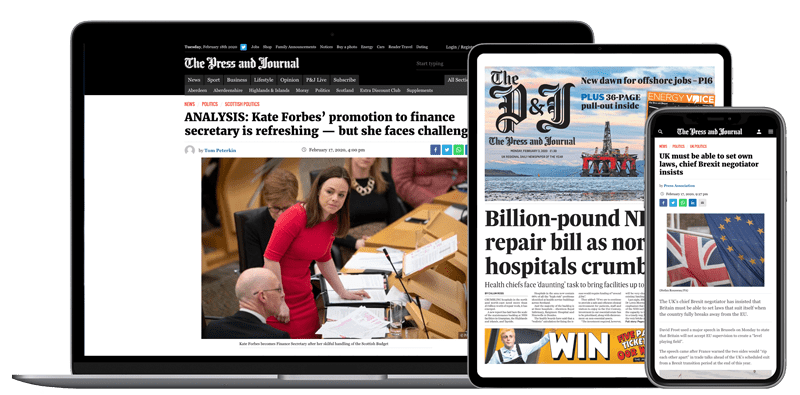 Help support quality local journalism … become a digital subscriber to The Press and Journal
For as little as £5.99 a month you can access all of our content, including Premium articles.
Subscribe