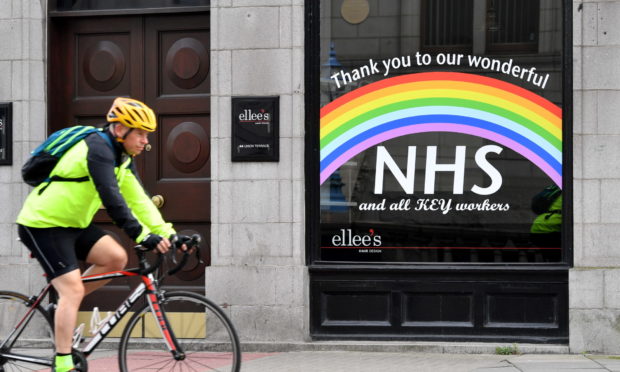 A sign at our supermarket customer service point says: "If you are an NHS worker come to the front of the queue."
Hard to swallow, you might think, in a nation of queue lovers for whom the time-honoured tradition of forming an orderly line is sacrosanct.
I would have turned into Victor Meldrew in the past ("I don't believe it – they'll evict me from my parking bay next!"), but how times have changed.
There has been an outpouring of gratitude and kindness to our beloved NHS.
I found an NHS site listing various discounts and offers for health workers in one handy place.
I counted 155 exclusive deals for NHS staff, so who am I to begrudge them this little extra queue-jumping perk for their Covid-19 heroics?
If only people with cancer could leapfrog up a spiralling NHS queue too.
Don't get me wrong. I think frontline NHS staff deserve a medal.
I've always loved them – especially after they saved my life from cancer.
I would happily nominate two specialist cancer nurses in Aberdeen supporting my post-op recovery, and newly-diagnosed cases, who were transferred into intensive care to save Covid-19 patients.
I feel desperately sad for terrified cancer patients, along with other serious non-coronavirus cases, cut adrift when the NHS cleared the decks for Covid-19.
The Queen's Birthday Honours list was put back this year so Boris Johnson can reward NHS staff with coronavirus "battle honours".
But there is a time bomb ticking away, which must not be allowed to take the shine off these well-deserved gongs.
Research released a few days ago predicted up to 35,000 excess deaths from breast, cervical or bowel cancer within a year caused by Covid-19 paralysis in the NHS.
By that I mean cancelled cancer treatment and clinical trials due to Covid-19 taking precedence, along with a shocking collapse of cancer screening referrals in hospitals across the UK, including Scotland, for the same reason.
Cancer Research UK estimated two million screenings failed to take place despite early detection being a proven life saver.
Clinic appointments were stopped in their tracks, but that doesn't put cancer on hold.
Myself and others have been raging about it for some time.
BBC Panorama joined the debate a few days ago to show a father-of-two whose agonising groin pain made him beg his local hospital in vain, repeatedly over several months, to screen him for cancer.
By the time they relented he discovered it was so far advanced doctors said he might only have months to live.
I was lucky – my cancer was caught early.
It is almost the second anniversary of my cancer operation in Aberdeen. I got the all-clear again a few days ago from post-op monitoring.
What if my screening in mid-2018 had come to a shuddering halt? I don't think I could have coped mentally.
My second and final biopsy following a year of medical surveillance confirmed the worst: my early-stage cancer was advancing to another level and it was time to act; my surgeon was able to book me on to her operating table within weeks.
If a pandemic had destroyed my screening opportunities I might not be here now, or I could have shortened life expectancy.
It is through my experience that I feel so strongly about this scandal and empathise with cancer sufferers who feel abandoned and helpless.
When you add prostate cancer to the earlier list (second-biggest killer of men), heart patients and others with life-threatening diseases, the final figure for excess deaths could easily dwarf Covid-19 fatalities.
So how do we feel now about giving NHS Covid gongs in the Queen's next honours list?
I suspect the public's answer would be a resounding "hurrah", and I have to agree.
In the final analysis it must be concluded that some of the measures and signals that protected the NHS at all costs were catastrophic for non-Covid patients.
But these were strategic government and NHS management decisions.
Allied D-Day commander Eisenhower said: "I don't believe in plans, I believe in planning."
I presume he meant being able to react positively and swiftly to any eventuality if a plan buckled.
This is where the courage and ingenuity of frontline troops kicks in.
Frontline NHS staff deserve battle honours because they triumphed in their mission whatever the flaws in overall campaign planning.
I would like to see the birth of a specific NHS medal in tandem with conventional honours.
A prestigious award forged in the heat of a pandemic, but which transcends Covid-19 and continues to be awarded in perpetuity to NHS frontline staff for generations to come – for outstanding selfless acts for their patients.
This could be a valuable legacy for those who follow while marking the Covid-19 generation's place in history.
But Boris Johnson, and Nicola Sturgeon, must act fast to sort out this lethal and disgraceful shambles surrounding non-Covid patients in their health services.
Otherwise "Covid gongs" might sound hollow to those facing certain death – not from coronavirus, but from the avoidable collateral damage caused by it.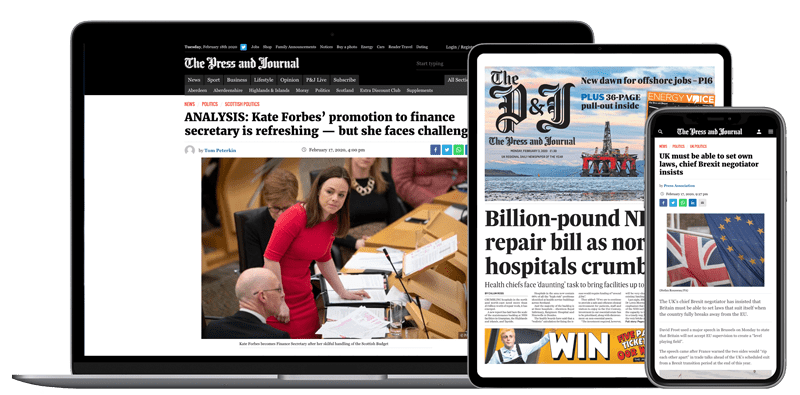 Help support quality local journalism … become a digital subscriber to The Press and Journal
For as little as £5.99 a month you can access all of our content, including Premium articles.
Subscribe