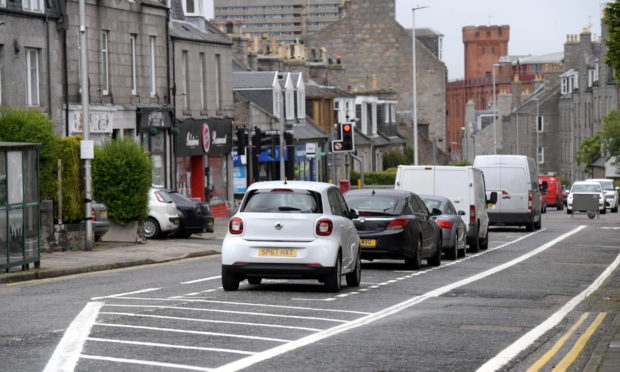 I was thinking about legendary stunt rider Evel Knievel who, more than 40 years ago, crash-landed while leaping 13 single-decker buses at Wembley.
With a smashed pelvis and various other injuries, he announced his retirement on the spot, but added bravely, "I walked in, so I'll walk out".
But it was not long before he was at it again.
On his final outing in the US he was planning to leap a shark-infested tank.
The "man-eating sharks" were sedated, according to later reports.
What could possibly go wrong?
He crashed while practising, that's what – and broke his arms.
The great showman's mishaps had become more gripping than the jumps he got right – as so often happens in public life.
He sprang to mind as I passed a strange sight in Aberdeen.
A line of 10 parked cars was weirdly laid out down the middle of a busy road in Rosemount.
It just needed a take-off ramp and – hey presto.
With a downhill approach and brisk following wind, a stunt rider might make it on to the roof of the iconic "Bastille" apartments further down the road.
The nice people from the city council put it in, but it's not actually a stunt.
They have been busy with their Spaces for People project to protect pedestrians from Covid-19.
Spaced out in a different sense, some critics might joke.
Another bright idea was creating a "cafe culture", but it attracted the cafe vulture –
idiots who spoiled it all.
They swamped newly-opened bars with shocking street queues and triggered a fresh Granite City lockdown.
What a reckless fiasco, but Covid-19 cruelly exploits any weakness.
A multiple parking bay in the middle of a street was just part of trying to get the Aberdeen economy going again with safety in mind.
I have not heard of anyone taking off accidentally after clipping the back end of this obstacle, but anecdotally others claim drivers have halted after mistaking it as stationary traffic.
The council has been modifying (or messing up, depending on your standpoint) our street space as we stumble two-steps-forward, one-step-back into "normality".
Walking and sitting space was extended into city centre roads with rows of ugly and confusing traffic cones or bollards.
It seems ironic now, but the measures were meant to ensure safe queuing at pubs among other things.
From a distance, the cones look like markers from a crime scene of epic proportions.
That is exactly how many indignant traders and drivers see the overall outcome, too. They object to street space being squeezed or blocked off – and particularly about lack of warning or public consultation.
With a sea of cones everywhere it might look like Aberdeen is decked out for a big street event which never arrived.
The council skips around an uncomfortable truth about lack of public consultation in a rather dismissive way.
It claimed due to "importance and timescales" there was no time to consult properly as it should, but it's a poor excuse.
Community consultation is the bedrock of local democracy, especially with major changes which disrupt daily lives.
It is very easy to brush criticism aside in the dubious pursuit of expediency.
But while rearranging the streets it has created a democratic bypass.
Once our hard-won freedoms and rights are given up they can be hard to win back. And I hope the council does not develop a taste for it.
I feel uneasy about leaving any council to its own devices without public scrutiny. It's similar to a feeling I have when my three young grandsons are unsupervised in our spare room for half an hour.
The council was well intentioned, I suppose.
But did it act with indecent haste to get the local hospitality industry going while failing to anticipate a headlong rush to party again? Creating a "cafe culture" was all very well, but what about enforcing strict ground rules and respecting local concerns – or was this a case of "importance and timescales?" I drove along Union Street to observe social distancing one night and was shocked at the scene. Attempts at cone-induced safe queueing were drowning in a sea of bodies outside a bar.
Any sense of keeping a safe distance evaporated on the breeze with reckless arrogance – or stupidity.
The "return of the Coneheads" had ruined the cones strategy.
Does anyone remember the old comedy sci-fi film "Coneheads"? An alien couple end up on Earth by mistake and try to live like humans.
Those who tried to turn Union Street into a party night in Ibiza seem to have found
common sense and restraint an alien concept.
Is there a plan to stop another stampede when lockdown is lifted again?
I hope it does not involve buying more cones and bollards.
The council defended lack of consultation over street changes by implying the social distancing case was beyond reproach.
A fair point, perhaps, but after a shocking few days on the streets it also reminded me of something George Orwell said: "Political language is designed to give an appearance of solidity to pure wind".