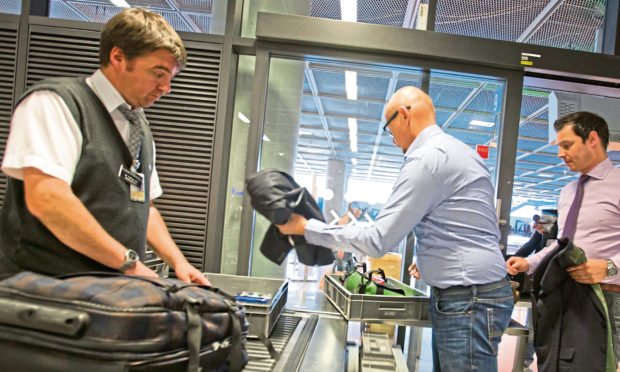 I was carrying a head tucked away in my travel bag through security at Bangkok Airport and no one batted an eyelid.
Even when I kept saying fairly loudly to my wife: "Be careful, the head's in there."
It was while scrambling through airport security to catch a connecting flight in Paris many hours later that we found ourselves in trouble.
They seized another bag, but not the one with the head.
"What's this?" asked a French security man with a triumphant look of someone who might have just thwarted an international plot to put vinegar in champagne.
He was pulling out a tube of something. It's often embarrassing when your intimate toiletries are put on public display, isn't it?
He was now waving it accusingly under my nose. This was actually quite an appropriate place to hold it as it was my anti-snoring nasal spray.
Now he was looking down his nose at me. I don't know why he was so high and mighty about it – don't French people snore?
We received a dressing down for not putting the spray in a clear plastic bag and declaring it.
He was quite within his rights, of course.
But the spirit of Waterloo was in my blood and hackles were rising (a famous counterattack by Wellington's Gordons and Scots Greys on the French sprang to mind), so I tried to outflank him with a rapier-like riposte.
Mustering as much self-righteous indignation as possible, I pointed out that my snoring spray had already flown undetected through six airports on our round trip to the other side of the world before our innocent mistake was spotted here.
He waved me on with a snort of utter disdain, and binned my spray. I was going to tell him there was a head in our other bag as a parting shot, but thought I might be pushing my luck.
I laugh at the memory now as I gaze at our rather large souvenir Buddha's head in pride of place in the bedroom.
I suppose security staff yawn with boredom at these things being put through by people returning from Far East trips. Conveyor belts must be groaning in protest under their weight.
Fond memories from past holidays are never far away, but I suppose even reminiscing about the hellhole of airport security is better than nothing at all.
At this time of year people are often thinking of next year's booking, but all I am doing is counting my flight refunds from cancellations.
I've been lucky so far in getting all my money back, although I also started a risky practice of shifting my refunds around to find a new booking to replace the last cancelled one.
Searching for a new flight booking is like putting money on another loser at the bookies.
My bank secured my refund for a wedding trip on a flight from Aberdeen just four days after Flybe went into administration.
I put it straight on the same journey again, but with Loganair this time.
You have to hand it to Loganair as a plucky small Scottish firm stepping up to plate.
But maybe they were biting off more than they could chew because it wasn't long before they cancelled.
I admire Loganair for striving to protect key Scottish routes. What I didn't like were its emails assuring me: "We haven't forgotten you, we'll pay you back soon."
It reminded me of a new twist on "there is a cheque in the post".
They finally coughed up after about four months, but it was disappointing.
It could be worse: a man working at our house told me Virgin were making him wait six months for a refund on a Florida flight.
We had better luck with a cancelled Spanish holiday flight with Jet 2 – they paid back in four weeks.
We then tried our luck with Tui. Yes, they cancelled, too, but stunned us by refunding our flight in just four days.
That money has been all over the place. I can't get rid of it. I could always donate it to a hopeless cause: maybe an Aberdeen players' night out.
Waiting for holiday refunds is one thing, but what about exam results and hospital appointments?
The worrying state of education and the NHS in Scotland should be centre stage at next year's parliamentary elections.
I fear for their condition by then, and particularly scandalous hospital delays caused by Covid-19 for non-coronavirus patients with cancer, for example.
Nicola Sturgeon says we should not take anything for granted when booking holiday travel. She should say the same about arranging a trip to hospital in her health service.
New research showed nearly a third of UK women with primary breast cancer had treatment or scans postponed due to the pandemic – and depression is said to be an added threat to their lives.
I was referred recently to a specialist north-east NHS clinic with a problem following major surgery for cancer two years ago.
A nurse confirmed the other day I am on the waiting list, but warned I would not get an appointment until February 2022.
Who knows, my own head might be resting in a box before then.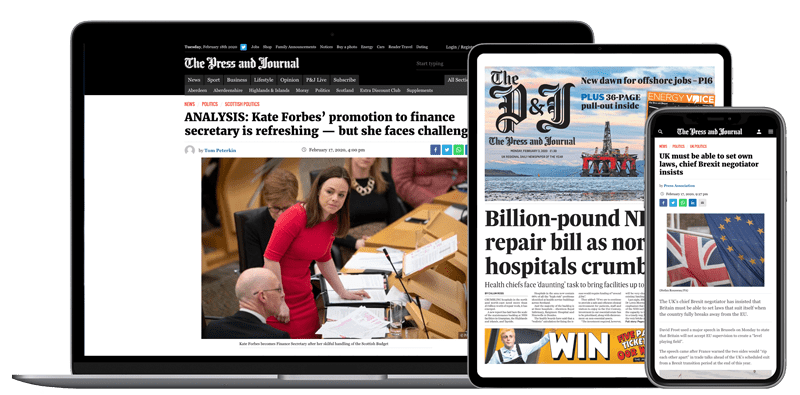 Help support quality local journalism … become a digital subscriber to The Press and Journal
For as little as £5.99 a month you can access all of our content, including Premium articles.
Subscribe