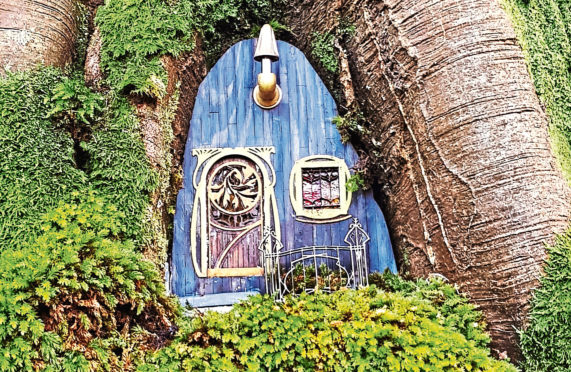 I have been working hard to create a magical little world behind my garden shed.
It used to be a neglected strip of patchy grass, hemmed into a dark, shady corner where two granite walls meet. Now it boasts a delightful little tree house for elves (complete with a door and stairs inside) and a larger mysterious Hogwarts-style door against one wall, which peek out from a row of conifers.
I have also been busy creating a higgledy-piggledy woodland path leading up to my fantasy world. It has become an out of this world pandemic panacea for me.
It began as a flight of fancy aimed at my three grandsons, but my growing obsession makes my wife suspect I am getting much more from the experience.
My two younger grandsons fell hook, line and sinker for my creation, which I pretended I'd uncovered while clearing a wild overgrown patch. So much so, they searched around excitedly trying to discover more hidden elf houses in the undergrowth.
My eldest grandson, who is a little more worldly wise at the age of nine, whispered in my ear: "I think you need to buy more doors for the trees, Pops."
I didn't think I was obsessing about it until I realised I was very agitated about the non-arrival of some tiny coloured mushroom figures I ordered online – for the elves to dance around outside their tree house.
By magic, the Amazon man arrived and I ripped the package open as if I was a child on Christmas morning.
Later, while examining the delivery package in more detail, I discovered that the mushrooms were despatched from the "Zhuting Trading Company, Fuxingda logistics zone, Shenzhen, China".
The 0.1 kilo elf package flew like Peter Pan from the other side of the world, only stopping over briefly in an air mail centre in Belgium.
Something similar happened with my tiny well (to supply the elves with water, obviously), and miniature benches for them to sit on, which I also ordered. The only difference was that they came via a firm in Hessen, Germany.
What an extraordinary economic world we are living through in the pandemic. These items cost peanuts, so how do they make it pay?
Globally, we must be turning these people into fairy tale millionaires if we are all escaping en masse into fantasy worlds away from this miserable, yet gripping history we are making.
My corner has become a peaceful place to escape, but my visits can be tinged with a little sadness at times.
My thoughts often drift to what lies beyond the bigger wall, which forms a boundary with the sprawling and historically fascinating St Peter's cemetery in Old Aberdeen.
Just a few feet from where I toil away I know that on the other side of the wall are the remains of a soldier from the First World War. His story has always intrigued me, but I cannot find out much about him.
His grave is marked by a simple plaque at the north-west corner of the cemetery.
It reads: "…died at home on 3rd November, 1918, after four years service in The Great War – aged 21."
I'd love to know his story, maybe because my grandfather was also plunged into battle at the age of 17 in 1915.
The only other references I could find about him were that he was "previously wounded", and that his family home was in Great Northern Road, Aberdeen.
He was a sergeant in the 4th Gordons and I discovered they were involved in fierce fighting in France as the war came to a close.
The ultimate sacrifice of men barely out of their teens puts non-stop controversy about Covid-19 exam results, going back to school or work, and all the rest of it into perspective.
It is also sad to me that a towering dead elm tree now stands guard forlornly over his memorial stone. It's a victim of another war, the one we lost against Dutch elm disease.
Yet this decrepit carcase of peeling bark still stands there like one of those grainy horror pictures of denuded trees from First World War battlefields.
To my sensitivities, he deserves better than a dead tree casting a shadow over his memorial.
A vibrant rejuvenating replacement tree donated by the city council would be good – just to show that remembrance is not only about civic pomp on a single day in November.
With magnificent specimens now being nominated for the wonderful Scottish Tree of the Year Award, there is alternative reality about decaying trees.
If there was a posthumous lifetime achievement section, I would nominate this dead elm just because it defies the odds by still standing there.
But this worthwhile event also highlights issues about how trees are managed in sensitive places – some graveyards are challenging mini forests, for example.
Trees are such magical things, which is why they feature in so many fantasies – even mine.
I am trying to do my bit in my little corner. I wish the council would do the same with theirs across the cemetery wall.
Maybe fairy tales can come true after all.