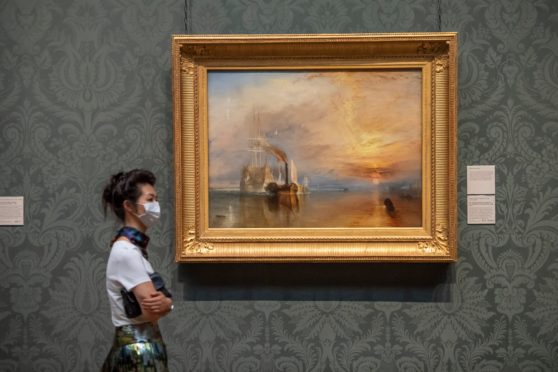 I found inspiration in a masterpiece painted nearly 200 years ago to help soothe a bad situation with my mum.
My brother had been explaining to me how he was about to start clearing mum's personal effects at her flat.
It was going to yield a sentimental bundle of sadness and joy which meant something special to her.
I felt a pang of guilt because my brother had shouldered all the responsibility as her condition spiralled downwards. I lived too far away.
You might assume quite understandably that we were coping with bereavement.
But my mother was not deceased; she had passed into another phase of her life and a terrifying new reality.
She has been admitted on medical advice as a permanent resident in a secure care home for dementia patients.
She was too vulnerable to live alone any longer; there have been too many close shaves. Fire and flooding emergencies, that type of thing.
The home let us know that mum was serving her Covid-19 quarantine period in splendid isolation, in a large double bedroom, with staff keeping a careful watch 24 hours a day.
It was already sounding better than a miserable existence she lived as a lonely, confused and frightened widow of 88 in a tower block.
My wife and I visited her last summer and departed after 90 minutes filled with lively chat and laughter. But we were convinced she did not have a clue who we were.
It's now the same with my brother. She is alive, but recognition of loved ones died as her memory retreated.
How do families keep their personal memories alive when those of their aged parents have evaporated?
She is lost in a grey lifeless world, but I will always cherish the vivid bright colours mum created in her prime when I was a small child.
My brother will not find any hidden old masters in her flat when he clears up.
But another masterpiece has helped me look at things in a different light.
It's wonderful how symbolism in great art can be adapted to our own circumstances to bring comfort or hope where there is darkness.
Joseph Mallord William Turner's "The Fighting Temeraire" is one of these.
Admiral Lord Nelson was the hero of the Battle of Trafalgar, but HMS Temeraire captured British hearts as the "heroine of Trafalgar".
This Wednesday is the 215th anniversary of the battle. A third of Nelson's crews and one-in-five of his captains were Scots.
Temeraire was a magnificent 98-gun ship which closely shadowed Nelson in his flagship Victory.
As Nelson led his fleet like twin arrows to attack the Franco-Spanish line Captain Eliab Harvey in Temeraire overtook him, much to his commander's annoyance.
Nelson ordered him to get back into line astern of Victory, with a terse "know your station".
It was just as well really because Nelson quickly became fatally entangled with one of the best French ships, Redoutable.
As he lay mortally wounded with the French trying to board their ultimate prize with axes and cutlasses, Temeraire fought its way to the rescue.
Harvey paralysed the French ship with a point blank broadside from his fearsome cannons and rammed it so it almost sank.
He also captured a second French ship as it attempted blow him out of the water from behind – and he saved Victory, too.
Sadly, about 30 years later, the Temeraire was being led up the River Thames like a horse to slaughter.
The great artist Turner was there to witness this poignant occasion as she headed to the breaker's yard. It was supposed to be the end of her story.
She touched the hearts of so many people with her Trafalgar exploits that crowds lined the river to wish her well.
But she was a sad sight stripped of all her dignity – a relic from the era of sail being towed by a paddle steamer.
She was unrecognisable with every visible memory removed: masts, sails, cannons, or anything else which defined her character, had gone.
What Turner did next was a stroke of genius.
He took artistic licence to its limit by refusing to paint this shadow of her former self drifting past helplessly.
The paddle steamer was indeed pictured towing Temeraire, but he depicted the warship not as a lifeless shell.
She was painted in all her fighting glory as "the heroine of Trafalgar".
What Turner did was to illustrate with haunting beauty what was in the mind's eye of everyone watching because it was how they wanted to remember her.
So, we see Temeraire as a shimmering ethereal image in all her past splendour towering behind the little steamer.
I will always cherish the memory of mum in all her splendour as a loving, funny and gentle Irishwoman, always with a smile and kind word, and time for everyone – even complete strangers.
And I never forgot a valuable lesson she taught me at a very tender age after I was made "door monitor" at infant school.
I was in tears because I could not master opening the door and slotting its bolt into a hole in the floor, so everyone could file out of class.
Mum took me back at night when only the cleaners were still there – to practise with me until I got it right all on my own.
I was never the quickest learner, but she taught me how practice and preparation can overcome most challenges.
I will always love that about my mum and hope it never fades from my memory.