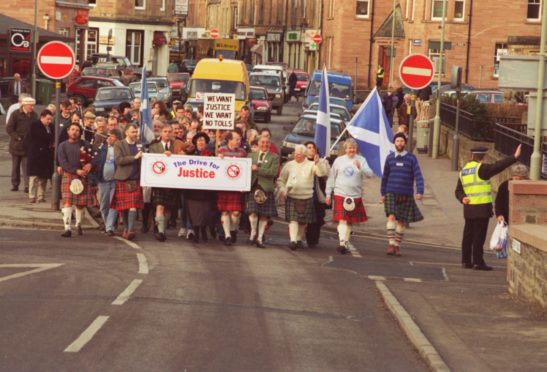 Last month saw two studies of protest in the north.
The Battle of Skye Bridge, made by TERN TV for BBC Scotland, examined the ultimately successful anti-tolls campaign waged from 1995 to 2004. More than 100 people were convicted, with some ending up in jail. Many more evaded 'justice'.
It was an entertaining production, despite this writer featuring. But there was also real substance to it.
Most significant was the contribution of the procurator fiscal who had borne the burden of prosecuting campaigners, at a cost to his health. He believes some in authority may  well have perverted the course of justice. This related to a document – Crown Production 16 – which the Tory-controlled Scottish Office had claimed gave legal
authority to collect the tolls. It was sent from Edinburgh to Dingwall Sheriff Court, and the fiscal had no reason to doubt its authenticity.
He does now.
It wasn't a document, but pages from contractual agreements relating to the bridge's construction. Nothing to do with toll-collection, as the lawyer who drew them
up confirmed. The government could never understand the strength of feeling, given the tolls were based on the Kyle ferry fares. Indeed, Michael Forsyth, then Secretary of State, said recently it was because so many islanders had been given free passage on the ferry.
But the ferry fares were translated into the highest bridge tolls in Europe, to pay for the Tories' first Private Finance Initiative project in Scotland. This was the source of the islanders' outrage. Since the 1970s, both Labour and Tory governments had built bridges across the Highlands to replace ferries or long road journeys.
Ballachulish was first to open in 1975; the Cromarty Firth crossing four years later; Kessock at Inverness in 1982; Kylesku in  north-west Sutherland in 1984; Dornoch at
the other side of the county in 1991. All were free to use. All had a detour.
But during the winter months, the only ludicrous alternative for the drivers of Skye was to take a ferry to North Uist or Harris then drive to either Lochboisdale in South Uist or Stornoway in Lewis, and take another ferry respectively to Oban or Ullapool.  The people of Skye were to be denied the fruits of progress. Set apart from the rest of the country to satisfy Thatcherite economics.
Earlier last month, a book was published dealing with the protests against a more profound injustice – food shortages, with some dying hungry at a time of plenty for others. Insurrection: Scotland's Famine Winter (published by Birlinn) is by fellow columnist in this editorial parish, James Hunter. It is his 14th book, the first being his seminal The Making of the Crofting Community, in 1976. Since then, nobody has done more to help us understand the reality of life in the Highlands and Islands over the past few centuries.
Graphs and detailed statistical analyses he leaves to others – his focus has been to give individual Highlanders a voice.  In this latest book, he deals with the cruel legacy of Scotland's 1846 potato crop being wiped out by blight. The human cost.
There was the MacMillan family in the Barra township of Bruernish, where the father, Archibald, was in no doubt his 14-year-old daughter, Catherine, had died in the December of that year as a result of her "being for so long a period on a small allowance of food". What had survived of his potato crop had only given his family food for about a week since August.
There are similar tales of utter despair from other islands. Efforts to address this human calamity – which was also ravaging Ireland – in many cases came too late.
Further east, it was a different story. Local people, many fisher families, were more able to protest. Their target, the dealers who were trying to ship the plentiful supply of potentially life-saving oatmeal to markets in the south, where a higher price would be paid. From Aberdeen to Thurso, local people protested, some rioted. The authorities reacted – often over-reacted – to restore order.
None of the protestors wanted to steal the oatmeal, only to pay a fair price for it.
It is a deeply troubling yet quite uplifting tale that this most readable book tells. There is Sheriff Fraser-Tytler in Inverness. He had to try eight men from Berneray accused of taking some of the 6,000 barrels of flour from a ship aground in the Sound of Harris. It was going to break up. Their families were hungry. The sheriff not only treated the Berneray men most leniently, he ensured their families received money.
At the other end of the moral spectrum, step forward Colonel John Gordon of Cluny. He owned most of South Uist and Barra, in addition to an Aberdeenshire castle and a large house in Edinburgh's New Town.  Not only did he not lift a finger to relieve
the hunger of his tenants, he managed to get his hands on a sizable legacy left to help
Barra's poor.
You couldn't make it up. Jim Hunter didn't.
---
David Ross is a veteran Highland journalist and author of an acclaimed book about his three-decades of reporting on the region