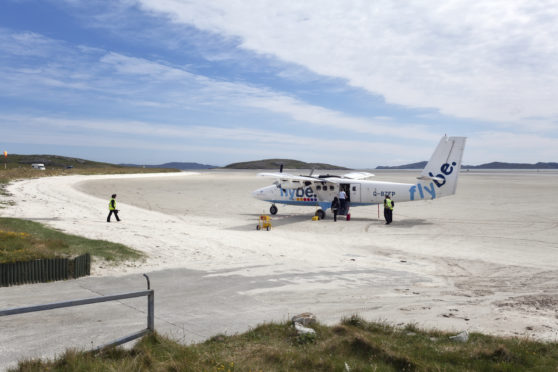 Applications for an intriguing new job were due to be submitted last week.
The post is project manager of a new travel scheme encouraging more people to visit Scotland's inhabited islands – The Scottish Islands Passport.
According to the 2011 census, there are 93 such communities, but some have tiny populations. The islands passport will focus on 80 initially. It is the initiative of Hitrans, the regional transport partnership for the Highlands and Islands, and is supported by the Scottish Government.
The intention is to develop the Scottish Island Passport to coincide with Scotland's Year of Coasts and Waters which, you may or may not know, is next year.
The passport marketing project is welcome. Promoting visits to Scotland's islands is surely a good thing to do. Not just as part of another tourism drive. Some of those who visit may decide to relocate to live on one of the islands.
That's what the successful candidate for the project manager's job will have to do, unless they are already an island resident. One of the requirements is that they be based on an island for the duration of the 18 month contract.
Once in post on Eigg, Eriskay, Westray, Unst, or wherever, they will be responsible for "implementing a detailed project plan that will include the development of both a physical and online app-based versions of a Scottish Island Passport that is capable of appealing to different markets and demographics."
Or in other words get as many different types of people to the islands as possible – a worthwhile goal. But it should be remembered that other worthwhile measures to improve island life have had a downside.
Most notably has been the Scottish Government's Road Equivalent Tariff (RET). For decades islanders had justifiably complained at the high cost of ferry travel, and Scottish ministers responded with RET. It bases fares on the cost of travelling the equivalent distance by road.
It was piloted on routes to the Outer Isles, Coll and Tiree in October 2008, cutting fares by up to 55%. It was extended to Islay, Colonsay and Gigha in October 2012, to Arran in October 2014 and now covers CalMac's network.
Its long-delayed introduction to Orkney and Shetland routes has been a legitimate grievance of northern isles' representatives.
The effect of RET was clear early in the west, with car traffic increasing by around 25%. This was very welcome to those involved in tourism-related businesses. But not so much for islanders who: couldn't get their car booked on a ferry; had to contend with congested single-track roads; or accept giant motorhomes wildly parked by the roadside in the absence of proper sites with facilities.
Meanwhile the already stretched and ageing CalMac fleet was and is straining to meet the extra demand.
By tackling one chronic problem of island life, Hebrideans were exposed to others. Government is a difficult business.
Nobody doubts the significant contribution tourism makes. According to the influential Scottish Business Insider magazine earlier this month: "The tourism sector is one of the most important for the Scottish economy with around 14 million people visiting the country each year. Spending by tourists is around 5% of GDP and the sector accounts for more than 7% of employment in Scotland."
But there are many in the Highlands and Islands whose daily experience of the sacred cow of tourism can be negative.
There are reports of people in Easter Ross who have difficulty getting to work or making appointments on time because the service bus to Inverness is full of passengers from cruise liners docked at Invergordon. Word has apparently got out that this is a much cheaper way of getting around than the many luxury buses lined up to take cruise passengers on tours.
Then of course there is the North Coast 500. The absolutely brilliant marketing initiative, launched in 2015, promoted the roads round the top of the UK mainland as Scotland's Route 66. It heralded a 26% increase in visitors in its first two years alone.
The 516 miles of tarmac beginning and ending in Inverness were already there. Many stretches were not the best, long before the NC500. Not least the single-track sections, where the drivers of visiting vehicles often display their failure to understand the role of the passing place.
Local residents complain NC 500 drivers go too fast or too slow. There are more accidents. Some employers have even resorted, on occasion, to sending vital staff north by helicopter to avoid long delays.
Meanwhile the community life in many Highland locations is suffering from another pressure – that exerted by the huge increase in Airbnb short stay accommodation and holiday houses.
School rolls fall as people with young families are priced out of the housing market, as are the likes of teachers and nurses trying to relocate to fill vital public posts.
Tourism is still the lifeblood of economic activity in the Highlands and Islands. But it doesn't reach everyone.  That should be remembered by those opposing the introduction of a tourist tax, which could help pay for infrastructure improvements which would be seen to benefit all.
---
David Ross is a veteran Highland journalist and author of an acclaimed book about his three-decades of reporting on the region