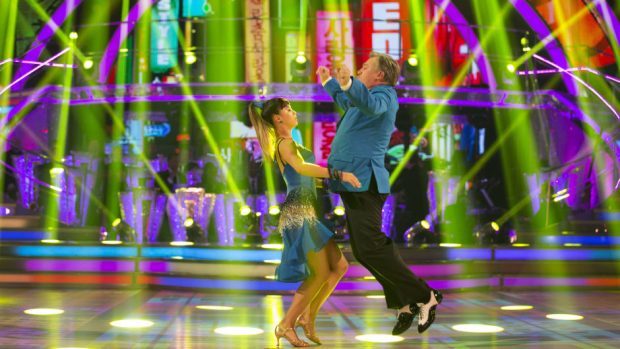 Like 14 million other people, in recent weeks I have eagerly switched on the TV at 9pm each night to watch a band of B-list celebrities be dropped from helicopters, sleep in hammocks and be forced to eat cockroaches.
My name is Eleanor and I am an 'I'm A Celebrity Get Me Out Of Here' addict.
If that hasn't dented your opinion of me enough, I also joined the 12 million who watched more B-listers fight it out to be crowned queen (or king) of the dance floor on Strictly Come Dancing.
My evenings have been so jam-packed with trivial TV, I've barely had time to do the Christmas shopping.
But where are the politicians this year? Last year we had the former Scottish Labour leader Kezia Dugdale in the jungle. Who can forget Ed Balls' Gangnam gyrations on Strictly the year before?
And why are we only seeing politicians take on these challenges when they have left office?
I suspect that your opinion of me has now hit new lows. Here is the personification of the modern numbskull voter, who will vote for the guy who can win Dingo Dollars rather than a high flyer who has worked in the FTSE 500.
Yet maybe there is something we all can learn from TV audience behaviour, whether we are running for office, running a business or running a TV channel.
What we look for in our leaders is exactly what we look for in our celebrities: charisma. That star quality that captivates the room, and the camera. Whatever you think of their politics, Margaret Thatcher, Tony Blair, David Cameron, Donald Dewar, and Alex Salmond all had it.
There is a visible difference between these individuals and those who were elected to office only by their peers: John Major, Gordon Brown, Henry McLeish..and dare I say Theresa May?
They may have been viewed as an extremely safe pair of hands but they were not and are not charismatic.
Elections are won and lost in the middle ground. And us jungle-loving masses know that the real test of a person is how they react when the chips are down. As Bear Grylls puts it, the success of a team depends on whether you can keep up morale and pull the team together when everything is working against you. Mmm, that scenario probably rings a few bells at Westminster right now.
The problem is that our political parties are not full of FTSE 500 high flyers. They're still dominated by individuals from affluent backgrounds who have spent their lives working for political parties, especially in Westminster. We know little about them except what school they went to.
Where is their real life experience? Can we relate to them? Do they get on well with a range of people? Can they rise to a challenge?
These are all key life skills, let alone key skills for high office but carefully managed press appearances tell us nothing. It is the reason why interviewers like to throw in the 'real life' questions such as 'what is the price of milk?' Never had to buy a pint of milk, or check if you had enough money for it? Then you are already out of touch with millions of people.
But stick 'em in the jungle or on a dance floor, with the pressure of winning food for camp or waltzing on live TV, and the veil is lifted. Granted, we see the edited version that the TV show chooses to show us, but one thing is for certain, it's a whole lot more revealing.
There are good reasons why the leader of one of the most powerful nations on Earth offered to go into the wilderness with Bear Grylls. Oh yes, Barack Obama lit fires and ate wild berries on TV, and I bet Bear could hardly believe his luck when the White House called.
Unfortunately the resulting programme was so carefully choreographed that it lost most of the spontaneity that viewers crave but it still showed Barack was a Cool Guy, if further proof was needed.
So I have bad news for the small pool of critters interested in running the country: to get my vote you'll need your rucksack, not your rosettes. Apologies, but there it is.
If bush tucker trials and ballroom really isn't your thing, find a way to show us the real you because we're not brain dead, and we don't underestimate the demands of the job.
We're just bored by spin and we want a better way of knowing if you're up to it.
---
Eleanor Bradford is a former BBC Scotland Health Correspondent and now works for communications agency Spey as Associate Partner.