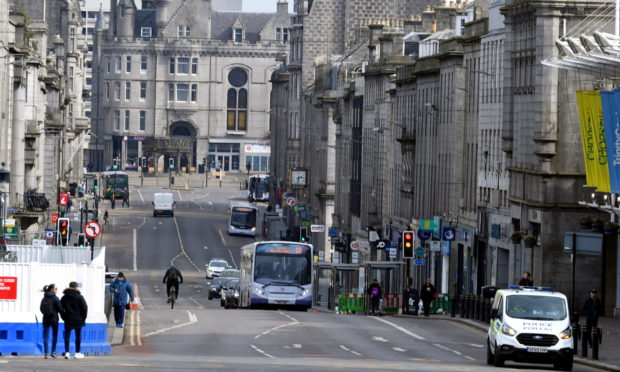 We like to think that in times of great national crisis we all act like heroes.
The media loves to find those who have risen to the challenge – the nurses and doctors who are separated from family for months while they work on coronavirus wards, the Captain Toms who raise millions for the NHS by walking with a Zimmer frame.
Those who fall short are vilified, whether that's the now former chief medical officer who went to her holiday home, the Aberdeen footballers who went to a bar, or the political adviser who went to Barnard Castle.
When we look back in history we create the same narrative – one of ordinary people who stepped up and became heroes in our time of need. Each commemoration of the Second World War identifies more heroes whose selflessness we can celebrate. They are truly an inspiration for us all. However, my parents, who are old enough to remember the Second World War, tell a different story about the actions of ordinary people in a time of crisis.
My mum remembers how my grandfather stockpiled petrol in his cellar during the Blitz. Living in the middle of Birmingham, there was a fairly good chance that a bomb would land on his house. His secret stash would have ensured that the entire street was blown to smithereens along with him. She laughs about it now, but it's an example of real human nature, and he wasn't alone.
The reality is that most of us bend the rules in times of crisis when we feel self-interest outweighs the wider interest. We see this in the actions of individuals and in the corporate world.
As a communications specialist, I am often responsible for writing "crisis plans" for organisations. The question I am usually asked is: "How can you protect our reputation in a crisis?" Previous versions of the plan have gone to great lengths to answer this question and have put in place strict rules for staff which shut down all external communications, and pre-prepared bland statements which tell the press as little as possible. The public interest in information is abandoned in order to save face.
These companies are not even in a crisis, yet in anticipation of their greatest test of character they expose their human nature. They want to put self-interest above all else.
My task is to try to convince them that they should think differently. Their crisis plan should not even have the word "reputation" in it. They should focus instead on doing the right thing – protecting human life, whether that's the public or their employees, or both. They should protect the environment. They should do what they can to protect their customers. They should be as honest and as open as they can be. This should be the fundamental ethos of the company, at all levels. Do this, and their reputation will look after itself.
As we come out of lockdown we are all being asked to do the hardest thing – put the national interest above our own. Those of us who are following government advice to the letter tend to be those with the most to lose – those who are shielding or have the risk factors for more serious disease. They are acting in their self- interest.
Then there are the rest of us who are largely following the advice but are bending the rules when it suits us. It's only a few pints, what harm can it do? Well, the answer for the unfortunate Aberdeen pub goers is that it can lock down a city for two weeks and put even more people's jobs at risk. The reality is they probably weren't the only ones getting drunk with friends. They were just the unlucky ones.
The emergency services, and some of the larger companies, simulate their own "crisis scenarios" to test out the flaws in their response. I once played the role of a journalist in one such fake crisis. In that case it was a simulated multi-vehicle pile up on the M74. The motorway had only just been completed and hadn't yet opened to traffic. Army veterans were drafted in to play the role of casualties, which they did with great gusto and with very realistic traumatic amputations.
In this case, the "test" was whether the 999 responders remembered to check ahead. There were actually two pile-ups – the one they would reach first and another one a few miles further up the motorway. This is often the scenario in motorway crashes – one accident causes other accidents as drivers don't brake in time. Sure enough, this scenario caught out some of the emergency services and valuable lessons were learned.
Forgive the pun, but our response to coronavirus has been a bit of a car crash. It wasn't really our finest hour but it wasn't a disaster either. This was our dry run. This pandemic will be with us for months, and it probably won't be the last.
Now is our opportunity to go away and write our own crisis plan. It should focus on how to be less selfish and more selfless, but recognise that we have self-interests and there are things we can do to protect those. We can keep essential supplies stocked up, we can invest in technology to switch seamlessly from office to home working, we can make hygiene part of our culture.
We can think how to handle those tricky situations when we're with someone who is bending the rules and we don't want to be rude.
We have all learned a lot. Next time we are put to the test, we'll do it better. No doubt, as memory fades, we will remember coronavirus as another of Britain's finest hours, when ordinary people acted like heroes.
---
Eleanor Bradford is a former BBC Scotland health correspondent who now works in communications in the education sector