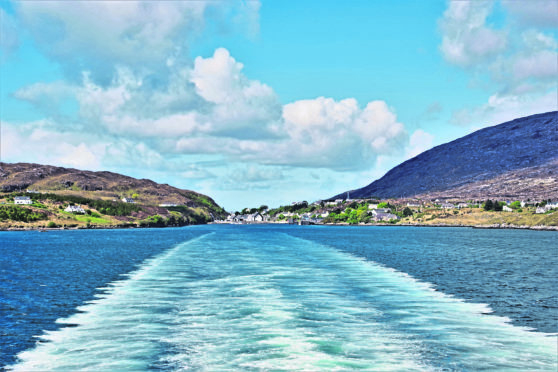 Sometimes I see stories in certain newspapers and I think that's a daft one they had left over from the beginning of April.
Yet they pop up again, there have been quite a few of them recently.
I thought exactly that when it was announced Boris Johnson was entering the race to be Prime Minister, when someone said that senior women politicians from all the parties should club together and be a government of fragrant national unity, and when Nigel Farage was also introduced at a meeting as potentially the next PM of the UK.
Then when I heard that a subsea tunnel was being considered to link Harris and Skye, I thought they should really not have left that yarn so long until May.
Now it seems that experienced consultants from Norway have actually been speaking about the possibilities with our islands MP who asked if a tunnel was a goer.
They have taken their pencils from behind their Scandinavian lugholes, scribbled on the back of a "pakke sigaretter" and said: "Yeah mate, we could do that."
The big selling point for a tunnel project is the money it would save. No expensive ferry fares. No ferries waiting to be built in the Ferguson shipyard.
No shipyards squabbling with the Scottish Government over escalating costs. No cancellations because of technical problems on the ancient tubs.
No cancellations because of a hurricane coming across the Atlantic and no booking system telling you the ferry is full when it's actually not.
No more hanging around the Ullapool chip shop having a little fishy on a little dishy till the boat comes in.
The consultants told Angus Macneil MP a tunnel under the Minch could save the Scottish Government about £300 million over 60 years.
It would be 25 to 35 miles long, depending on where the entry points would be. That is similar to the Channel Tunnel which is just over 31 miles long.
More than 13,000 people helped build it and some of them were from the islands here.
One told me it was very hard work but he loved it because the money was good.
Contractors queued up to get work. When they did their sums, they put in bids of hundreds of millions of pounds to try and win the project.
One contractor offered to do it for just £50,000. The Minister for Tunnels asked how he could do it for that.
"Well now, it's like this. Half my lads will start with the shovels in Folkestone and the other half will start in Calais. They will keep shovelling until they meet. That's it."
The minister asked: "What if they miss each other and don't meet?" The contractor smiled and said: "Even better for you – two tunnels."
There are actually three. One for the trains to come this way, one for that way and an emergency rescue tunnel.
A Harris to Skye road tunnel will probably only have two. One main tunnel with traffic coming to Harris from 6am to 8am.
Then from 9am to 11am, the traffic would go the other way. It would take about half an hour to get through to the other side.
We would need the emergency tunnel to rescue drivers who run out of fuel or who haven't charged their cars enough.
We will be all-electric by the time it opens. Dozy Hearachs will forget to plug in at night. We know what they're like.
Ultimately, the Channel Tunnel project cost about £4.5 billion, which is a mere £12 billion in today's readies.
The consultants working with the isles MP have said a road tunnel linking Harris and Skye could deliver savings of up to £300 million over 60 years. Ah, you see the problem? Ours would just be a road tunnel though.
Even with getting the boys to dig on Sundays without demanding double time, once they are past the two-mile limit of Free Presbyterian influence of course, do you think we can get the cost down enough? Maybe £1 billion?
Following their discussions with the MP, the consultants prepared a briefing suggesting a tunnel between Harris and Skye was the best option.
They also examined a possible additional inter-island link between Harris and North Uist.
Oh heck, how many more billions is that going to cost? We will all help in any way we can but some of us will need an overdraft.
Much as I would like to help, my PPI refund is not going to cover it. It was unexpectedly big – but not that big.
Have you all applied for yours by the way? No? Less than two weeks left. Do it. Now.
I hope this tunnel happens. It is dangerous work, however.
Alex, one of the Stornoway lads who worked on the Channel Tunnel, had a bad accident. He was taken to hospital with a skull fracture.
His foreman asked him what happened. Alex replied: "I just shouted to John to throw me the hammer. That was it."
The foreman said: "You didn't catch the hammer?" Alex said: "I did catch it but we have three guys named John."