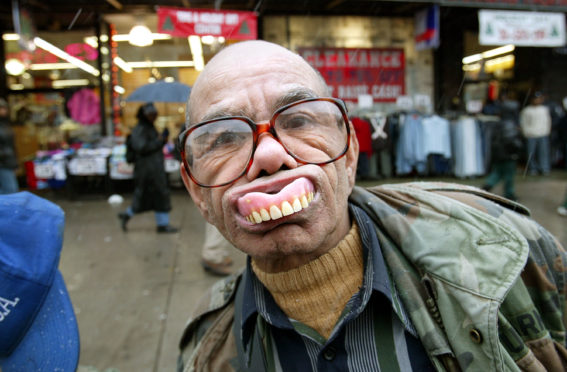 It is not that my eyesight is worse. It is just that I need new glasses.
I can't find my other better spectacles and the ones I have are rubbish. These are so bad that I even misread the clock the other day and I was too late for my optician's appointment. He looked up my details and said that I was due to have an eye test in January. He then asked if I should wait until early next year to have an eye test? I said: "Next year? How should I know? Do you think I have 2020 vision?"
I realise that some of us of, er, less tender years are having to rely more and more on various devices and aids to get by. It's an age thing. If it is not one thing, it's another. They are coming to you too. Spectacles, false teeth, surgical supports and … oops, I have given too much information away there. Of course, I don't use all that. I do not have false teeth. And I am certainly not looking forward to the day when I might have to.
False teeth were different back in the day. You could break them easily. I remember my uncle was stacking a load of peats up on top of a lorry and he coughed. His false teeth were projected out and smashed on a rock by the side of the road. He was devastated. Then the guy who came round with the mobile shop said to him he would probably be able to get him a pair from his brother who worked in Inverness.
The next week he came in with the teeth and, guess what, they fitted perfectly. Uncle was delighted. He told the shop man that his brother must be a very good dentist. "Oh, he's not a dentist," replied the van man. "He's an undertaker."
And I undertake to stop saying "a' bhalaich" when I'm asking something like: "What do you think of Boris Johnson, a bhalaich?" Literally, it just means boy or fellow. It is like saying: "What do you think of Boris Johnson, lad?" It is a wee bit familiar. We shouldn't be too familiar with authority figures but I can't help it. Sometimes it even helps. I got stopped for speeding the other week down near Perth.
The cocky cop swaggered over to my van and asked me brightly: "So, sunshine, what speed do you think you were doing?" Heck, I may have been going a bit fast. I said: "I didn't have my reading glasses on. Wasn't it about 50, a bhalaich?"
Peering at me from under his peaked hat with a circa-1966 Stornoway bowl haircut, he looked like the heartless swine in Peaky Blinders. He then said: "You're a teuchter with the Gaelic, aye?" I said: "Yes, a bhalaich. Sorry for the Gaelic words, officer, but I learned Gaelic first and it comes out automatically." He nodded: "That's fine, sir. But I am going to have to issue you with a ticket for speeding today. So, what's your full name?"
Darn it. I thought he was going to let me off for being an innocent heathery-eared islander used only to the single tracks and the passing places on the holy side of the Minch.
My full name, eh? I said: "My full name is Iain Beag Maciomhair, a mac as sine a bh'aig Iain Aonghas 'an Ruaidh, a Tobasan ann am Bearnaraigh, Leodhais." My full name, patronymic and the wee island I called home. The traffic cop looked me up and down, scratched his head and stared at me in the hot sun. I felt a bit nervous.
He was obviously beginning to realise that taking down my particulars could mean staying on duty past the end of his shift. He slowly put away his notebook and his pen. Finally, he said: "Aye, well. I think we will leave it at just a warning today but don't let me catch you speeding again, sir."
With that, Perthshire's answer to Robocop jumped into his souped-up lemon curd sandwich, sorry traffic car, switched off his Stop Police sign, and shot off down the A9 looking for speeding motorists who he could better communicate with. I couldn't believe my luck. I slunk off down Dunkeld Road, at a leisurely 49 mph you understand, to grab a celebratory cold lemonade in the café of the big Asda. Phew. Slàinte, officer. Whatever you do, don't you go learning "the Gaelic".
When I phoned home to say I got pulled over, Mrs X was in a foul mood. I was a clown for speeding. It shouldn't take a polisman to tell me that. Fair enough. You're right, I said. Then I found out she was grumpy because she had toothache and she'd have to go to the dentist. To make her feel better, I whispered a wee romantic poem to her on the phone.
Your teeth are like the heavenly stars
Like them, they are very bright.
But very soon, just like the stars,
Your teeth will come out at night.