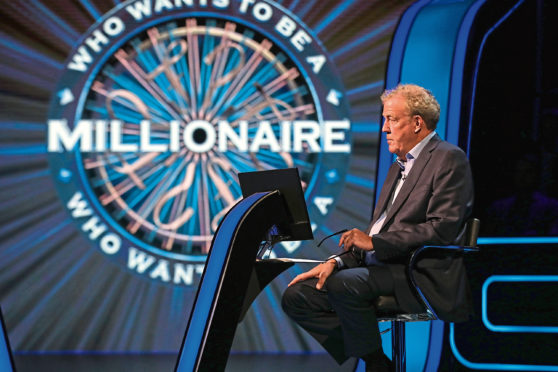 Brrr. It's beginning to feel a lot like… no, I won't say that word.
It's months away from all that expense and misery to all men – and a few dames too. There's a bit of a chill in the air, however, and Stornoway Amenity Trust has already announced the date of the town's festive lights switch-on.
Bah, humbug! Cold weather, seasonal illuminations, shopping frenzies. Yes, it's time to get ready for the commercial mayhem to come and all in the name of a baby. Sweet Jesus.
TV schedules are getting a tad better as we slide helplessly towards another sharp winter. I cannot say I have ever really liked yon Jeremy Clarkson. He and his sidekicks on Top Gear were just childish amadans – that's fools to the non-Gaelic speakers – on the few occasions when I switched over briefly to see if they were still in a job.
And then they weren't. Thankfully, for him, JC now has a show where he can shine without seeming like a cross between a boy racer and Methuselah.
I shouldn't take the mickey. My mother used to tell me not to laugh at others' situations because one day we too may be in their position. That's why I laugh at Bill Gates's situation every day.
On the revamped Who Wants To Be A Millionaire, Clarkson is actually entertaining. I know he has other shows on the Amazon Prime whatchamacallit where, from certain accounts, he is still allowed to be a pompous so-and-so, but he is much better as a quizmaster than Chris oh-dear-I-have-forgotten-his-name-already.
The new Ask The Host option puts Clarkson on the spot. Funny, cheeky, stupid then, occasionally, clever. He can be all these things in a minute or two.
Widely travelled, Jeremy's brilliant at geography but on simple, popular culture he's more like the proverbial pair of short planks. Little is off limits though. Nearly 20 years ago, an Army officer thought he could win the show with someone in the audience signalling the answers by coughing.
Someone in the audience the other week had a cold and spluttered loudly so Clarkson quipped: "You're supposed to cough after the questions have been asked."
Also very intelligent on the box is Sheldon Cooper, the fast-talking, awkward smarty pants off The Big Bang Theory. Sheldon is back in the TBBT spin-off Young Sheldon. That show on E4 is one of the funniest ever written; if you appreciate humour from the American South with a hint of clever youngsters added to the heady mix of science with religious matriarchs and beer-swilling fathers.
As American as apple pie and purrty Hebridean too. Oh, and it's set in the 1980s and the wee Sheldon has a mee-maw who likes a wee warming dram in the evening and a wee warming boyfriend at any time of the day or night. What's a mee-maw? A mee-maw is a grandmother in Texas. Actually, the poor woman can be anywhere but, in Texas, that's what they call grannies.
I know. An American show that's funny? Who'd have thunk it?
Junior Sheldon is played by a kid, Iain Armitage. Good actor, great name. He plays a smarmy, arrogant, but really very gifted smart alec kid who can out-talk university professors when it comes to the make-up of the universe.
And out-talk church people – like his mom. Because it is on a channel like E4, well down the list when choosing what to watch, the most discerning viewers may not think it worth the candle. OK, it's surely worth the wick.
Promise me you'll watch a whole episode at least once. Series three started on E4 the other day. That kid is about to grow up and you'll miss the best years of that very sharp humour unless you get a move on soon. And, for our Australian readers, I see series three will be starting down there real soon too. Yee-hah!
If I could only talk so effortlessly about quasars and black holes, but I could not be bothered to learn all that now.
I must, however, mention Jack Macdonald, who has sailed through studies in food and nutrition and is to be the chef at a posh mainland hotel soon.
The training was hard and will continue for a while. He tells me he spent the summer learning just how to make the best salads. Keep at it, Jack. At this rate, it won't be long until you have lettuce after your name.
The mercury is falling again. Yes, it is definitely getting colder. Yesterday morning I was shivering. So I put on a vest, two T-shirts, a shirt, two jumpers, a pair of joggers, a pair of trousers, two pairs of socks and a coat.
Mrs X, however, was full of energy. She said: "Right, let's go for a nice long walk in the Castle Grounds."
I was not amused. "Not today," I said. "I've got too much on."