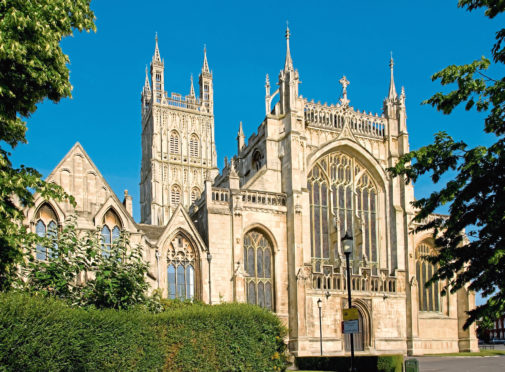 Before we headed back to Scotland, we went shopping in Gloucester.
Jackets, shorts, undercrackers, that sort of thing. Just as every islander does in Sauchiehall Street once a year, we replicated pants shopping in the deep south. Then we went on a cultural tour.
Gloucester Cathedral is magnificent. Everyone in the big kirk was so friendly. They were all smiling and some were even laughing. That was when we realised we had been walking around the cathedral with Mountain Warehouse's "70% Off" price tags hanging from the backs of our collars. Aaargh.
My carefully-researched nutrition regime went for a bit of a burton in England. We had Korean lunches, Italian dinners and Greek midnight feasts. Well, I had a cheeky wee doner kebab on the last night. Thank goodness I did.
Heading back up Scotlandwards from Gloucester was somewhat of a 'mare. Dire weather warnings and pelting rain delayed us setting off until mid-morning.
It was chucking it down in lower and middle England. We saw accidents and tailbacks. As we reached Lancashire though, Mrs X and I were smiled on by Helios, the Greek god of the sun and probably kebabs too, and his winged chariot pushed us speedily to the motorway services at Gretna Green.
Ah, Gretna. Such an amazingly romantic place. I held Mrs X's little hand as she stepped down from the Vauxhall Vivaro and glided towards the entrance.
I gazed into her deep smiling eyes as she lifted a tiny golden crumb which she then slowly pushed on to her warm lips. So lovely. So lovely, in fact, that I was being overcome with that eternal longing, that unyielding yearning for the ultimate satisfaction. I just could not resist that magical allure – I had to go and buy some of that carrot cake myself.
Climbing back into the van, we realised it was teatime and we hadn't booked a bed for the night. We decided to go somewhere we had never been before. Mad ideas like that come to us when we've been on the wine or on the carrot cake. It was the cake.
You can have a vino or two in England without turning the bag, but knowing we were heading into Alba – and its notoriously tough drink-drive laws – we weren't chancing it.
In England, you can drive with up to 35 microgrammes of alcohol per 100 millilitres of breath. In Scotland, it's just 20 microgrammes. Not a dribblette of plonk was had. Instead we were intoxicated by cake and the thought of a cosy divan for the night.
Where to? Let's go up past Glasgow this time. Dumbarton? Nah, there's just a rock there. Auchtermuchty to see if we can spot The Proclaimers? Auchtermuchty? Och, no. Flick the road atlas open. It fell open at Lerwick.
OK, not up there either. Then it fell open at Dunoon. We set up Seonag, the satnav app thingummyjig. Then we realised we would have to take a ferry or go all the way up Loch Lomondside, turn left at Arrochar and then back down the Cowal Peninsula to opposite Gourock and Greenock. Naw, we would be there too late.
Wait a minute. What's that other place opposite Greenock on the west side? We could drive there directly. Helensburgh? Neither she nor I had been to the childhood home of TV inventor John Logie Baird and Bonar Law, who soon after the First World War became the shortest-serving prime minister of the 20th Century.
Quickly Googling a hostelry, we found Helensburgh was welcoming travelling teuchters with no home to go to.
"At the next roundabout, take the third exit onto the A74(M) and continue towards Helensburgh." Thank you, Seonag. Take the rest of the night off. I've got this.
We loved the thought of going to a place which we had never visited and no one would know us. As we checked in, receptionist Sarah brightly asked if we were from the islands.
She has strong connections with Harris and Barra. Lovely girl. Probably related somewhere along the line to Mrs X on the Harris side too.
Greetings over, let's kick off our shoes, go into the restaurant and relax anonymously with lobstercakes and wee drams of Glayva.
Waitress Louise was really helpful and lovely, too. Then she asked if our accent was from Lewis. Turns out Louise's cousin is married to Mrs X's old pal of yore. Yarns galore. Ach, who wants to be anonymous anyway?
Mrs X, it turns out, was deeply touched by the side of me she saw during our brief visit to Gretna Green.
She told me I was quite loving when we were down there. Was I? Really? She wished I was like that all the time. I thought I was. Apparently not.
She has been going on and on about it. She said: "You were very different in Gretna. Normally, the only time you ever want to kiss me is when we have been out and you have had a wee drink."
Hmm, maybe. Mind you, that's when I usually want a kebab as well.