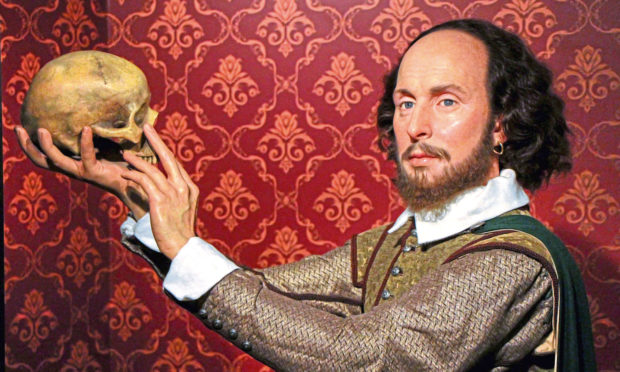 Did you hear about the Stornoway cove who went into the bookshop and said: "I would like a book by Shakespeare." The assistant replied: "Of course, sir. Which one?" He said: "Er, William?"
I mention this because Mr Shakespeare's last play has just been found in the Scots College, a religious institution, in Spain.
It's called The Two Noble Kinsmen and was published in 1634. It could be the oldest Shakespearean work in the country. That flowery language has fallen out of use except in institutions of learning and certain hostelries.
Some years ago, two young lads were quaffing in a downtown Stornoway oasis. The discussion about some football game turned dark with insults being hurled.
They were disinclined to seek fresh air and the curses got louder. Then stepped forth a merry chap clad in the finely cut cloth of the professional squire. He put a hand on each lad's shoulder and said: "Come, gentlemen, I hope we shall drink down all unkindness."
By offering a bevvy and promising the jittery barman they would soon depart, he cooled hot heads. They soon shook hands before venturing outside where they each found a wall to lean against. Soon they simultaneously slid down to the pavement which they used as a pillow before someone summoned a taxi to scoop them up and deliver them to their loved ones in faraway places called Barvas and Shawbost.
The well-turned-out gentleman must have quoted a learned scribe. When we met again, I asked from where the soothing words had sprung. He'd been a teacher for a few years. He'd a good enough grasp of the Merry Wives of Windsor Act 1 Scene 1 to quote it on occasion.
He had tips for anyone wanting to appear like a well-read Shakespearean type. Add "eth" to the ends of verbs, he advised. He runneth, he trippeth, he falleth over. If you are chatting to a fulsome young lady, he suggested comparing her to a summer's day. He added: "If she knocks you back after that, tell her to get herself to a nunnery."
Shakespeare never fails to grab me. His choice of words, his easy use of many long rambling sentences which would take me a week to construct and the different kinds of tales, some scary, some bloody, some touching, that he told us through the medium of a rigidly-enforced curriculum.
Back in the day, I delved into The Merchant of Venice and I seem to remember chunks of Richard III. I had to. Nowadays, it isn't so popular, with so many references to bad boy Shylock being seen as terribly unfair to anyone who works in financial services. With overdraft charges as they are now, they take more than a pound of flesh.
Lockdown has meant loads of people's hard-earned cash is being spent on wine. When I came in the other night, I am sure Mrs X had a wee vino. She was shouting at the TV: "Don't go in there. Don't go in that church, you idiot." Hmm, she was probably watching our wedding video.
Will family reunions happen this festive season? Who knows? Last Christmas was great because I met people I hadn't seen for ages. Down on Cromwell Street, I met Bill. I hadn't seen him for about 25 years and he said he had a big family now. Bill was a bit wobbly. He told me he had just taken his son out for his first pint. Oh, how the years have passed.
He said they went into their local pub and he had got his son a Foster's lager but he didn't like it, so Bill duly quaffed it himself. Then Bill got him a Tennent's Special but he didn't like that either. So Bill had that as well. It was the same with the cider and the Guinness. He then said: "You know what? By the time we got to the whisky, I could hardly push the pram."
Stop. Don't call social services. He was kidding. His oldest and youngest, however, are nearly 20 years apart. If only I had a Shakespearean quotation to tell him he had wound me up. Nah, can't think.
We probably won't know for a while how Covid-19 will affect Christmas. Hopefully, our daughter might get home before long.
She'll have to get her van serviced for the trip north. Last year, she was so worried that a Gloucestershire mechanic would rip her off because she is not mechanically minded and knows nothing about vehicles. Imagine her relief when the mechanic said she only needed some indicator fluid.
So we will have to make an effort at home. We must not let Covid completely ruin the Yuletide and make us cancel the festivities. No. The only answer to lessen the virus risk will be to celebrate outside.
That is why we have decided to put up a Christmas marquee in the garden. We will get in the spirit with funky music and lots of flashing lights. Now is the winter of our disco tent.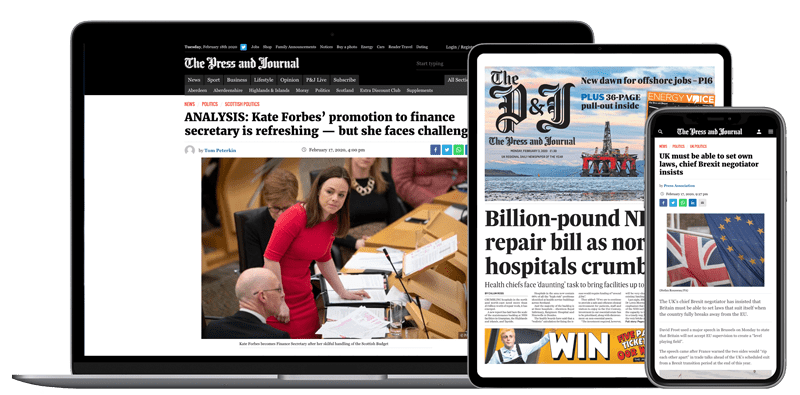 Help support quality local journalism … become a digital subscriber to The Press and Journal
For as little as £5.99 a month you can access all of our content, including Premium articles.
Subscribe