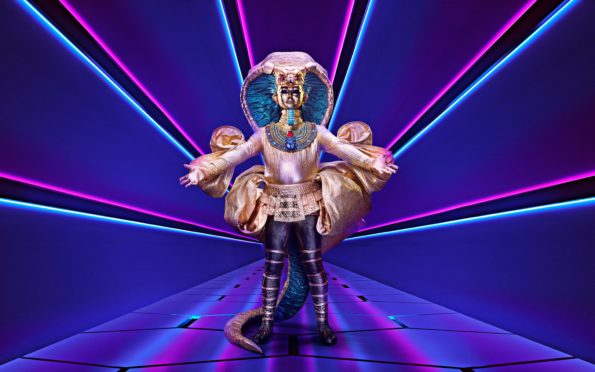 Since former Home Secretary Alan Johnson was revealed to be a participant in ITV's Saturday night madhouse The Masked Singer, the Westminster set has been forced to pay attention to this utterly bizarre show.
At least that's my excuse for watching.
The programme involves 'celebrities' singing while encased in huge costumes. Actual celebrities – Jonathan Ross and Rita Ora among others – have to guess who they are.
The latest episode involved a duck singing Ave Maria and a chameleon forced to reveal his identity after failing to impress with his version of True Colours. (It was the man from mock-rock band The Darkness. Presumably there weren't enough plays of their Christmas song last month to pay the bills.) The country may be teetering on the brink of a Brexit induced recession but there's clearly still enough cash in TV to buy an awful lot of mind-bending substances for the people who have to think up these formats.
Odd as it is though, watching The Masked Singer is an instructive exercise.
As so often what's really interesting, the bit that tells us something important about the state of the nation and our politics, is not the main attraction. It's the bits in between. In this case the adverts.
Of course it's January, season of good intentions and failed resolutions. But the number of ads that referenced sustainability or particularly veganism was notable.
KFC were trumpeting a vegan burger. How long before they rebrand as KFV?. Even Ryanair are screening an ad claiming they are trying to be sustainable by putting as many people as they can on their planes and flying them about the place. Whatever else there might be to say about Ryanair you always have to admire their front.
The reason these ads matter in Westminster is that something is happening.
On an outing to Kent at the weekend (Winston Churchill's house at Chartwell, I am a political animal after all) the cakes in the National Trust coffee shop were vegan. The conversations at two adjacent tables concerned eating less meat and the best veggie cook books.
When I told a friend about my trip they replied, "Kent's lovely, shame about the people". After I'd pointed out that I'm a Kentish Man by birth they defended their statement on the grounds that Kent returns Tory MPs and contains some of the most Brexit-y bits of Britain – two things they aren't keen on.
But that's exactly why those coffee shop conversations matter in Westminster.
These are the people who put Boris Johnson in Number 10. And they, like many others, have started 2020 very aware of the climate catastrophe unfolding.
Greta Thunberg has put herself, and the issue, in everyone's consciousness. (Everyone apart from the Casualty actress who answered Sharon when asked on Celebrity Mastermind to name the teenage climate change activist). Any doubts about the reality of global climate change have surely been dispelled by the pictures coming out of Australia as that country literally burns.
Kids following Thunberg's example and skipping school to protest the planet is one thing. A bigger impact will be felt if the experience in my son's school – where most of his class have gone vegetarian and school dinners are going meat free for part of the week at the behest of the school council – is repeated more widely.
A poll this week found 70% of people back slashing carbon emissions by 2030.
But what hogs the headlines in the corridors of power? Iran, Brexit, the clown convention that is the Labour leadership.
Boris Johnson hasn't really talked about anything since returning from his New Year holiday in Mustique. Keeping schtum served him well during the election campaign.
Perhaps his environment secretary is in tune with the public mood? Hardly. She is Theresa Villiers. She's made one pronouncement of note this year and it's been a silly one. She said the UK won't accept chlorinated chicken from the US as part of a trade deal. Either that's true and claims we can do a deal with the US in short order are false. Or her claim on chlorinated chicken will last as long as she does in cabinet – a matter of weeks most likely.
More pertinently she's still banging on about Brexit. The PM may have urged people to move on but many Brexiteers have not, and probably can not. Having campaigned on the issue for so long it's all they've got.
As long as Westminster is concerned with trade deals and factionalism, politics has a disconnect problem.
Like our use of plastics and petrol, it's unsustainable.
Parties that are out of touch can carry on, though they won't win power. When an entire democracy fails to reflect people's concerns it's a bigger issue.
The decade may only be days old but anyone looking for clues as to the issues that will dominate politics in the 2020s would be wise not to look to the floor of the House of Commons. Discussions about whether Big Ben should bong on Brexit day don't matter.
Instead look to the coffee shops of Kent and the ad breaks in The Masked Singer. They'll give you greater insight. And it's climate, diet and the environment that have got people talking. That and trying to guess who is the duck singing Ave Maria.
---
James Millar is a political commentator and author and a former Westminster correspondent for The Sunday Post