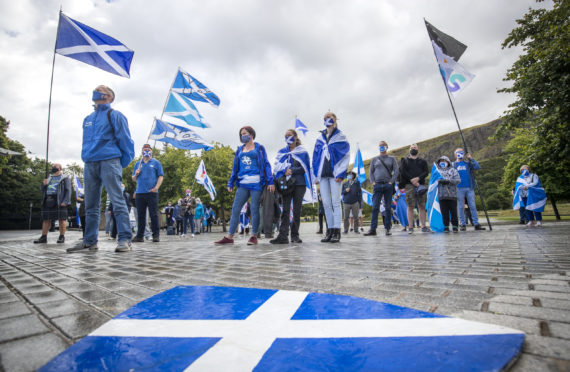 Much of the recent increase in support for Scottish independence, according to polling expert John Curtice, comes from people who, though they backed a continuation of Scotland's union with England at the time of the 2014 referendum, have since changed sides because of their hostility to Brexit and to the consequent severing of Britain's links with our continental neighbours.
People in this category, and there appear to be a lot of them, remain committed to European Union membership which Scotland, unlike England, backed strongly when the issue was put to the vote in 2016. Now these same people are looking to escape Brexit Britain by throwing their electoral weight behind the notion of an independent Scotland that – like Ireland, Denmark and other small but self-governing countries – could forge its own relationship with the EU.
How any such fresh start for Scotland would play out in practice can't be forecast precisely. But that it's being contemplated by more and more Scots represents a real break with a past characterised, for much of the last 300 years, by a conviction that the Anglo-Scottish Union offered Scotland the best available means of connecting with the wider world.
Thinking of this sort, after all, went a long way to persuading Scotland's 1707 decision-makers to agree the deal that resulted in their previously sovereign country becoming part of a United Kingdom of Great Britain.
The men (they were all men) who thus ended what one of their contemporaries called the "auld sang" of Scottish statehood were to be described by Robert Burns as a "parcel of rogues" who were "bought and sold for English gold".
But if cash hand-outs played a part in the run-up to union, what counted more was a hard-headed calculation as to the benefits likely to be got from obtaining unfettered Scottish access to England's overseas possession – especially, in the first instance, to English colonies in America.
Seventeenth-century Scotland's own attempts to gain a toehold in the New World, first in Nova Scotia and then at Darien in present day Panama, had been failures. As its promoters intended, however, union with England at once opened the door to ever more extensive Scottish participation in what now became the British Empire.
Resulting trading links would go a long way to setting Glasgow, for example, on the road to its self-proclaimed role as "the empire's second city" – cash deriving from the buying, processing and selling of commodities like sugar and tobacco serving to prime the industrial revolution that turned Clydeside into one of the Victorian epoch's most successful shipbuilding and heavy engineering centres.
In today's Scotland, it's become a bit of a habit in some quarters to downplay Scotland's imperial past – to distance Scots from the slave trade, from slaveholding and from conquest of the sort that took the UK to a position of global supremacy.
But Scots, in truth, were central to Britain's imperial mission – as colonial governors and administrators, slave plantation managers, missionaries, tea-planters, bankers, highly successful dealers in everything from opium and rubber to jute, furs and timber.
And everywhere in the empire Scottish fighting men loomed large. Starting in the 1750s, when newly-formed Highland regiments were central to the campaign that made Canada a British rather than a French possession, Scottish troops were in the vanguard of UK expansionism. Soon there would no more potent symbol of empire than portrayals of kilted Scottish soldiers.
Sir John Curtice: Why a Westminster win could see SNP declare independence
From today's standpoint, some or maybe all of this might look less than praiseworthy. But throughout the 19th Century and well into the 20th, Scots of all sorts took pride in Scotland's imperial, and thus global, role.
That this role was contingent on union with England – a union then never seriously challenged – went without saying. But neither did Scottish participation in empire detract in any significant way from a continuing sense of Scotland as a nation in its own right.
In an imperial context, Scots saw themselves as equal – or more than equal – partners with England in a worldwide joint venture that brought great gains to both. There was no question, then, of Scotland's place in the UK of that era being in any way subordinate or dependent. Rather the reverse.
Of late that's changed radically. The union's backers now talk less and less about the opportunities the UK opens up to Scots and more and more about the cash "dividend" it delivers to a Scotland too impoverished or too incapable, it's implied, to manage without some such subvention.
And where once the union could be seen as Scotland's route to global influence, it now threatens (the empire having long gone and EU membership having been axed) to cut Scots off from the outside world to which, more than three centuries back, union with England first pointed the way.
If the "parcel of rogues" responsible for the 1707 union were to be reincarnated in today's Scotland and asked what they thought of their country's options and ambitions being restricted in this way, how might they respond? Conceivably by advising us to do a Boris Johnson and ditch the treaty that they signed.
---
Jim Hunter is a historian, award-winning author and emeritus professor of history at the University of the Highlands and Islands